Muslim and Jewish leaders stood side-by-side at a memorial near the Bataclan concert hall on Sunday to pay tribute to those who died in the Paris attacks, which left at least 129 people dead and hundreds more injured.
Imams and representatives from the Jewish and Muslim communities joined hundreds of people at the makeshift memorial two days after the attacks on the French capital, which Isis has claimed responsibility for. Dozens of candles, flowers and tributes were left at the memorial.
A special service for the families of the victims and survivors of the attacks is due to be held at Paris's Notre Dame Cathedral later on Sunday.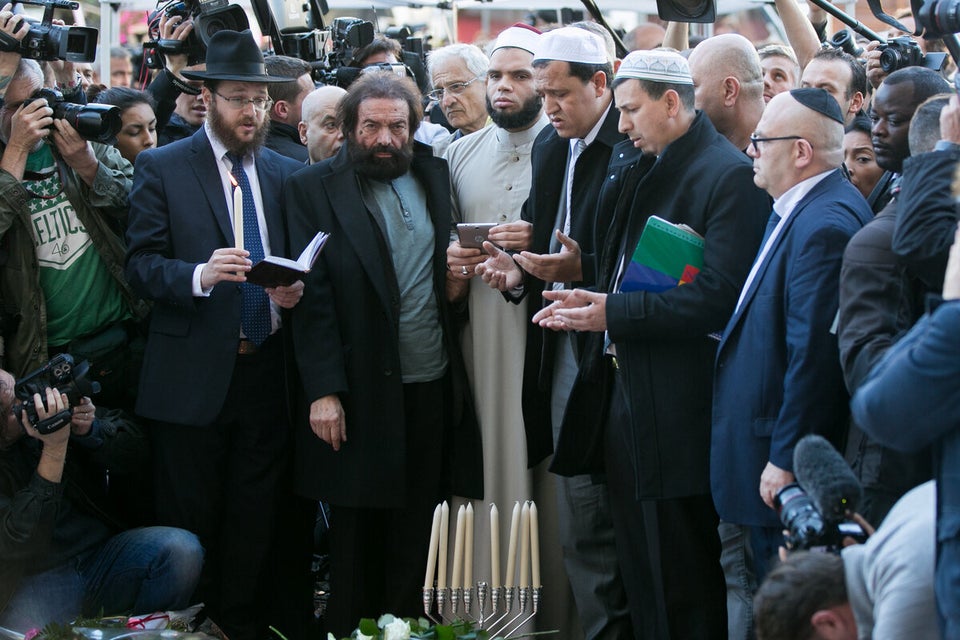 Imams And Jewish Representatives Join Hundreds At Paris Memorial Site
On Saturday night, the colours of the French flag were projected on to the National Gallery and people attended draped in French flags. As well as singing La Marseillaise and chanting 'Solidarité!' people stood for a minute's silence using their phones as torches.
Earlier on Saturday, the flag was projected on to Tower Bridge and the London Eye.
The only Briton confirmed to have died in the attack has been named as Nick Alexander, 36, who was working at the Bataclan theatre, where terrorists attacked a concert and took hostages, leaving 89 people dead.
The Bataclan was targeted during a concert from US band Eagles of Death Metal. Terrorists also targeted restaurants and a football stadium during the attacks on Friday night.
Related