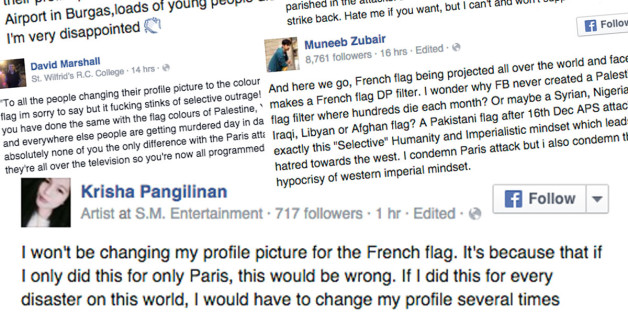 Facebook
In the wake of the horrific terror attacks in Paris which left at least 132 dead, people on social media have been paying tribute to those killed by adopting the image of the French flag.
A filter applied to people's profile pictures superimposes the flag over the images but after an initial flurry of support on Saturday, people are now questioning why Facebook hasn't offered a similar function for incidents across the world.
Many have now refused to adopt the flag, however, and this is why in their own words...
People are not just explaining their reasoning on Facebook itself, however, as one letter to the Sydney Morning Herald went viral due to its eloquent portrayal of the argument against adopting the French flag.
French-based Australian lawyer Clair Duffy wrote: "It's also because, if every day I was to change my Facebook profile picture into the translucent flag of the countries where people had died atrocious deaths that day... it would represent all the colours of the rainbow.
"So, Facebook, give me a symbol that represents the scope of global suffering and I will wear it. Write me the song, and I will sing it," she wrote.
WHAT WE KNOW SO FAR:

132 dead, French prosecutor says, with 352 injured, 99 critically
Locations targeted in suicide bombings and shootings
89 slain at Bataclan concert theatre after hostage situation
Restaurants, football stadium attacked in night of horror
Police leave cancelled and around 1,500 soldiers mobilised
French border controls increased, state of emergency declared
Seven extremists in three teams carried out attacks, all killed
Manhunt under way for accomplices, arrests made in Brussels after police raids
David Cameron chairs meeting of Government Cobra committee
SEE ALSO: