Kelvin MacKenzie has been slammed for penning a "revolting" column, entitled 'Is Isis actually the beating heart of Islam?'.
The former Sun editor used his column to describe allowing refugees into a country as a "ghastly social experiment" and expressing concern that the number of Muslims in Europe is rising.
MacKenzie urged the Prime Minister to "pull up the drawbridge" to all refugees.
He said: "With two of the Paris merchants of death coming through Greece, it's clear that David Cameron must put on pause ANY refugees or migrants coming to this country until we are certain we are not importing our own destruction."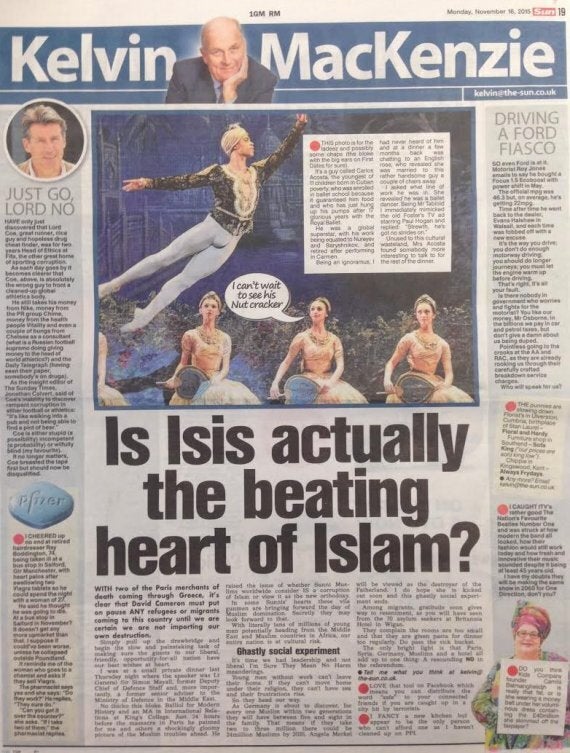 Kelvin MacKenzie's Sun column on Monday
MacKenzie also suggested that some Muslims would see attacks like those which took place in Paris favourably.
He said: "In some Sunnis' hearts these vile gunmen are bringing forward the day of Muslim domination. Secretly they may look forward to that."
In a particularly bizarre paragraph, he added: "Young men without work can't leave their home. If they can't move home under their religion, they can't have sex and their frustrations rise. So they head our way."
His comments have been slammed as "revolting".
Arzu Merali, one of the founders of the Islamic Human Rights Commission (IHRC), said: "Sadly this is nothing new from Kelvin MacKenzie but shocking in how insensitive it is on so many levels.
"It's very dangerous actually. You've got him pushing out to the widest readership of any newspaper in this country, a direct connection between IS' horror and essentially the entire Muslim community.
"It's revolting. It's amazing that this kind of racist rhetoric can be allowed into print, never mind go unchallenged."
Fiyaz Mughal, director of Faith Matters, also criticised the column.
He said: "Kelvin MacKenzie whips up the fear factor using demographics. Muslims will have more children he states, thereby overpopulating and changing the 'face' of Europe. Many of these arguments are promoted by far right sympathisers and whilst McKenzie is not one, the rhetoric plays to fear of refugees who are victims themselves and fleeing from the foreign policy mess that is Syria.
"Yet, in the comfort of the UK, armchair pundits like MacKenzie also go onto whip up further fears on the back of no evidence. He states that millions of 'frustrated' Muslim men will join IS as though there are hordes of young men who want to pick up a Kalashnikov and murder people since they cannot have sex. Where is the evidence for this? Clearly only in MacKenzie's mind.
"Granted some may be motivated for nihilistic reasons, but tens of millions of Muslim males? All MacKenzie does is paint a picture of Muslims as the other. His comments are not accurate, nor insightful into how we can defeat IS."
There was also some reaction to the column on social media:
MacKenzie wrote that "the Muslim attitude to Westerners has always been: We like your money and are prepared to hide our disdain for your woman wearing revealing clothes and your love of a drink just as long as you put food on my table."
He continued: "You cannot be lying on a sunlounger not knowing if some Muslim madman is coming out of the sea to kill you or that your easyJet is blown out of the sky."
Popular in the Community