A newlywed Indonesian couple have been arrested amid claims the husband murdered the wife's alleged rapist and cut off his penis, before the pair dined on the organ together.
AFP reports 30-year-old Rudi Efendi has admitted killing the man after discovering his wife was not a virgin on their wedding night in September and being told of the alleged attack.
But while Efendi insists he carried out the murder alone, police believe his wife is an accomplice.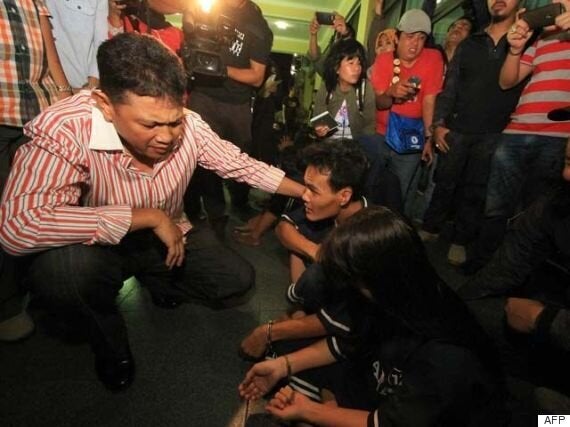 A police official (left) speaks to suspected murderers Rudi Efendi and his wife Nuriah (both in cuffs)
"The case is still under investigation but we strongly suspect that this is a premeditated murder," a local police spokeswoman told the agency.
The victim - who used to date the wife - was found in a burnt out vehicle in Penumangan Lama village in October.
The Jakarta Post writes Efendi's wife Nuriah claimed she had been raped by the man, a chauffeur at a travel agency, a week before their wedding day.
It adds Efendi then plotted to kill his victim after asking his wife to lure him into a rendezvous.
Efendi is quoted as saying: "I was so mad at him for raping my wife that I planned to kill him.
"I ate his genitals to assuage my fury. I did it all by myself, my wife had nothing to do with this."
Malaysian daily Tribun writes the victim had wounds to his ear, forehead and face, as well as having his genitals cut off.
It adds Efendi claims to have fried the body parts and carried out the cannibalistic act to "cure his heartache."
Related