In 2013, Mohammed Odai Al Hashmi was due to catch a lift back home from Al Wadi International University with two friends. They were supposed to convene at 1pm sharp. But, thanks to having a mid-term exam which overran, the Syrian-born student was 10 minutes late to meet his classmates. And so they left without him.
Later that evening, 22-year-old Odai discovered the car he was supposed to have been in had been pulled over on the 20 minute drive back to Homs and that his friends had been kidnapped.
"When my mother found out, she freaked," he recalls. "And she forbade me from going to university, so I just had to stay at home for six months.
"It was a really dark period of my life. I didn't know what the future was going to be, I didn't know what was going to happen."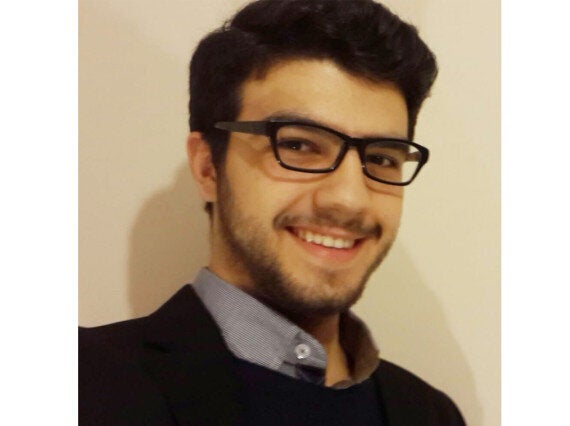 Odai was 20 when he left Syria after narrowly escaping being kidnapped
The architecture student was just three semesters into his studying when his education was cut short.
"My family talked about what I should do, and eventually the idea of going abroad came up and we found that Istanbul was my best option, so I went there.
"It was really hard though," Odai admits. "Going to a foreign country where you don't know the language and you don't have any family and you don't know what you're going to do there.
"You know, it's not like you're going and you already have a place at the university. I was just going there to start applying. So I applied a little bit late because of when I arrived, so I didn't get accepted for the first semester."
It took six months of applying before Odai eventually got accepted into Istanbul Technical University, and describes the wait as "another dark period" of his life.
"I was suspended in time, I didn't know what to do."
Odai's family stayed behind in Homs, but fortunately he had childhood friends who had already fled their home country to Turkey, so he was able to stay with them.
"They knew the country a little better, so that kind of helped."
His two friends who were kidnapped managed to survive the ordeal. Their captors originally demanded a $100,000 (£65,000) ransom for each of their victims, an "insanely huge amount, especially considering the inflation", which was eventually haggled down.
One friend managed to escape to Lebanon, while the other is still in Syria.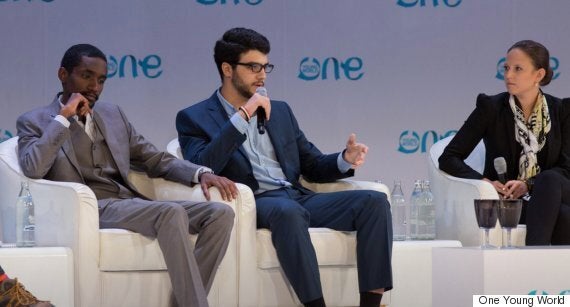 Odai (centre) speaking about his journey at the One Young World summit in Bangkok
Odai says he felt "incredibly lucky" to have been accepted into the Turkish university, as he was "one of the 2% of students who applied and got in."
"I think me and another three or four people got accepted. At the time I felt so lucky, blessed. You just start thinking 'I'm at university now, I'm happy'.
"But," he adds, "Then you think about what happened to the other people who didn't get in, and what they must be going through. It made me think about how important education is, and I decided I wanted to make the most out of my time at university and learn as much as I could.
"I wanted to graduate and start doing something with my life to help people, so I was trying to do really well in school, open doors for myself and get good grades."
It was in 2014, during his time in Istanbul, that Odai was first informed about Kiron University, officially known as Kiron Open Higher Education, by friends Markus Kreßler and Vincent Zimmer - who asked if he would like to become a co-founder.
"The Kiron project came up and I saw that as a great opportunity to start working on helping my people without having to wait until I graduated," he explains. "So that's how it all started."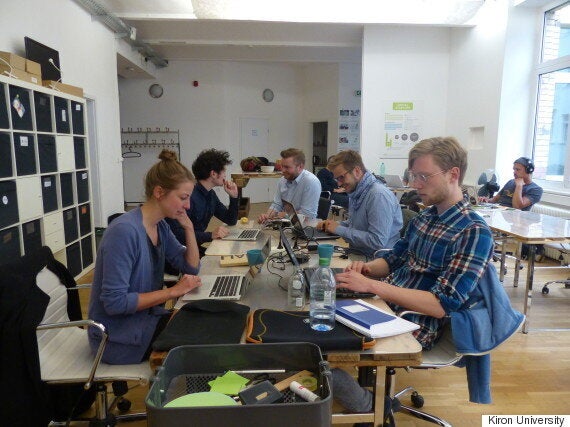 The staff at Kiron University hard at work
The university - although they have yet to gain official status - is an online platform aiming to provide refugees worldwide with free access to education, and the opportunity to graduate with an internationally accredited degree.
"The application process is very simple," Odai explains. "You just need to provide some basic information about yourself. No documents are required, except for one - which proves you are a refugee and holding the refugee status. Then you'll be enrolled."
For the first year, students study as freshmen, so they get to enroll on whichever courses take their fancy. They need to gain 60 credits in order to progress onto the second year.
There, students will choose more specialist courses and they will be transferred to one of Kiron's partnership universities. Students will need to physically attend their chosen university in their third year, where they can finish their studies.
"Basically, what we're doing is giving students more time," Odai explains. "So they can start studying a language during those two years at Kiron so they don't have to wait. Otherwise they'd have to wait, for example, two years before they had finished learning a language before they could apply to a university to study."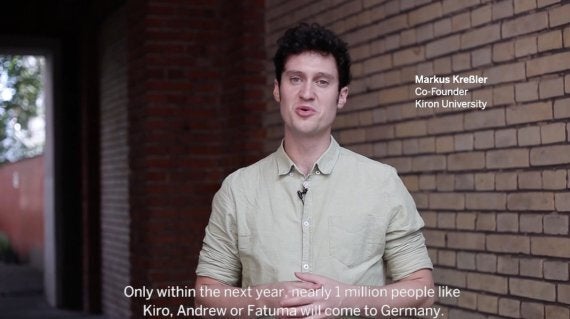 Kiron co-founder Markus Kreßler: 'You need to speak perfect German just to hand in your documents.'
Odai's own experiences have been a driving force behind his desire to help others.
"In Istanbul you see a lot of street sellers, and when I first arrived I joked about whether I was going to end up as one of those.
"From architecture school to selling socks on the street," he quips. "I had no future ahead of me. It was very depressing and frustrating. A lot of the other Syrian students were only a semester or so away from becoming doctors, engineers, businessmen, teachers. Just people contributing to society.
"But eventually because of the war they were forced to leave and they are now labelled as refugees. They had their houses destroyed, they had to abandon their countries.
"They used to be among the top, most educated sector of society and now they are in a foreign country and people who don't even have basic education look down on them and exploit them.
"I remember hearing about this guy who had an MBA in Syria, and in Istanbul he is working as shisha boy.
"He is just changing the coals for people for 14 hours a day getting paid €200 to €250 a month. So, yeah… that's why people are moving to Europe because they see more opportunities for themselves here."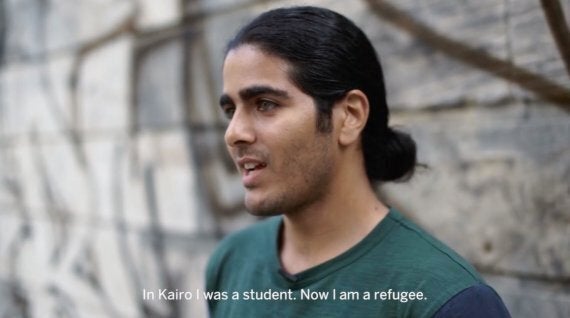 One of Kiron's students, 22-year-old Kirollos from Egypt
Despite the negative press surrounding refugees, Odai says he doesn't think Europeans stereotype them as uneducated, but adds "you always get those sort of people who will".
"Most of the people I've met are really warm hearted," he says. "They are always trying to help and reach out to those in need. There will be those people who are hostile to refugees and they're like oh my God, refugees are trying to take over the world and stuff.
"But I don't think that as a whole."
Kiron has already taken on 1,000 students, and, currently in talks with around 70 universities, they're hoping to rapidly expand. But, of course, like any venture, the project needs funding.
"In a little over two months, we were able to raise more than €250,000. It's great but we still lack funding. Funding is the daily challenge that we're facing. You can always use more money. The amount of students we are able to enroll mainly depends on the amount of funding we have."
A degree at the university is incredibly cheap compared to other universities. A three year scholarship to complete the entire programme would cost €1,200. The BMW Foundation has already provided Kiron with 100 scholarships, and the not-for-profit organisation is in talks with other corporations to secure more funding.
The students at the university come from different backgrounds but, Odai says, most are from Syria.
"For now, most of the people who know about us do [so] because they already have laptops and internet connections. But we're talking to other corporations and NGOs to try and expand our services - to refugee camps, for example. Right now we have this plan of building education hubs all over in the city where refugees are located so that people who don't have laptops or internet connections can come and study there."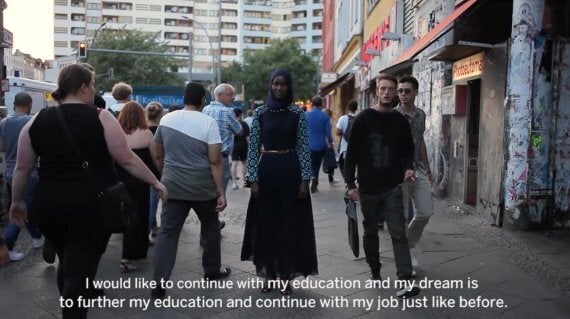 Fatuma, a 25-year-old Somalian, was a social worker before she had to flee her country
Unlike most students who might dream of going travelling after university, Odai just wants to go home.
"Eventually I really hope I can go back to Syria," he says. "I miss it there. I was lucky enough to be able to go back last year, but I haven't had a chance to go back since.
"I just miss my family being there all together, my grandma, my uncles. You know, it's your home. I miss my friends, although a lot of them aren't even there anymore, they've had to leave.
"Even though I really like it here, I would choose home 100 times over Stuttgart. It is my hope for the future to be able to go back and start something in the country to help my people."
"That it won't exist anymore," he says simply. "I just wish there was no need for us to start this whole organisation. If it wasn't for the refugee crisis, Kiron wouldn't even exist right now.
"My hope is to be able to take in as many people as possible and integrate them into society as much as we can. I hope to expand our services across the world, and reach those who are underprivileged and unable to access education - not just refugees. anyone who is living in a rural area or unable to afford education.
"I hope the problems will be solved and refugees will go back to their countries."
He pauses, adding: "But we have to be realistic, don't we? It's much easier said than done."
Odai is an ambassador for One Young World, a global forum for young leaders aged 18-30 which gathers youths from every nation in the world to develop solutions to some of tomorrow's most pressing issues.