The Sun's front page on Monday, which claimed one in five British Muslims sympathised with Islamic State, has been subject of more complaints than the infamous Katie Hopkins "cockroaches" column.
Ipso, the press watchdog, received a record number of complaints about the splash, in which the paper claimed its paper showed the scale of "sympathy for Jihadis" among Muslims.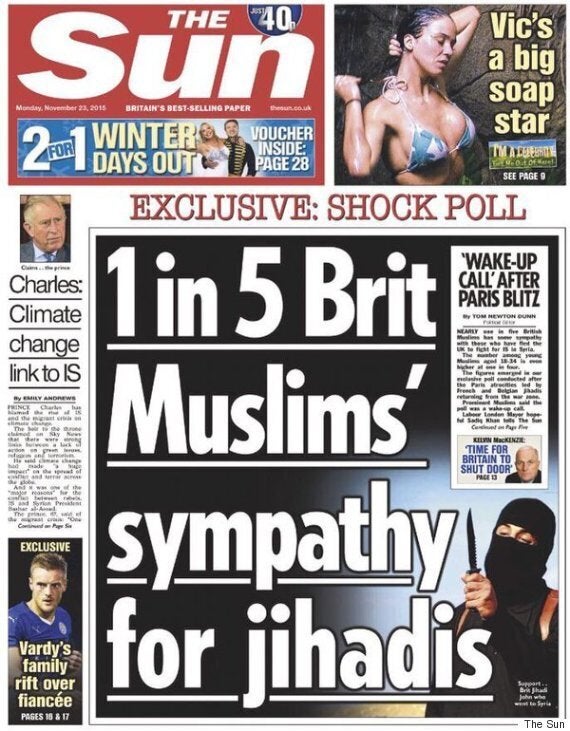 But people quickly pointed out that the question in the poll only asked if they sympathised with those who travel to "join fighters in Syria," not specifying IS, also known as Isis or Isil.
The question could refer to more moderate rebel groups, such as the Free Syrian Army.
The front page has so far triggered 1,200 complaints to Ipso, the most it has ever received since it began operating in September 2014.
It is three time as many as Hopkins' April 17 column, in which she likened migrants to "cockroaches" and said their boats should be repelled by gunships. It attracted 400 complaints.
An Ipso spokesman said it had processed 450 complaints as of 4pm on Monday and 1,200 by 1pm on Tuesday.
"The front page juxtaposition of 'Brit Muslims', 'Jihadis' and frightening photo of an Isis murderer is no accident," the University of Westminster communications professor wrote.
"It reflects the warmongering editorial tone of the newspaper, which is apparently intent on exploiting any means at its disposal to persuade its readers that British muslims are - at best - ambivalent about terrorism. Its dishonest use of opinion polling is the Sun's latest weapon of choice in this undeclared propaganda war....
"The truth is, we have absolutely no idea how many of those one in five have 'sympathy for jihadis'."
He added: "Imagine a poll in 1937, in the midst of the Spanish civil war, which asked British voters whether they had sympathy for those who went to join fighters in Spain.
"How would you interpret a figure of 20% who said yes? Were they sympathising with the pro-Franco nationalist forces, or the anti-Franco republican forces? We would not have known."
A Sun spokesman told HuffPost UK the paper was not commenting beyond a strident leader titled 'Face The Facts', published in today's paper.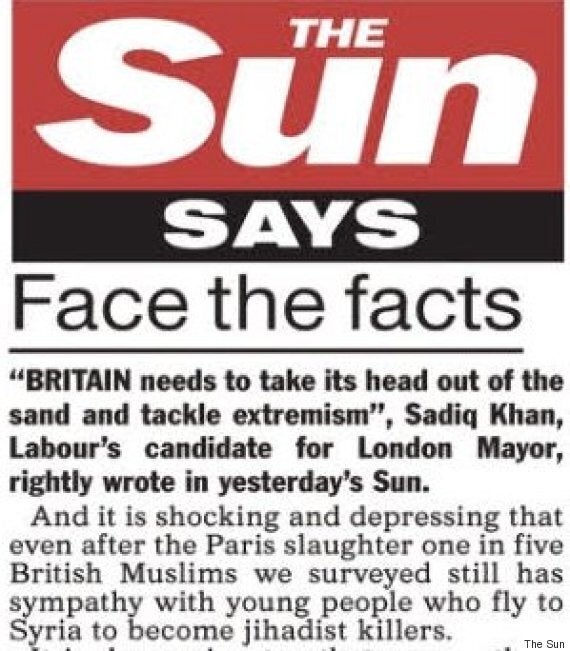 "Most of our survey, commissioned after the Paris atrocities, probed Muslim attitudes to IS specifically," it said.
"No one agreeing to the statement... was in any doubt which fighters we meant.
"Some on the political Left claim ours was a 'rogue' poll. In fact, the numbers expressing sympathy for jihadists were down on similar survey by the BBC and Sky after the Charlie Hebdo massacre.
"All three polls reveal an undeniable truth. Among British Muslims, a minority - but a substantial one- appear sympathetic to a death cult which is among the most evil in history."
The Sun's poll found a fewer proportion of British Muslims sympathising with those going to join fighters in Syria, after a Sky News poll in March found 28% expressed some sympathy.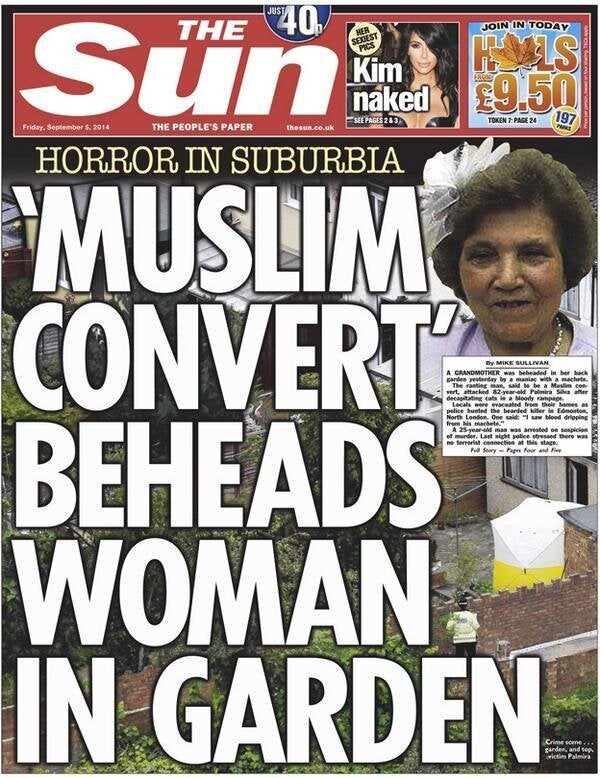 6 Times The Sun Was Accused Of Islamophobia
Related