The US has issued a global travel alert which will stay in place until February, warning its citizens to exercise "vigilance" when in public places or using transportation, following increased threats from militant groups around the world.
The State Department issued an alert saying current information suggests that militants with the Islamic State (IS), al-Qaida, Boko Haram and other groups continue to plan attacks in multiple regions. In the days after the November 13 shooting and bombing attacks in Paris, IS made threats to launch attacks on both Washington and New York.
Terrorists killed 130 people and injured a further 350 in coordinated bombing and shooting attacks on the French capital.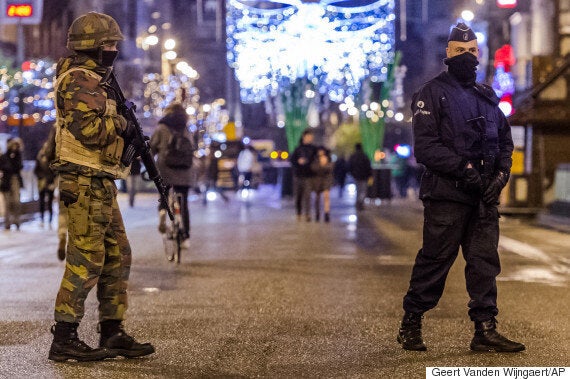 The US has issued a global travel alert to its citizens, as Brussels, seen above, announced it would remain at the highest alert level for at least another week
US authorities said the likelihood of such attacks will continue as members of IS return from Syria and Iraq, and other individuals not affiliated with terror groups engage in violence on their own. The alert will stay in effect until February 24.
"US citizens should exercise vigilance when in public places or using transportation," said the State Department alert released Monday.
"Be aware of immediate surroundings and avoid large crowds or crowded places. Exercise particular caution during the holiday season and at holiday festivals or events," it said.
The travel alert was issued the same day that Belgium's prime minister Charles Michel announced that Brussels would remain at the highest alert level for at least another week in the aftermath of the Paris attacks, and as authorities continue to hunt fugitive Salah Abdeslam.
Schools are set to reopen in Brussels on Wednesday as well as parts of the subway system which have been shut in recent days.
Michael said: "We are very alert and call for caution."
On Monday an explosive vest similar to those used in the Paris attacks was discovered in the suburb of Chatillon-Montrouge by a street cleaner. The suicide vest was made up of the same types of explosives used to cause carnage in the French capital earlier this month, a police official said.
Extremists have targeted sporting events, theaters, open markets and aviation targets in recent months.
As well as the Paris attacks, on October 31, IS claimed responsibility for bombing a Russian airliner in Egypt, killing 224 people. On Friday gunmen took 170 hostages at the Radisson Blu hotel in Mali, in a siege that ended with 27 dead. In the past year attacks have also taken place in Nigeria, Denmark, Lebanon, Turkey, and Tunisia, where 30 Britons were killed when gunmen opened fire at a beach resort in July.