The shooting of five civil liberties supporters at a 'Black Lives Matter' protest in the US has prompted calls for those behind the attacks to be labelled 'terrorists'.
But after police confirmed they was searching for three white males in connection with Monday's assault, many on social media called for a re-think of who could pose a danger to the country.
Others derided the perpetrators, alleging their assault could have been racially motivated, and called for them to be labelled "terrorists"; the act of committing terrorism is defined as "the use of violence and intimidation in the pursuit of political aims".
The calls came as police confirmed they had arrested a 23-year-old white man, Allen Lawrence Scarsella III, and that two other white men, Nathan Gustavsson, 21, and Daniel Macey, 26, turned themselves in on Tuesday.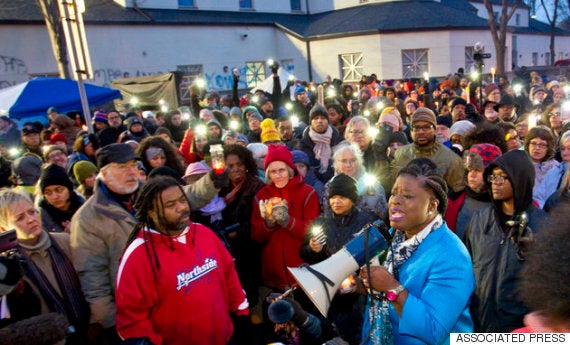 Protestors demonstrate in Minneapolis
Victims from Monday night's shooting - all black men aged between 19 and 43 - were taken to hospital but are not believed to have life-threatening injuries.
The attack has been labelled a "hate crime" by Black Lives Matters spokeswoman Misky Noor, but police are understood to still be debating whether to treat it as such.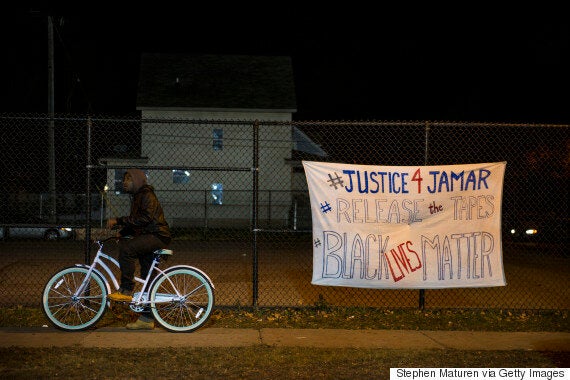 The assault took place at a protest, which has been underway since the fatal shooting of Jamar Clark almost two weeks ago, in memory of the deceased man.
Hundreds of people took to the streets in the aftermath of his death to support the 'Black Lives Matter' campaign, which highlights killings of unarmed black men by police, including Eric Garner, Michael Brown Jr and 12-year-old Tamir Rice.
Police claim Clark was shot after struggling with officers, but some witnesses allege that the 24-year-old was handcuffed.