The second pilot from a Russian warplane that was shot down by Turkey near the Syrian border has been rescued, Vladimir Putin has confirmed.
The Russian president spoke after Defence Minister Sergei Shoigu told Russian news agencies that captain Konstantin Murakhtin was rescued in a 12-hour operation which ended in the early hours on Wednesday and is now "safe and sound" at Russia's air base in the government-controlled area in Syria. He is to be awarded an Order of Courage.
The killed pilot, Oleg Peshov, is to be posthumously awarded Russia's highest honour, the Gold Star Medal of Hero of the Russia Federation. A helicopter pilot that went to the men's rescue, marine Alexander Pozynich, is to be posthumously awarded an Order of Courage.
The news comes hours after Putin broke off any military contact with Turkey in the fight against the Islamic State and is to deploy a warship to the Mediterranean Sea to destroy "any targets representing a potential danger" as tensions continue to rise in the wake of a Russian warplane being shot down.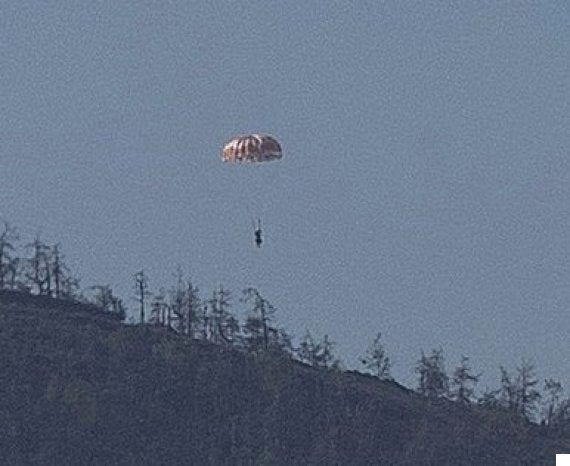 One of the Russian pilots was killed as he parachuted to the ground, while the other has been rescued
Putin: "After what happened yesterday, we cannot rule out other incidents, and if they occur one way or another we will have to react. And our citizens in Turkey, of course, could be exposed to considerable danger, and the foreign ministry is obliged to talk about that."
Sergei Lavrov, the Russian foreign minister, has since described Turkey's shooting down of a Russian jet as "planned provocation" and says Russia will "seriously reassess" relations with Ankara. Media reports suggest Lavrov appeared to rule out any military retaliation.
Turkey confirmed on Tuesday that it had downed a Russian Sukhoi Su-24 warplane with F-16 fighter jets near the Syrian border, after warning "10 times in five minutes" to exit Turkish airspace. Nato said the incursion into Turkish airspace lasted 17 seconds, but Moscow claims its aircraft was hit while in Syrian airspace.
Both pilots ejected themselves from the jet. Peshov was later killed "in a savage way" by Syrian Turkmen rebels, and Murakhtin was captured. On Wednesday, Russia's ambassador to France, Alexandre Orlov, told Europe 1 that Murakhtin had "managed to escape" and had since been picked up by the Syrian army who are expected to deliver him to the Russian airforce base.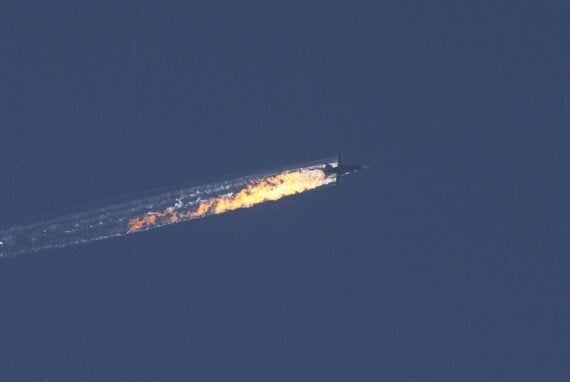 Turkey shot down a Russian fighter jet near the Syrian border on Tuesday
The safe return of the Murakhtin comes as world leaders move to stop tensions from rising between Russia and Turkey after Putin on Tuesday described the downing of a Russian jet as a "stab in the back" that would have "significant consequences". Papers in the UK reflected the concern that gripped observers on Tuesday, as people feared the shooting might spark World War Three.
During a phone conversation on Tuesday night Turkey's President Recep Tayyip Erdogan and Barack Obama discussed the need to contain escalating tensions. Erdogan has since been quoted as saying he has no "intension" of escalating the incident.
Russian Prime Minister Dmitry Medvedev said on Wednesday that the shooting could result in cancelling some joint projects and that Turkish companies could lose Russian market share, Sky News reported. Russia also warned its citizens not to travel to Turkey, saying it was unsafe, and in social media posts, Russians have suggested boycotting Turkey and its products.
Despite this the Russian ambassador to France has said that Russia would be prepared to "create a joint staff" to fight IS in which Moscow would work with France, the US, and even Turkey.
Nato has said it "stands in solidarity" with Turkey, and along with the US, have called for "de-escalation".
Asked if the jet had been shot down over Turkey, Nato secretary general Jens Stoltenberg said: "The allied assessments we have got from several allies during the day are consistent with the information we have been provided with from Turkey."
Obama said: ''It's very important right now for us to make sure that both the Russians and the Turks are talking to each other, find out exactly what happened, and take measures to discourage any kind of escalation."
It is thought to be the first time a plane from a member state of the transatlantic alliance has shot down a Russian aircraft in half a century.
David Cameron has urged his Turkish counterpart to ensure that Ankara maintains direct communications with Moscow to avoid any escalation in tensions.
Downing Street said that Ahmet Davutoglu had phoned the prime minister and explained that Turkey had taken protective action after the Russian jet was warned "several times" not to violate Turkish air space.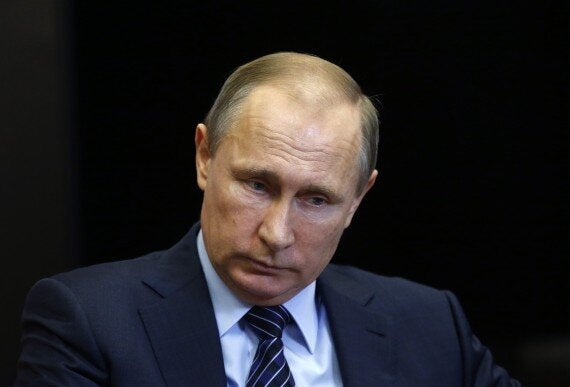 Vladimir Putin says the downing of a Russian warplane by Turkey amounted to a 'stab in the back'
Moscow at first claimed the Su-24 jet was shot down by rebels opposed to Syrian president Bashad Assad, but later confirmed it was targeted by a Turkish F-16.
Putin said Russia "will never tolerate such atrocities as happened today and we hope that the international community will find the strength to join forces and fight this evil".
He added: "It fell on Syrian territory, four kilometres from the Turkish border. When it was attacked in the air, it was flying at an altitude of 6,000 metres, one kilometre away from the Turkish territory. In any case, our plane and our pilots were in no way a threat to the Turkish Republic in any way. This is obvious."
Russian foreign minister Sergey Lavrov cancelled a visit to Turkey planned for Wednesday.
Davutoglu insisted his country has the right to take "all kinds of measures" against violations of its air space, and called on the international community to work towards "extinguishing the fire that is burning in Syria".
Video footage of the incident showed a plane on fire before crashing on a hill and two crew members apparently ejecting.
Jahed Ahmad, of the 10th Brigade in the Coast, said the crew members tried to land with their parachutes in Syrian government-held areas after they ejected, but came under fire from members of his group.
He added that rebels shot one of the pilots, who landed dead on the ground.
Popular in the Community