Who knew Piers Morgan was such a secret Romeo, eh?
Just a day after getting Lorraine Kelly all flustered on Monday's 'Good Morning Britain' (and prompting a rather unfortunate slip of the tongue), he's at it again, this time puckering up with Amanda Holden.
READ MORE:
Stopping by to spread a little Christmas cheer, Amanda whipped out some mistletoe, which she joked Piers had specifically requested that she bring with her, and promptly gave him a kiss on the cheek.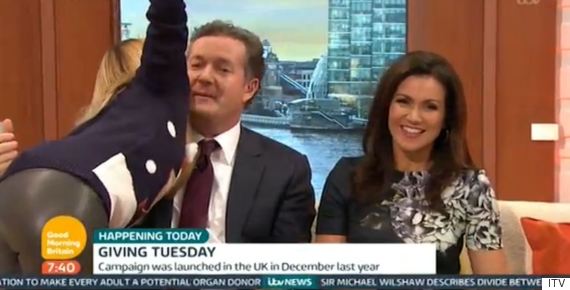 Things started off innocently enough
However, this wasn't enough for Piers, who insisted that Amanda give him a "proper" kiss, to which she responded: "Oh for goodness' sake…"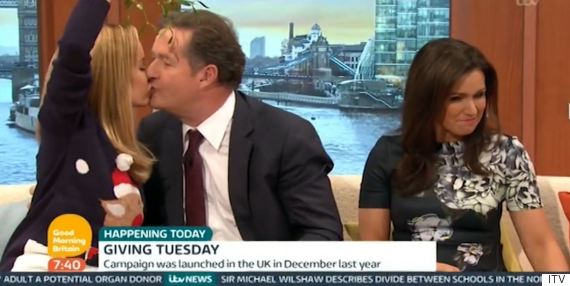 We feel exactly the same as Susanna
As you can see, Susanna looked suitably bemused (though from the looks of this tweet, it was more a "count your blessings it's not me" moment than anything else):
If you open your eyes, you'll see you're mistaken... https://t.co/IsDKWA0uUz

— Susanna Reid (@susannareid100) December 1, 2015
Piers then raised the mistletoe above Susanna's head, though she was clearly having none of it, squirming away from him on the sofa and bringing the segment to an abrupt end.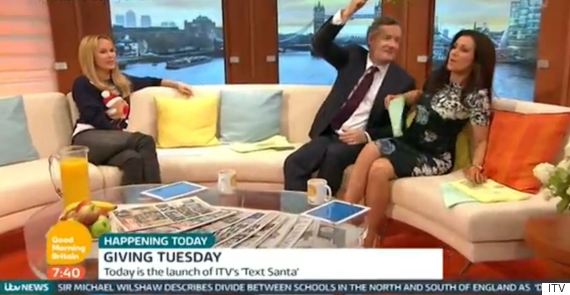 Amazing
This isn't the first time that Susanna has spurned Piers, having previously shut down his efforts at flirting with her during an interview last month.
When Piers quizzed her about whether growing a beard would be the ticket to "gain her affections", during a segment about Chris Hemsworth's dramatic transformation, she promptly responded: "I don't think there's anything you could do to gain those."
Shortly after landing his new permanent presenting job on 'GMB', he commented on his chemistry with Susanna, claiming: "She treats me like a thoroughly naughty boy… but she likes it."
LIKE US ON FACEBOOK | FOLLOW US ON TWITTER