Islamophobic offences in London have soared in the wake of the Paris attacks.
Shocking figures from the Metropolitan Police revealed that incidents of Islamophobia - mainly consisting of harassment - have tripled in the weeks following the attacks carried by the so-called Islamic State terror group.
The figures showed that in the week ending Tuesday 10 November, 24 incidents were recorded.
Following the attacks on 13 November, this number rose to 46 in the week ending 17 November and again to 76 by 24 November.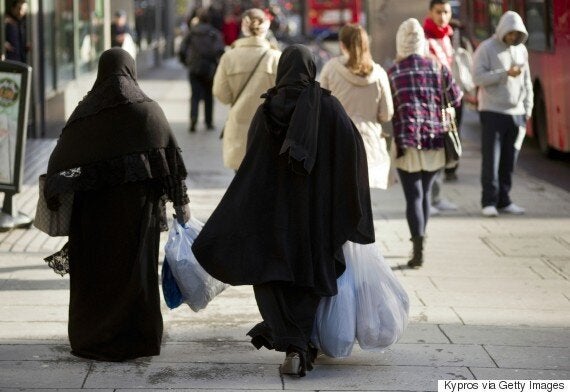 There has been a huge rise in Islamophobic offences in the capital
The news comes days after an attempted arson attack on Finsbury Park Mosque, in north London.
CCTV was released of a man in a white hooded jumper approaching the mosque will a bag containing a jerry can filled with petrol. He proceeded to attempt to set this alight before hurling it into the mosque compound.
The Met is treating the incident as an Islamophobic hate crime.
The report showed a rise in the feeling that Muslims are being discriminated against both in day-to-day Islamophobic acts and government policies.
Between 2010 and 2014, the number of people who reported witnessing Islamophobia directed at someone else leapt from 50% to 82%.
In the same period, the number of people stating they had witnessed negative stereotypes about Islam and Muslims jumped from 69% to 93%.
Muslims have also reported that when they have been the victims of Islamophobic attacks, passersby often fail to offer any help.
Fiyaz Mughal, director of Tell MAMA (Measuring Anti-Muslim Attacks), told The Huffington Post UK in October: "A lot of victims - this not just a one-off - are saying no one is helping them when they're in trouble or when they are targeted. That's a concern.
"Victims are saying 'I wish somebody had called the police, I wish somebody had just asked me if I was okay.'
"It doesn't mean getting involved in the fray, just giving that reassurance. But people were just walking past.
"It doubles the impact of alienation and isolation within the community. It's a them and us situation."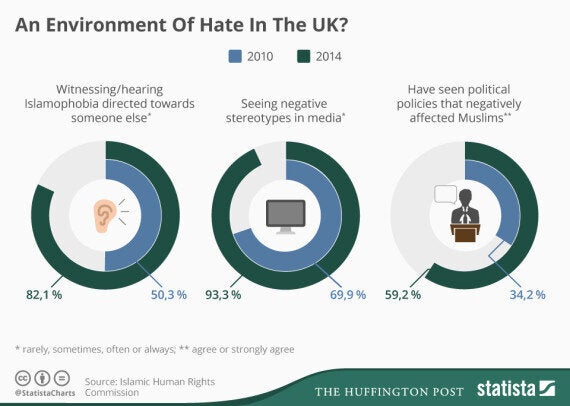 She said: "Sometimes I am amazed that I have never had a torrent of abuse thrown at me or been beaten up – yet.
"Because this run of good luck can't last for ever, can it? One day it simply has to run out. People who look like me and speak like me are being given hell every day and I am not."
The Met Police were keen to reassure Muslims that they were increasing their efforts to crack down on such crimes.
They said: "We know Muslim communities in London are feeling anxious and we are providing extra patrols and are speaking regularly with local mosques and community leaders to reassure and address concerns, while closely monitoring the situation.
"We work closely with organisations representing different faiths regarding hate crime issues and this includes TellMAMA for Islamophobic incidents.
"We will not tolerate hate crime and no one should suffer in silence. We urge people to report hate crime to us as soon as possible so we can act. We have more than 900 specialist officers across London working in our Community Safety Units who are dedicated to investigating hate crime.
"If you can't tell us - report to a third party like Tell MAMA via The Mayor of London's Office for Policing and Crime (MOPAC) hate crime app."