A dog fight takes place every day in the UK, with victims of the illegal blood sport having their injuries patched up by "street surgeons" using nothing more than superglue and staples, a shocking new report reveals.
Although outlawed nearly 200 years ago, dog fighting is still prevalent in the UK, with criminals taking ordinary animals with the intention to "manipulate and exploit them for profit and reputational gain".
Stolen pets, such as smaller dogs and cats are used as "bait" to train canines for fights, which can last for up to 5 hours.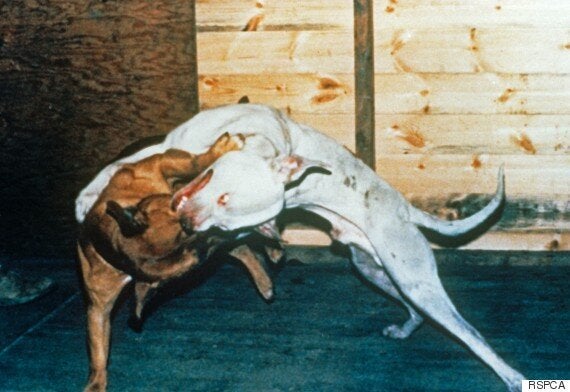 A dog fight takes place every day in the UK, it is estimated
Tom Quinn, Campaigns Director for the League, said: "The UK's dog lovers will be sickened to learn that the cruelty of dog fighting, which can result in torn flesh, blood loss, disembowelment or even death, continues to go on in this country.
"Traditionally dog fighting was hidden away in rural areas and managed almost to a professional level.
"Now we're seeing a move to urban areas, where dog fighting is becoming a way of establishing dominance, often related to gang activity. Either way, it's often about machismo and money, and the dogs will inevitably suffer."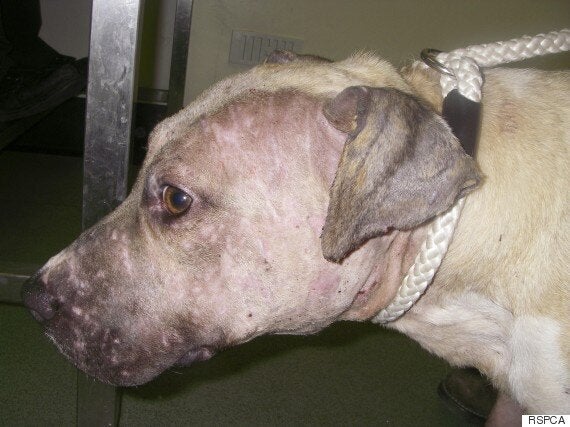 Injured dog from an organised dog fight
Authors of the report, criminologists Dr Simon Harding and Dr Angus Nurse spoke to a people involved in dog fighting and examined the practices, motivations and extent of dog fighting as well as the means to tackle it.
Dr Harding said that there is "clear evidence of dog fighting in the UK", ranging from every-day impromptu street fights, through to hobbyists to professional fights where huge amounts of money changes hand.
He said: "It is clear that regardless of the level of dog fighting, these people are all connected by a common thread of secrecy, callousness and links to other crimes."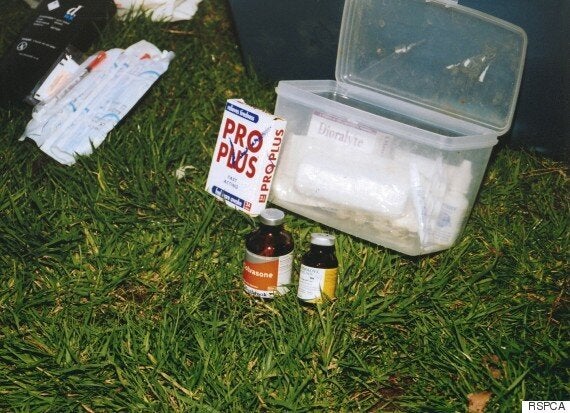 Drugs confiscated from dog fight organisers
Dr Harding added: "Dog fighting is a cruel and violent practice which has no place in 21st century Britain. Offenders take ordinary animals, manipulate and exploit them for profit and reputational gain.
"It is a serious concern that this activity, outlawed 180 years ago, remains, and in some communities, thrives even today.
"We should all work together to eradicate this practice once and for all."
The three levels of dog fighting are:

Level One: Street Rolls:

One on one fights in urban parks and housing estates
Arranged on the spot, no referee or rules, fight over in a few minutes
Little or no money involved
Likely to occur somewhere in the UK every day

Level Two: Hobbyist

Series of fights in abandoned buildings/bedrooms converted into a 'pit'
Operate on a localised fighting circuit in urban areas
Often gang affiliated with gambling involved
Likely to occur somewhere in the UK every couple of weeks

Level Three: Professional

Sophisticated dog rings with highly trained dogs of reputable bloodlines
Always take place in a pit, with rules, referees, timekeepers, spectators
High stakes gambling with £100,000s wagered
Dogs entered in fights both in UK and internationally
Likely to occur somewhere in UK every few months
Chief Inspector Ian Briggs, from RSPCA's Special Operations Unit, said: "Dog fighting is one of the most brutal, extreme and premeditated forms of animal cruelty. Organised animal fighting can happen anywhere, from remote locations to city warehouses.
"The increasing number of calls the RSPCA has received about animal fighting in the past five years suggests that it is as much a problem now than ever before.
"I've been investigating organised animal fighting for more than 10 years and it still disgusts me, knowing that there are individuals who continue to take pleasure in watching animals brutally fight each other, often causing horrific and sometimes fatal injuries.
"We are dedicated to working with the police and other animal welfare organisations to tackle this sickening activity."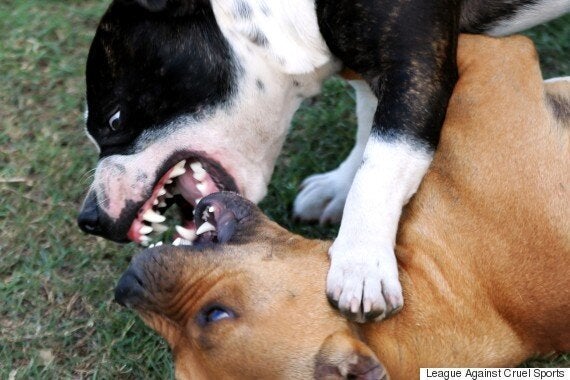 The RSPCA are receiving an increased number calls about animal fighting
The report highlights the link between dogfighting and other crimes.
By analysing data provided by the Metropolitan Police and other sources, the report identified that young men who owned 'dangerous dogs' or 'status dogs', as defined under the Dangerous Dogs Act, were widely associated with or involved in an extensive range of criminal activity, including robbery, threats to kill, actual bodily harm and drug possession.
In Merseyside, 23 out of 25 dangerous dog owners had 87 convictions amongst them, while in the West Midlands 79 out of the 126 'dangerous dog' owners had other criminal convictions, the report found.
Animal protection groups are calling for tougher measures to help make the law on dog-fighting more enforceable, such as the mandatory recording of dog fighting offences and strengthening penalties to bring them into line with other European countries.
To read the report in full, click here.