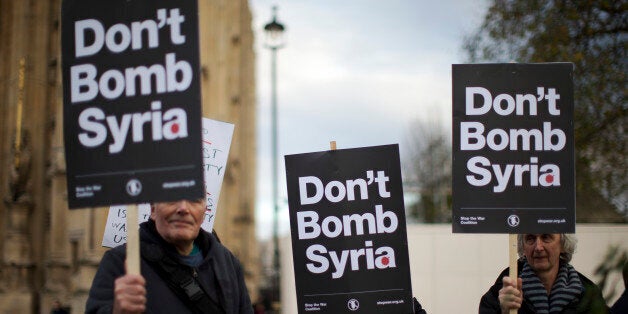 Jeremy Corbyn has praised the Stop the War Coalition as a "vital force at the heart of our democracy" and hit out at its critics for wanting close down debate.
The Labour leader defied some of his MPs by attending the anti-war group's Christmas fundraising dinner in London, pointing out that hundreds of thousands of Britons had marched against the UK's role in Iraq and other recent conflicts.
Just over a week after he and most of his Shadow Cabinet voted against David Cameron's call to bomb ISIL in Syria, Mr Corbyn insisted that Stop the War had been 'right' to oppose 'more than a decade of disastrous wars'.
But in a turnaround for the campaign group, it found itself picketed by protestors - including Kurds and Syrians - who believe it is wrong to oppose military intervention.
Mr Corbyn avoided the media pack outside by arriving at the restaurant in Waterloo through the back entrance.
Several Labour MPs had also warned Mr Corbyn to distance himself from the anti-war campaign after its website had hosted blogs suggesting Paris had 'reaped the whirlwind' of French airstrikes in Syria and linking ISIL support to that of anti-fascist fighters of the 1930s.
Labour sources told HuffPost UK that Mr Corbyn was set to say at the dinner: "The Stop the War Coalition has been one of the most important democratic campaigns of modern times.
"It has brought hundreds of thousands of people on to the streets time and again. It has organised protests and lobbies in every part of the country, including by military families.
"Most of all, it has been shown to be right in opposing more than a decade of disastrous wars - in Afghanistan, Iraq and Libya – while many of its most vociferous critics supported them.
"The anti-war movement has been a vital force at the heart of our democracy. Branding it as somehow illegitimate is an attempt to close down democratic debate and campaigning."
Mr Corbyn has been a longtime supporter of Stop the War and only decided to step down as its chairman when he was elected as Labour leader by a landslide of Labour members in September.
As revealed by HuffPost last week, he was determined to show his support for the group, as he felt it represented the voice of a large section of British public opinion.
However, some Labour MPs believe that the anti-war group should be avoided and several of them had urged at a meeting of the Parliamentary Labour Party for him to boycott the event.
Among those protesting tonight were gay rights veteran Peter Tatchell, as well as Labour party members.
Former shadow cabinet ministers Tristram Hunt and Caroline Flint have also urged Corbyn to shun the event. Green MP Caroline Lucas has also resigned as a patron of Stop the War, citing concerns about the positions it has adopted.
Andrew Murray, who is also chief of staff at the Unite union, formally took over from Mr Corbyn as chair of Stop the War tonight. He described as ridiculous and absurd the attention the event was getting.
"Everyone hangs around with their friends and family at Christmas. But Jeremy, apparently, has a problem," he said before the fundraiser. "We'll do our best. It's an unusual situation."
"They blame Paris for reaping the whirlwind of Western intentions after the recent terrorist attacks. They compared ISIL/Daesh with the international brigades who fought fascism in 1930s Spain and they have failed to condemn Russia for its invasion and occupation of Ukraine and Georgia," she said.
"I don't think these are views that are based on the values of internationalism solidarity of the Labour party and I hope my party leader will distance himself from this organisation and pull out of the dinner tonight."
But Chris Nineham, one of the founders of Stop the War, told Today that Reynolds was telling "untruths" and was engaging in "tittle tattle and smears".
Shadow culture secretary Michael Dugher said Corbyn should use this evening's fundraiser to "have a word" with Stop the War's leadership. In an interview with The House magazine, Dugher said many of the group's activists thought "the wrong people won the Cold War".
In a statement published yesterday, Stop the War said it was under "unprecedented attack" from Labour MPs and others opposed to Corbyn's leadership of the party. It said its views were now "being routinely misrepresented by the Tory government, the right of the Labour Party and sections of the media".