Labour backbencher Jess Phillips has opened up about her frustrations with Jeremy Corbyn during a candid interview with Guardian columnist Owen Jones.
The conversation - although filled with laughter - hit a serious note when Phillips told Jones that she regularly consults with members of Corbyn's team, in an attempt to steer him away from certain ideas. "I frequently go up to him or people in his office - screaming put the red book down," she said.
After criticising the communication in the Labour camp, Corbyn-supporter Jones asked Phillips if she thought this was because the Islington North MP wasn't expecting to win leadership.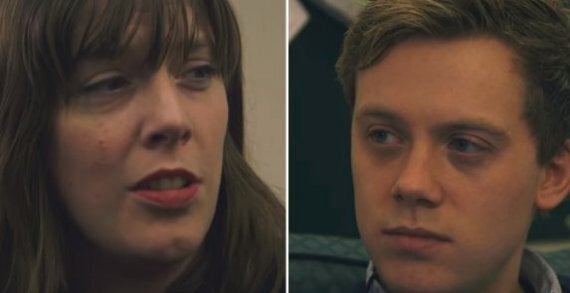 Owen Jones has interviewed Jess Phillips
"He has been here for 33 years, he could have spent some time thinking about what he might want his vision for the country to be, beyond some of his principles. So yeah, my entire life he's had to think about it," Phillips retorted.
But it was when the MP was asked: "Do you want a change of leader?" that Phillips told Jones: "I would do anything I felt that would make the Labour party win the next election because if I don't have that attitude - all I'm doing is colluding with the Tories.
"If that's making Jeremy better I'll roll my sleeves up - [but] if that's not going to happen - and I've said that to him and his staff to their faces - the day that it becomes that you are hurting us more than you are helping us - I won't knife you in the back, I'll knife you in the front," she said.
Phillips also vented on an issue somewhat close to her heart - taking aim at Corbyn, 66, for not electing a woman to the NEC: "This woman is perfectly capable of doing this job - why do we need Ken Livingstone telling us what to do?," she said before adding her frustrations about politics as a whole: "I'm sick of being treated differently because i'm a woman."
The 34-year-old member for Birmingham Yardley also explained her run-in with shadow international development secretary Diane Abbott, who she told to "fuck off".
And answered the ultimate question of "Do you want to be [Labour] leader one day?" with the response "I do enjoy it and there are weeks that I wish I could just stay at home in my constituency - [But] I am ambitious for the Labour party and if I thought that me being the leader of the Labour party would help - then yeah, I would do that."
The MP joked that she only got into politics so that she could "appear on Strictly Come Dancing" and laughed at the idea of the 'illuminati in Westminster", confirming that she is in-fact actually a lizard.
SEE ALSO:

This Tory MP Says Breastfeeding In Parliament Should Pass 'Supermarket Checkout' Test First
Phillips objected to Tory MP Philip Davies' calls for an International Men's Day Commons debate "in the spirit of gender equality,"
She said she would not quit social media despite the "deluge" of "vile" abuse she received. Phillips also took to the Huffington Post UK to write about the issue, in her blog post "Drawing A Line."
She wrote: "I am so sorry if I offended any of the massive silent majority, with how what I said to Phil Davies has been misrepresented. You are already getting a slow and under-resourced service, without thinking people are acting against you.
"The truth is I care deeply about fighting for women's equality and I will do all I can to use my expertise to do this in my time in Parliament."
After giving her interview to Jones on Monday, though, the Birmingham MP received a torrent of criticism from Labour activist who accused her of advocating physical violence against Corbyn.
Phillips rebutted, posting in a message on Twitter that the comment had been made a metaphor.
While Jones too suffered abuse from social media users, writing in a post on his Facebook page that it was right he conducted the interview with Phillips and warning against Labour becoming too much of a "bitter sect".
Related