Timothy Peake and his fellow astronauts have successfully docked with the International Space Station. The Soyuz TMA-19M spacecraft docked at 17.33, six and a half hours after lift off at 11.03 GMT.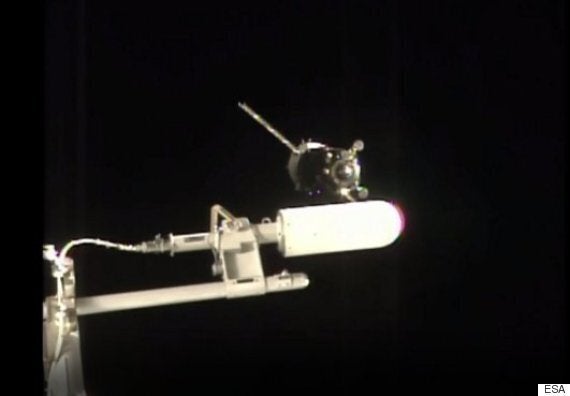 Commander Yuri Malenchenko had to manually fly the spacecraft toward the International Space Station.
The docking procedure itself didn't entirely go to plan after mission commander Yuri Malenchenko had to disengage the autopilot and fly the spacecraft in manually.
It spent just over 30 minutes completing its fly-around as the astronauts on-board made sure every part of the capsule was precisely aligned with the station, while travelling at a speed of 20-30 centimetres per second.
Tensions rose as there were difficulties in manoeuvring the capsule into position. Yuri took manual control and backed the capsule away before making a second attempt to re-align it with the station's docking port.
This put the docking behind its scheduled time of 17.23 GMT by just over 10 minutes.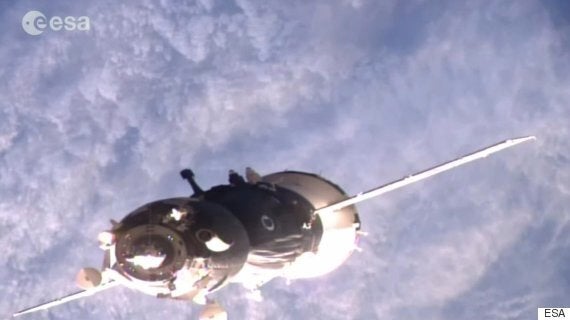 The spacecraft inches slowly towards the docking hatch.
There were emotional scenes this morning as Major Tim Peake said goodbye to family and friends before blasting off for the International Space Station (ISS).
Major Peake became the first UK astronaut to blast off for the ISS, launching at 11:03 GMT this morning as part of a 6-month mission to carry out scientific experiments on behalf of the European Space Agency.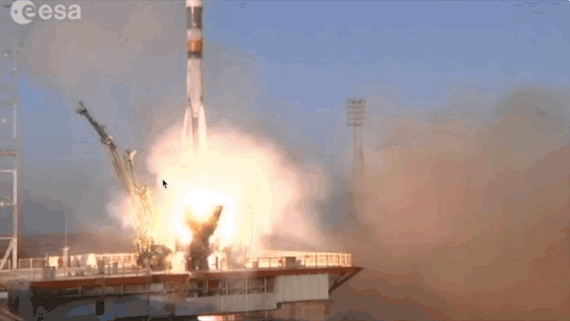 Generating 26 million hp of thrust, the Soyuz TMA-19M blasted off towards the International Space Station.
The launch in Kazakhstan took just a matter of minutes but the Soyuz capsule carrying Peake won't be expected to dock with the ISS until 17:23:07 GMT 15 December 2015, a journey of about six-and-a-half hours.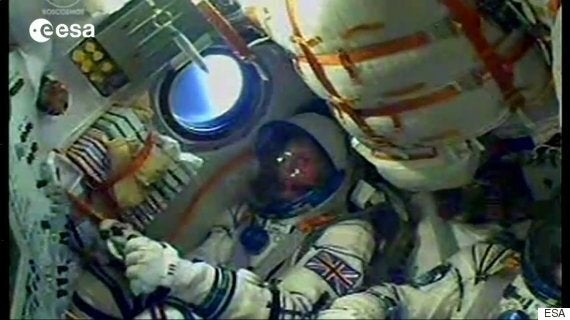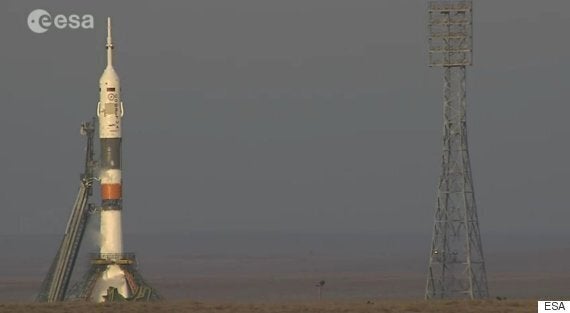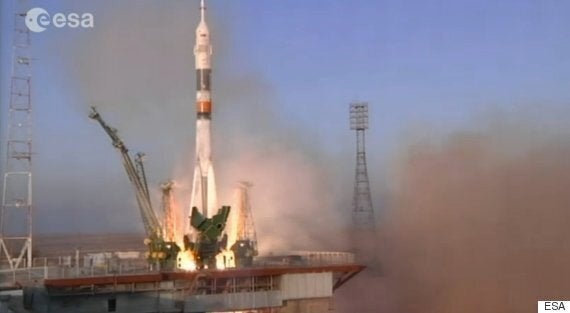 Wellwishers gathered waving Union flags, cheering and shouting "go Tim" as Major Peake and his two crew companions departed from the Cosmonaut Hotel for the Baikonur Cosmodrome in Kazakhstan.
They included Major Peake's best man, former Army Air Corps pilot Ian Curry, 50, who said: "I'm hugely excited about the launch. For me it's a once in a lifetime opportunity to see a tremendously exciting thing and one of my best mates is on board. Tim and I are great mates, we've been pretty tight for 27 years."
Accompanying Major Peake were NASA astronaut Tim Kopra and cosmonaut commander Yuri Malenchenko. The three astronauts launched from Baikonur Cosmodrome in Kazakhstan and then fly to the International Space Station using a Soyuz TMA-19M spacecraft.
Already aboard the ISS already are Russians Sergey Volkov and Mikhail Korniyenko, along with American Scott Kelly.
Capable of generating 26 million horsepower, the spacecraft rocketed the astronauts into orbit in just a matter of minutes. However it will take nearly six hours for the spacecraft to catch up with the International Space Station.
Major Peake sent his final tweet this morning (Tuesday) as he officially began his countdown to launch:
While the world sent their support and best wishes to Major Peake, not everyone was as keen about him heading to space. Tim's youngest son Oliver, four, Sitting on the shoulders of his grandfather, Tim's father-in-law, cried loudly, saying: "I want to go with Daddy." He was consoled by his mother as he clutched a toy.
Major Peake and his crew mates waved and smiled before stepping on to the bus that will take them to the "suiting-up" building. There the trio will don their pressure suits before being transported to the launch pad.
As they were leaving, music was played - an old Russian song about a cosmonaut pining for home.
Later, the crew will salute the state commission - Cosmodrome officials - before being taken to Launch Pad 1 and climbing into the tiny Soyuz TMA-19 space capsule on top of the rocket.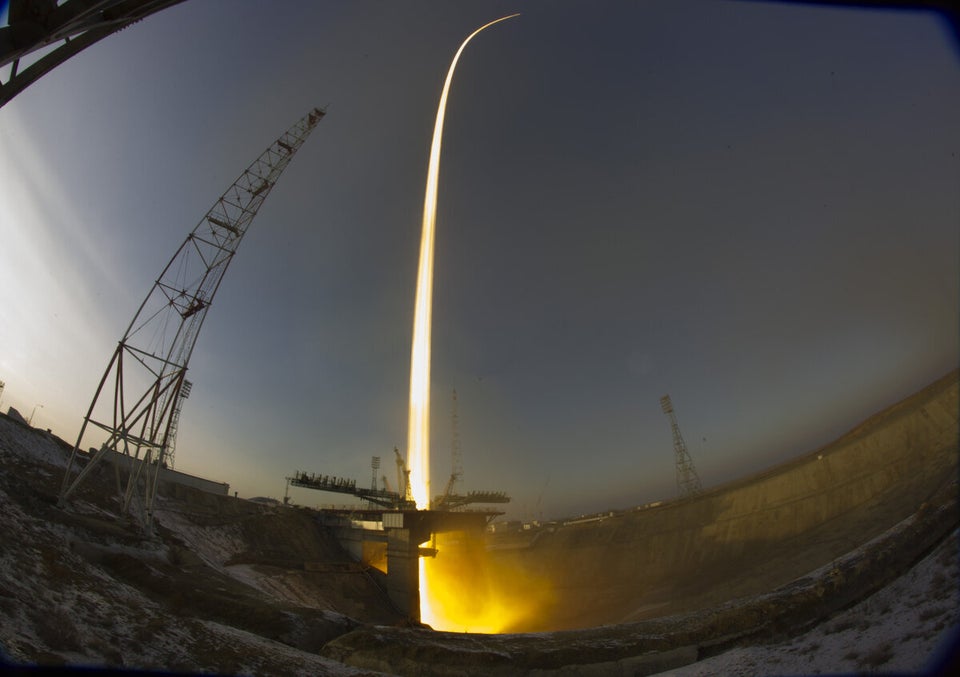 Tim Peake Leaves For The ISS
Major Peake is the first Briton to join the crew of the International Space Station (ISS). He is also the first fully British professional astronaut to be employed by a space agency.
Previous "Brits in space" have either been US citizens or had dual citizenship, or been on privately funded or sponsored trips.
Major Peake is employed by the European Space Agency (Esa) and sports a Union Flag on his sleeve.
The launch is scheduled for 11.03am UK time.
Can I Follow Tim On Social Media?
If there's one thing we know for sure, it's that astronauts make amazing people to follow on social media. ISS commander Scott Kelly dazzled us with his stunning array of videos and pictures which were uploaded to Instagram and Twitter.
Expect more of the same, in fact, Tim has already started so get following now:
Popular in the Community