Timothy Peake's launch is scheduled for 11:03 GMT 15 December 2015.
The launch itself will take just a matter of minutes to propel him into orbit however the crew will need to wait a full six hours before their spacecraft catches up with the football stadium-sized space station. Major Peake is then expected to dock with the ISS today at 17:23:07 GMT.
There were emotional scenes earlier as Major Peake said goodbye to family and friends before setting off to be launched into space.
Wellwishers gathered waving Union flags, cheering and shouting "go Tim" as Major Peake and his two crew companions departed from the Cosmonaut Hotel for the Baikonur Cosmodrome in Kazakhstan.
Major Peake will become the first UK astronaut to work aboard the International Space Station as he begins the 6-month Principia mission that'll see him carry out experiments some 400km above the Earth.
Accompanying Major Peake will be NASA astronaut Tim Kopra and cosmonaut commander Yuri Malenchenko. The three astronauts will launch from Baikonur Cosmodrome in Kazakhstan and then fly to the International Space Station using a Soyuz TMA-19M spacecraft.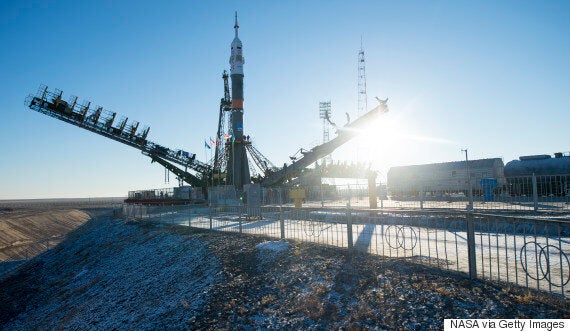 As they were leaving, music was played - an old Russian song about a cosmonaut pining for home.
Later, the crew will salute the state commission - Cosmodrome officials - before being taken to Launch Pad 1 and climbing into the tiny Soyuz TMA-19 space capsule on top of the rocket.
It is the same historic spot Yuri Gagarin flew from to become the first man in space in 1961.
Capable of generating 26 million horsepower, the spacecraft will rocket the astronauts into orbit in just a matter of minutes. However it will take nearly six hours for the spacecraft to catch up with the International Space Station.
Major Peake is the first fully British professional astronaut to be employed by a space agency.
Previous "Brits in space" have either been US citizens or had dual citizenship, or been on privately funded or sponsored trips.
Major Peake is employed by the European Space Agency (Esa) and sports a Union Flag on his sleeve.