The family of a teenager who is believed to be on the brink of execution in Saudi Arabia for attending a protest aged 15, have broken their silence, pleading with world leaders to intervene to save his life.
Abdullah al-Zaher, 19, was the youngest in a group of juvenile offenders put on death row as part of a crackdown on political dissent in the kingdom, and according to Reprieve, the teenager was recently moved to solitary confinement at a new facility and could be beheaded at any moment.
Al-Zaher was sentenced to death in October 2014 by the secretive specialised criminal court in Riyadh, and as with other juveniles tried at the same time, the government prosecutor asked for his body to be crucified after his beheading.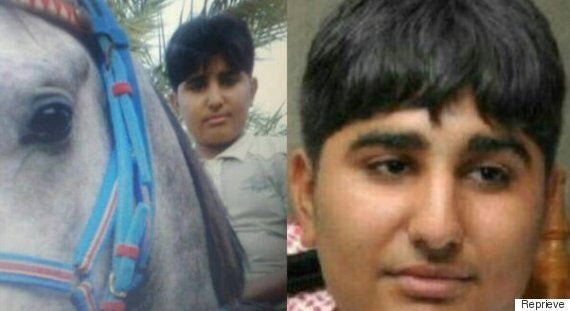 Abdullah al-Zaher was 15 when he was arrested at a protest in Saudi Arabia and now, age, 19, faces an imminent execution
The teenager's family have now spoken out, even though doing so could have dire consequences.
Al-Zaher's father, Hassan al-Zaher told The Guardian: "Please help me save my son from the imminent threat of death. He doesn't deserve to die just because he participated in a protest rally."
Just short of his 16th birthday, in March 2012, al-Zaher was arrested for participating in protests in Saudi Arabia's eastern Shia-dominated province. He was later charged with "harbouring" protesters, participating in demonstrations and chanting slogans, setting fire to a car and throwing Molotov cocktails.
Al-Zaher's family and Reprieve claim that after the teenager was arrested Saudi security forces beat him with wire iron rods, forced a confession from him and did not allow him to speak to his family or a lawyer.
His father told the Guardaan that al-Zaher was "forced to sign a paper that the police fabricated".
According to Amnesty International, Saudi Arabia executed 102 people in the first six months of this year – more than in all of 2014 - making them one of the world's biggest executioners.
The prisoners were described as members of al-Qaida.
According to Reprieve, al-Zaher was the youngest person at the time of their arrest in Saudi Arabia to be sentenced to death. He is being held in isolation along with two other youths, whose appeals have also failed.
Reprieve told the Guardian that Saudi Arabia's plans for a mass day of executions were "alarming ... and should prompt revulsion and condemnation from Saudi Arabia's allies".
Al-Zaher's father told the newspaper that his son, who he last saw three months ago during a 10-minute visit, had been arrested after his mother sent him to the shops. Hassan al-Zaher said his son panicked after being stopped on the streets and fled the scene.
He said his family had expected a "lesser punishment" if al-Zaher was proved guilty, so his death sentence was "difficult for us to accept".
"This is why we feel compelled to exert all efforts and avenues that may save the life of my son."
Hassan al-Zaher described his son as popular and peaceful adding that he attend the protests knowing little of what they were about.
"He loved to ride my horses and wanted to become a medical assistant or nurse someday," he told the Guardian.
"My son ... did not fully understand what the people are protesting for. He just went there after being invited by a friend. He did not go there with the intention of fighting or opposing the government, in his eyes it was just a simple protest rally."
Saudi Arabia's use of the death penalty has strained its relationship with the UK.
"Our judgment is that we achieve most by speaking privately and regularly to our Saudi interlocutors," he said.
Last week, sources at the Foreign Office told the Guardian that Hammond still stood behind his Commons statement adding that the UK ambassador in Riyadh continued to raise the issue at regular intervals.
Maya Foa, head of the death penalty team at Reprieve said al-Zaher had been through a "horrifying ordeal".
She told the Guardian: "It is utterly disgraceful that the Saudi authorities are now threatening to carry out his beheading imminently, along with the killing of other juveniles like Ali al-Nimr. Those governments who are among the closest Saudi allies – notably the UK and the US – must step in without delay and urge the Saudi authorities to change course."