An MP at the centre of a row over claims she faked a death threat has hit the headlines again, after voicemails were leaked of the parliamentarian admonishing a staff member who was absent from work due to sickness.
In the messages, obtained by the 'Evening Standard', Telford MP Lucy Allan accused female staffer Arianne Plumbly of having "pissed around on my life," questioning whether her illness was genuine.
She described the woman's absence as "pathetic" and said "we all know you're not ill". When the staff member was signed off sick for a number of weeks, Allan left a message telling her: "If you sign yourself off sick for four months the only option will be to dismiss you."
Plumbly told the 'Standard' that Allan's office was "a nasty environment" to work in, but claimed that when she raised her concerns with Tory executives "there was no sympathy or anything."
"I don't think they dealt with it at all," she added. "I'm really disappointed."
But a Conservative Party spokesman rebutted: "As soon as these complaints were made they were dealt with appropriately and sympathetically."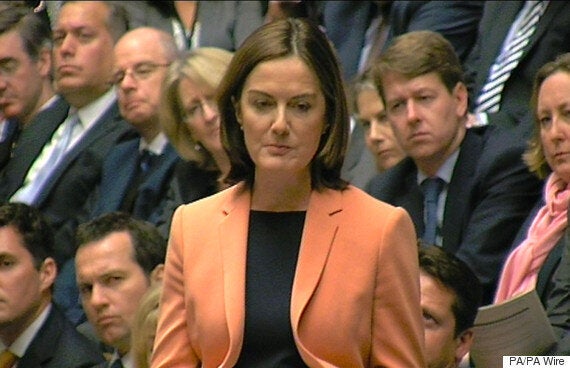 Telford MP Lucy Allan speaking in the Commons
The party last year issued a new code of conduct for MPs and their staff, and now operates a free confidential helpline for staff with workplace concerns.
Allan made no immediate response to a request for comment.
In a written response to the newspaper, the 51-year-old MP said: "Arianne Plumbly was dismissed from her employment with Lucy Allan, MP in Telford, after four months' employment, for gross misconduct following misuse of the Parliamentary email system, persistent unauthorised absenteeism, refusal to follow a reasonable instruction and rudeness to residents."
Allan last week used a Facebook post - which saw since been deleted - to complain of being "hounded ... with smears, fear, lies, threats, slurs and abuse" from political opponents since putting herself forward as Conservative candidate in Telford.
Her staff, in their "dream job", had been "hounded, harassed, abused and bullied", she claimed.
Allan has faced a backlash since admitting doctoring an email message from the son of a local councillor, who had urged her under a false name to oppose the bombing of Syria.
She initially suggested the message had included threatening language, but later said the words "unless you die" had in fact come from a separate message sent on the same day.
However, she said it was a "disgusting slur" to suggest she had faked a death threat.
Popular in the Community