A new video of so-called Islamic State's "jihadi university" shows technicians for the group testing driverless car bombs and modifying surface-to-air missiles, in footage which has left British weapons experts shocked at the terror group's capability.
The report by Sky News reveals the IS can potentially recommission thousands of missiles that Western governments assumed had become redundant through old age.
Weapons experts are said to have been left shocked by the capabilities of scientists from a "jihadi university" in Raqqa, Syria, IS' de facto capital.
The organisation, also known as Isis, Isil or Daesh, is apparently able to produce fully-working remote controlled cars to act as mobile bombs.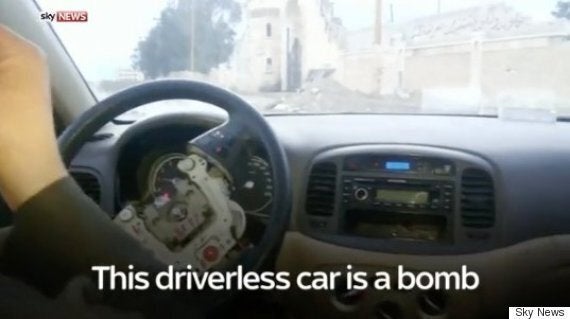 A still from the footage of the driverless car
Footage obtained by Sky shows IS is able to produce home-made thermal batteries for surface-to-air missiles, something that had been considered virtually impossible for terror groups working without a military infrastructure.
To bypass sophisticated scanning machines that protect Western military and government buildings, the cars are fitted with drivers, mannequins with self-regulating thermostats to produce human heat signatures.
The Free Syrian Army (FSA) passed on the footage of more than eight hours of unedited training videos after taking it from an IS trainer who was captured as he headed through Turkey towards Europe.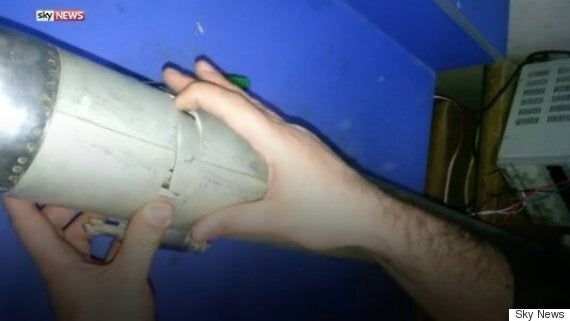 The material has been described as an intelligence "gold mine" by a British military adviser.
Major Chris Hunter, a former bomb technician in the special forces, told Sky News he was shocked at some of the developments revealed in the videos.
He said: "I think this is one of the most significant intelligence finds in terms of Daesh (IS). What we've seen with their typical propaganda videos is they're very, very high quality.
"They're designed, they're produced to inspire people and prospectively touch the nerves of anybody who is viewing them; they're done in a very specific way.
"With this training footage, it's very clearly purely designed to pass on information - to pass on the progress in the research and development areas - and it gives us a very good insight into where they are now, what they're aspiring to do and crucially the diversity of the types of threats we might face.
"So I would say it's an intel gold mine."
In one of the videos a man speaking Russian walks through a store containing explosive materials including improvised missiles and TNT, the Press Association reports.
An IS defector further told the broadcaster that a top secret training programme was known about in his home town of Raqqa. He added that the programme was designed for attacks in Europe and further afield.
A jihadi college training foreign fighters to fight in other countries, while developing missiles to continue the war in Syria, was suspected but never seen.
It is believed this is the first evidence of the existence of such a training facility, and that groups of trainees from a range of countries including Syria, Iraq, Sudan, Somalia, Tunisia, Egypt and Pakistan were given terror training courses using science labs and facilities based around the former Equestrian Centre in Raqqa.
Responding to the report, a Foreign Office spokeswoman said: "Daesh will use all measures at their disposal to cause harm, and Britain will never be cowed by such terrorists.
"Our values are so much stronger than theirs. It will take time but this is an organisation that is losing territory and will be defeated."