A British former soldier who tried to smuggle a four-year-old Afghan girl into the UK says he is "preparing for the worst and hoping for the best" as he waits to be sentenced by a French court.
Father-of-four Rob Lawrie, 49, now an aid worker, says he will plead guilty on Thursday when he appears before magistrates in Boulogne but hopes the court will see that he "just tried to help a little girl".
Mr Lawrie, from Guiseley, Leeds, tried to take the girl from the camp known as 'The Jungle' in Calais to Britain in his van.
He was stopped in Calais in October by border guards who found the refugee girl called Bahar Ahmadi - known as Bru - in his vehicle, The Press Association reported.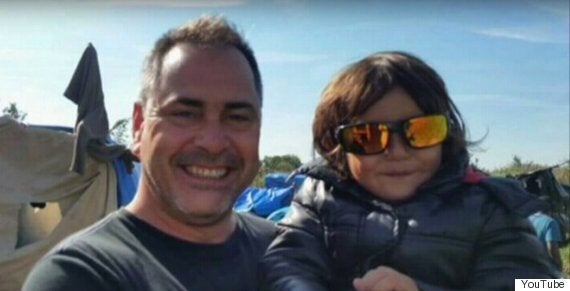 Mr Lawrie with Bahar or 'Bru'
The former Army physical training instructor explained how he was helping build shelters in The Jungle camp when he got to know Bru. Her father asked him to help get her to close family members living in Leeds.
Mr Lawrie said his actions in October were a "moment of madness".
"All rational thought left me," he said. "I thought, how can I leave this little girl here?
"There's a family there that can pay for her, educate her, love her, house her. She'll have her own bedroom. Or, I can give her back to her dad who's going to put her back in a cold shelter and carry on living like that."
But Mr Lawrie was caught when British sniffer dogs at the Calais border found two Eritrean men who, unknown to him, had stowed in the back of his van.
French police arrested him over the stowaways and it was only when he was handcuffed in custody that he had to tell the authorities to go back to the van and look for Bru.
Mr Lawrie explained how French police appeared to believe his story when they brought Bru into the detention centre and she ran over to give him a cuddle.
He posted a video on YouTube in October called 'Calais "the truth"' which showed a compilation of photos from his aid work with migrants and refugees in the French port.
The former Royal Corps of Transport soldier said he feels numb as he waits to hear his fate. He has lost three stone since October and has been told the maximum sentence he faces is five years in prison or a 30,000 euro (£22,560) fine.
Asked if he thinks a jail sentence is possible, he said: "I would say probable.
"I just thought this girl needs a better life than this.
"I have one saying in life - you can't help everyone but everyone can help someone. Bru and her dad had become my someone."
Mr Lawrie said: "What I did was highly wrong. It was done on the spur of the moment.
"It was done in a mind that had no rational thinking going on. Any volunteer that's been in one of these camps for a period of time will tell you that rational thoughts just leave you, just don't exist.
"I got sucked in and tried to help a little girl."
He said: "I am preparing myself for the worst and hoping for the best".