As it was announced that three men have been found guilty over the Hatton Garden raids, one news reporter couldn't resist trying his hand at recreating the daring plan behind the heist.
As part of his report on the raid, the BBC's Daniel Sandford took a look at the hole bored through a thick concrete wall at the Hatton Garden Safe Deposit company in London's Holborn.
Ever the committed journalist, Sandford decided to demonstrate how it was possible to wriggle through the hole, which was created using a heavy-duty drill.
He explained that the "Superman" pose - one hand ahead and another by his side - was apparently the most effective way of travelling through the gap, before attempting to wriggle through.
Things look touch and go for a few moments when he appeared to become lodged halfway through, but after asking an assistant to give him a push from behind, he eventually managed to wriggle through.
Top marks for dedication.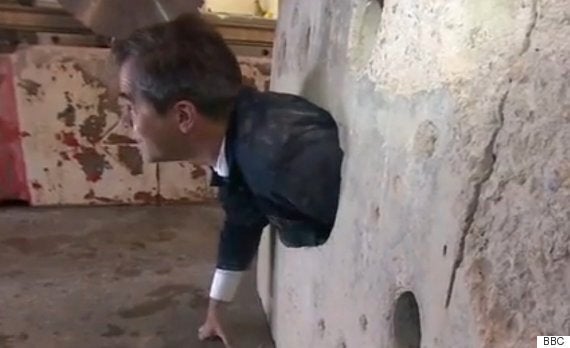 Things looked touch and go for a while for Daniel Sandford
Wood, 58, from Cheshunt, Hertfordshire, and Lincoln, 60, of Bethnal Green, east London, were both convicted of conspiracy to commit burglary, and conspiracy to conceal, convert or transfer criminal property.
Doyle, 48, of Enfield, north London, was found guilty of concealing, converting or transferring criminal property.
A fourth man, Jon Harbinson, was cleared.
Popular in the Community