A police officer has been praised for saving the life of an abandoned baby by breastfeeding the newborn until an ambulance arrived.
Luisa Fernanda Urrea, herself a new mother, attended the scene at a remote forest settlement in Colombia where the baby had been found in undergrowth.
She noticed that the child was starving and at a risk of hypothermia, so she fed the little girl, saving her life.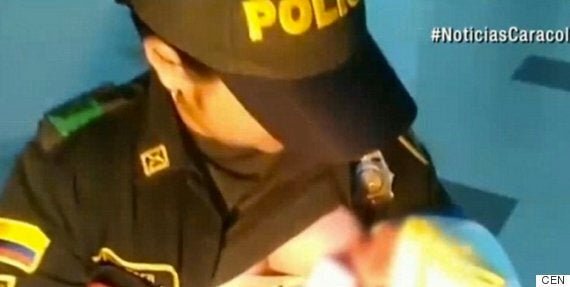 Luisa Fernanda Urrea breastfeeding the baby
Urrea told local media: "I'm a new mother and I have milk and I recognised the needs that this poor little creature had.
"I think any woman would have given her nourishment in the same circumstances."
Medics said that, without Urrea's actions the baby, who was still had part of the umbilical cord attached, might have died.
Edinora Jimenez, who found the baby, said: "I was collecting some oranges when I heard something crying.
"I thought it was a cat until I looked closer and saw that it was a baby girl."
According to a local news source, the infant is now being cared for by the Colombian Institute of Family Welfare (ICBF), who are searching for an adoptive home.
Now police and health officials are searching for the baby's birth mother, who may face attempted murder charges.
Orphanage director Jhon Arley Murillo said: "We could be dealing with a case of attempted homicide, although it's the prosecutor who will decide the charge."
Related