The five things you need to know on Friday January 15, 2016…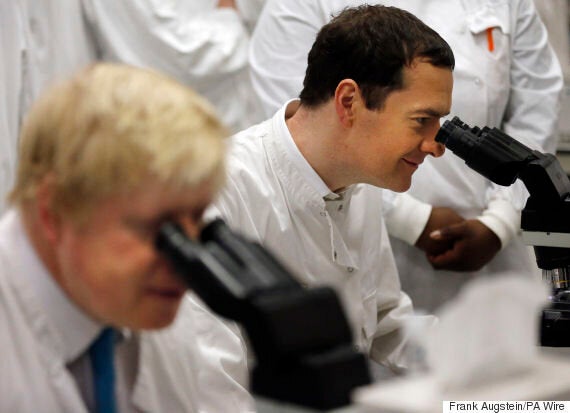 George Osborne came over all Talking Heads last night, insisting to Newsnight the EU referendum was a 'Once In A Lifetime' opportunity with no chance of a second plebiscite soon after. Of course, the second referendum idea (which rests on a terrified EU coming back with a better offer to the UK after a Leave vote) has been tentatively backed by one Boris Johnson. But the question the Chancellor ducked was whether the Treasury really hasn't done a Brexit contingency plan.
The EU Commission's lead negotiator Jonathan Faull (who happens to be a Brit) told MEPs yesterday that "there is a very good prospect that agreement will be reached rather soon" and hinted at the February summit for a deal. He also floated the idea of any deal being confirmed by "simple declaratory statements by the European Council" rather than treaty change.
The Sun reports Faull's optimisms stems from German plans to tighten up the criteria of who is entitled to claim in-work benefits under Europe's freedom of movement principle across all 28 countries.
Fraser Nelson in the Telegraph says the PM is (contrary to all those stories about Scots holidays being a problem) 'currently thinking of July for the referendum itself'. He also says No.10 are convinced Boris will back the Remain campaign in return for a promise of a decent Cabinet job.
And significantly, Fraser points out the real problem for the Outers is them not being explicit about which model an independent UK would follow and they're all difficult: Norway (with trade diktats), Switzerland (with freedom of movement diktats) or Turkey (lots of red tape).
The Telegraph has a graphic of the Cabinet which says IDS, Grayling, Villiers and Whittingdale are all set to back Brexit, but adds that Gove, Greening, Javid, May, Fallon, Truss, Patel (attends Cabinet), and Boris (attends Political Cabinet) are all 'on the fence'. If they all back Brexit, that would mean nearly half of the Cabinet would want to Leave.
Boris last night delivered his final State of London speech and it had the style and wit his admirers love. He even namechecked David Bowie as a true reflection of London tolerance and diversity, a man whose life was a rebuke to "the morons of Isil"
Jeremy Hunt's claims about weekend death rates and links to junior doctors got another kicking on Question Time last night. But as the Health Secretary heads into Acas talks today, he's trying to tread a fine line between holding in reserve his threat to impose the new contract and a more conciliatory approach to just how central they are to his 7 day NHS plans.
The Health Service Journal had a scoop (picked up by the Indy and others) with an interview with Hunt's chief negotiator on the strikes, Sir David Dalton. He points out that junior doctors are the one staff group who will have to do the least extra work for the 7-day plan, and admits "our messaging on this has got muddled".
The BMA will be pleased with the reduction in snark and may see that as a welcome confirmation of what they've said for ages: that many junior docs already work weekends. Dalton adds the Government should "not single out this as an issue that only affects medical trainees" and adds the BMA strike did "demonstrate it can land a punch on the secretary of state".
Hunt was on the Today prog saying 'we are busting a gut' to ensure patient safety with consultant cover for the planned A&E strike in February. As for imposing the contract, he said: "I hope it doesn't come to that. Of course legally we can do that…as a last resort we would move to a new contract but we really hope that doesn't happen".
But in an echo of the Dalton words, I thought his most interesting line was "this isn't just about junior doctors….it's about getting a blood test at the weekend [and other staff changes]." Many experts point out a 7-day NHS would require big changes from nursing, radiographers, path labs and other staff. Yet that's a whole new industrial relations challenge in itself. The nurses, whose numbers dwarf doctors, could well strike if they're targeted next.
3) DANCING ROUND THE MAY POLL
Yesterday we finally had some clarity on two key aspects of the general election. First, the pollsters woefully underestimated the number of Tory voters in their sample sizes. There were no 'shy Tories' or 'lazy Labour', the pollsters just didn't put the money into searching out truly representative samples (Tories were less likely to be got hold of by phone polling, Labour young voters more likely to be active online, etc). Let's hope they've now sorted it for the EU referendum, eh?
Second, Labour's 'secret' Margaret Beckett report found the party failed to win voters' trust on the economy, or make a 'connection' on benefits and immigration, had a weak leader who some feared would work with the SNP. The Beckett report - whose contents were exclusively revealed by the BBC's Iain Watson - is due to be published next Tuesday, though Progress's Richard Angell wonders whether there will many redactions. Jezza's at the Fabian conference tomorrow, let's see what he says.
But Labour's problems aren't just about looking back, but looking forward. The Guardian cites party sources strongly denying Ken Livingstone's claim that the defence review was being speeded up in any way, that Trident would be separated out, or that the review would be ready in time for a Commons vote in March. And Emily Thornberry claims she is the one in real charge of the review.
And Andy Grice in the Indy reports that 10 prominent Labour MPs (including some critics of Jeremy Corbyn) are facing reselection battles thanks to boundary changes. They include Hilary Benn.
BECAUSE YOU'VE READ THIS FAR…
My colleague Graeme Demianyk has a nice Freedom of Information request revealing that ministerial red boxes continue to travel in style, even if their ministers don't. Yep, sensitive Government papers were transported in their own chauffeur-driven ministerial cars almost 2,000 times in the last three years - despite a promised crackdown from Francis Maude.
The thought of ministerial boxes being strapped into their seatbelts, wished a cheery 'g'day, sir' from their personal driver and then ferried a few hundred yards across Whitehall is a Thick Of It/Yes Minister mashup gone mad.
Labour's Tom Watson has piled in, attacking the out of date practise" as a "shocking waste of taxpayers' money".
Lots of papers preview Monday's Commons debate - prompted by the half a million-strong online petition - on banning Donald Trump from the UK on the grounds of his 'hate speech' call for Muslims to be barred from the US. Paul Flynn will open the debate and will thoroughly enjoy himself, though many other MPs will turn up to say banning Trump is as daft as banning Muslims.
Last night in the Fox Business Republican debate, Trump repeated his claim that his rival Ted Cruz's right to run for President was legally suspect because he was born in Canada. But watch Cruz hit back and you can see why he's rated by many in the party.
Check out our latest weekly Commons People podcast. Brexit, Trident, Doctor's Strike, A Level Feminism. And our usual ace Quiz of the Week: this week 'Bowie or Noe-ie?': guess if the tribute was from a politician or non-politician.
If you're reading this on the web, sign-up HERE to get the WaughZone delivered to your inbox.
Got something you want to share? Please send any stories/tips/quotes/pix/plugs/gossip to Paul Waugh (paul.waugh@huffingtonpost.com), Ned Simons (ned.simons@huffingtonpost.com), Graeme Demianyk (graeme.demianyk@huffingtonpost.com) and Owen Bennett (owen.bennett@huffingtonpost.com)