The government has been both praised and criticised for plans to take in vulnerable refugee children who have become separated from their families.
Immigration Minister James Brokenshire said the UK would work with the United Nations refugee agency - the UNHCR - to identify "exceptional cases" of unaccompanied children in war zones, including Syria who would benefit from protection in Britain, The Press Association reports.
"The Government cannot continue to draw the false distinction between refugees in the region and refugees in Europe. Both are desperate and both need our help," he said.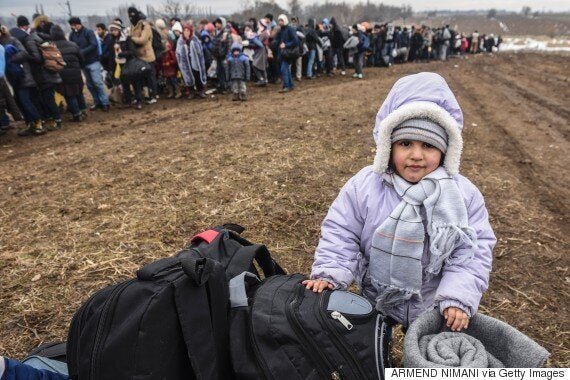 A young girl in front of migrants and refugees waiting in line for a security check after crossing the Macedonian border into Serbia
Britain is also to provide extra resources to the European Asylum Support Office to help Greece and Italy identify migrants - including children - who could be re-united with family members elsewhere in Europe, including in the UK.
The Department for International Development (Dfid) is also to establish a new fund of up to £10 million to support vulnerable refugee and migrant children in Europe.
The Home Office has not put a figure on how many children it expects to accept under the scheme, which is in addition to the programme to re-settle 20,000 vulnerable Syrian refugees by 2020.
The move follows calls from charities led by Save the Children for Britain to admit at least 3,000 young people who have reached Europe, warning that many simply "disappear" once here and fall into the hands of people traffickers.
Kirsty McNeill, campaigns director at the charity, told The Today Programme the government's overnight briefing of the news was "extremely confused" and said it would only become clear when a ministerial statement is made later this morning.
She told the programme the biggest change was the extra resources to identify lone children already in Europe, saying the government had "resisted" this until now, instead focussing on helping those still in the Middle East or North Africa.
She added the proposal to do more to help children in north Africa could "stop people making that terrifying journeys across the Mediterranean".
She told the programme: "Last year, we lost 3,500 people who drowned, dying on our doorstep. So if this were implemented ambitiously, it could give real help to children across the region and across Europe too."
Lily Caprani, from children's charity UNICEF UK, said: "While we welcome any further support for identification of children for family reunification in Europe, this should not be restricted to a handful of countries.
"It is very important to note that there are tens of thousands unaccompanied refugee children all over Europe, some of whom have relatives in the UK, and we support efforts to apply flexibility and widen the UK's rules and practices on family reunion, so that more children are able to use this safe legal route to reunite with family members.
"Refugee and migrant children arriving in Europe should also be given information about their rights to family reunification and how to claim it within Europe. Living and travelling alone without family support, they are in danger of abuse and exploitation."
Brokenshire made clear that, in most cases, children were better off remaining in the region they came from so they could be re-united with any surviving family members.
"The crisis in Syria and events in the Middle East, North Africa and beyond has separated a large number of refugee children from their families," he said.
"The vast majority are better off staying in the region so they can be reunited with surviving family members. So we have asked the UNHCR to identify the exceptional cases where a child's best interests are served by resettlement to the UK and help us to bring them here."
Father Simon Cuff of Citizens UK, the charity behind the legal challenge to the government on reuniting unaccompanied minors with their families, said the scheme had the potential to be "truly ground- breaking, a real step forward for the desperate young refugees we have been working with in Calais, Dunkirk and beyond".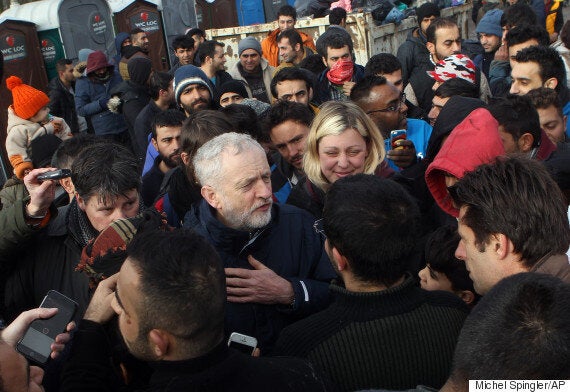 Jeremy Corbyn visited migrant camps in Dunkirk and Calais at the weekend
Yvette Cooper, who chairs Labour's refugee task force, said it was a "very welcome step forward" but urged ministers to do more to help unaccompanied child refugees in Europe but had no other family there.
"We still need details of how it will work in practice and how many children will be helped," she said. "Just as we did decades ago with the Kindertransport, Britain should do its bit to help vulnerable children again now."
Liberal Democrat leader Tim Farron told Sky News the plan was "media management" by David Cameron. Earlier, he had said: "This is an important step, but it is far from the guarantee these desperate children need and action must follow immediately."
Jeremy Corbyn, who visited the camp at the weekend, has written to the Prime Minister condemning what he described as his "inflammatory language" on such a sensitive issue.
Related