Boris Johnson torpedoed David Cameron's claims of victory in his battle with Brussels today as he demanded further safeguards to protect Britain's future as an 'independent country'.
As the Prime Minister hailed a new draft deal with the European Commission as "real progress", the Mayor of London said "much, much more" needed to be done to reassure voters ahead of the EU referendum expected this summer.
Johnson's outburst, which will chime with many Eurosceptic Tory MPs, came as Cameron welcomed the concessions from the EU to his demands on curbing welfare benefits for migrants and asserting Britain's role outside the euro.
And the PM faced ridicule from Jeremy Corbyn after he refused to turn up to the House of Commons to face his critics, both on the Tory benches and from Labour.
Eurosceptics pounced swiftly on a watering down of a key Tory manifesto pledge on curbing migrant benefits, with the draft making clear welfare will be 'graduated' so that over the four years immigrants will receive more the longer they stay.
European Council president Donald Tusk published his plan, which sought to reset the UK's relations with Brussels, by paraphrasing Shakespeare.
Downing Street gave a cautious welcome today to a draft document, but even before details were known, Boris Johnson joked on LBC radio about the 'full, quivering magnitude" of the PM's deal.
"So far he has been doing a very, very good job of getting people to see things his way. I think there is much, much more, however, that needs to be done," he said.
Boris - who has yet to reveal if he will lead the 'Leave' campaign in the referendum expected in June - signalled he was unsatisfied with the plans to impose an 'emergency brake' on migrants and to give national parliaments a 'red card' over Brussels plans.
"I think what would be better would be if we had a break of our own that we were willing to use and that we were more willing to say, Britain's an independent sovereign country and we don't agree with this particular piece of regulation or legislation and we want to stop it. And that's what we should be able to do," Johnson said.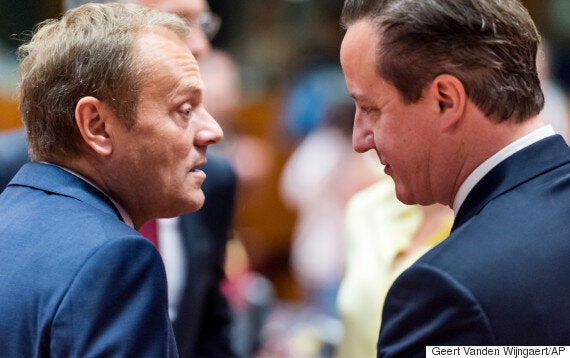 David Cameron and EU Council President Donald Tusk
Other senior Eurosceptics such as former Cabinet ministers Liam Fox and Peter Lilley said the draft deal did not do enough to wrest back powers from the EU.
Cameron, in his first reaction to the deal, was much more upbeat, claiming progress on key issues like British sovereignty, rights outside the euro, less red tape and the crucial issue of welfare and immigration.
"At the beginning of this process we set out the four areas where we wanted to see substantial change and this document delivers that substantial change," he said.
"But of course there's still details to be worked on, there's important things to be secured, there's further work to be done and of course there's a negotiation at the European Council so hard work but I think we've made real progress."
Yet the detail of the document revealed that while Britain has won key concessions on areas like keeping out foreign migrants who pose a threat to national security, on the vexed topic of welfare benefits Brussels had found ways to water down the plans.
While Cameron has won a four year curb on migrant benefits, it will be 'graduated' so that over the four years immigrants will receive more welfare. Critics instantly warned this could act as an incentive for them to stay in the UK.
Tory Eurosceptics seized on the fact that the Tory manifesto in 2015 had pledged: "We will insist that EU migrants who want to claim tax credits and child benefit must live here and contribute to our country for a minimum of four years".
Today, in a speech in Chippenham, Cameron changed the language of that manifesto pledge, saying that on child benefit he'd secured 'local' rates and on benefits migrants would have to live here for four years before getting 'full' benefits.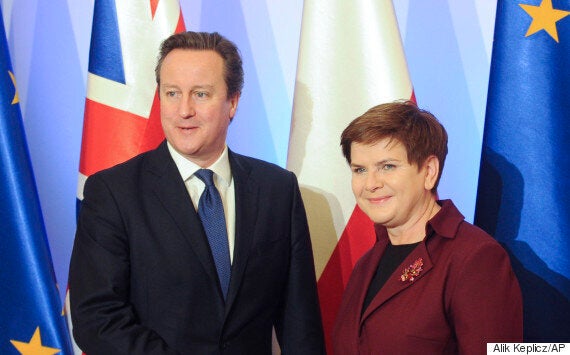 David Cameron with Polish president Beata Szydlo
Under today's proposals, migrants could live in the UK for less than four years and start claiming in-work benefits such as tax credits.
The graduated benefits plan, as well as a move to index child benefit to the cost of living in migrants' home countries, could also be a huge administrative headache for the Department for Work and Pensions.
But Liam Fox was scathing, not least about the way the deal would not take legal effect until the next change in EU treaties.
"The very limited set of demands from our Government have been watered down by the EU in every area," he said.
"The British people want to take back control and end the supremacy of EU law over our economy, our borders and our Parliament."
The Prime Minister will now fly to Poland and Denmark on Friday as he starts the long process of winning backing for the plans among 27 other EU member states, with Eastern European nations particularly worried about any moves to discriminate against their citizens in the UK.
Referring to the 'red card' plan, Cameron added: "I said I wanted a red card system for national parliaments to block legislation, people said you wouldn't get that - it's there in the document.
"People said you wouldn't get the idea of people having to wait four years before getting in work benefits in Britain - it's there in the document. People said you'll never really get Britain out of the concept of ever-closer union, again pretty clearly set out in the document.
"Real progress, more work to be done, more detail to be nailed down, but we said we need to deliver in four key areas, this document shows real progress on that front."