The deputy leader of Ukip clashed with a Labour MP on Thursday evening over his claim the eurosceptic party "has a heart".
Ukip MEP Paul Nuttall was confronted by former shadow chief secretary to the Treasury Shabana Mahmood, who took exception to his comments during a debate on the EU.
Responding to an audience member whose wife is Polish, Nuttall reassured him: "Once we leave the European Union, people who are already here will not be asked to leave. You know, we have a heart."
Picking up on his claim a few minutes later, Mahmood quipped: "I'm still somewhat stunned from Paul's declaration that his party has a heart.
She continued: "Words come pretty cheap, I would actually like it if his party could start demonstrating they've got a heart by not blaming immigrants who are working in our country for all of our troubles.
"And stop pursuing they're divisive and destructive form of politics."
She argued: "Ukip are utterly united in respect of their position on the European Union but they will not answer the question about what happens if we come out.
"I'd rather be in the European Union fighting for better deals for our country."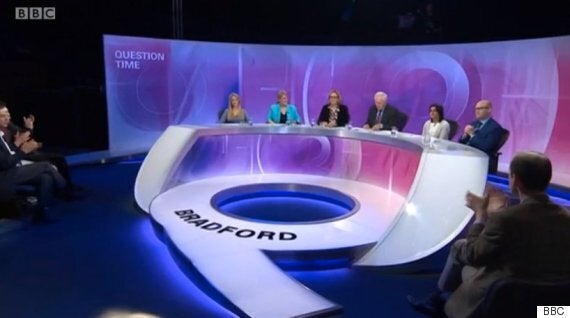 Thursday's Question Time came from Bradford, West Yorkshire
David Dimbleby presented the debate from Bradford, focussing largely on Britain's membership of the European Union, with other questions on topics including the language programme aimed at Muslim women.
The programme's panel included Conservative energy secretary Amber Rudd MP, Mahmood, Nuttall, president of the Liberal Democrats Baroness Brinton and the Daily Mail's soon to be political editor-at-large Isabel Oakeshott.
Ukip leader Nigel Farage was billed to appear on Thursday's programme, but claimed to have been "stuck on the M1" requiring his deputy to step in.
Related