Britain First is begging members for donations to fight Bedfordshire Police who are trying to ban the far-right group from returning to Luton in the wake of their 'Christian Patrol'. The group said the move would give the "Muslim bigots of Bury Park… free rein to inflict violence and racism on outsiders."
On 23 January, around 20 Britain First members marched through Bury Park carrying wooden crosses and confronting local Muslims about trying to "take over" Britain, in an incident condemned as "inflaming" tensions. A video of the event gained more than 25 million views on Britain First's Facebook page before the social network removed it. The footage is still viewable on YouTube where it has been watched more than two million times.
In the days after the march Bedfordshire police said they had made no arrests, but announced they were investigating to see if any crimes had been committed. At a packed public meeting at Bury Park Community Centre on Wednesday police told the Luton community they were trying to ban Britain First from returning to the town.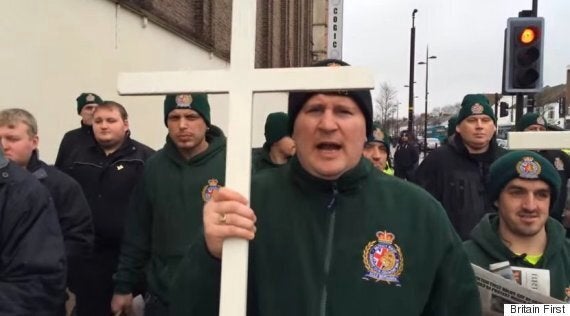 Bedfordshire police are trying to ban Britain First from returning to Luton; pictured above is the far-right group's leader Paul Golding during its 'Christian Patrol' in Luton
Assistant chief constable Mark Collins told the meeting: "We are making three commitments, the first being an investigation which will leave no stone unturned, the second is that we will be seeking an injunction to prevent Britain First from returning to Luton and thirdly that no members of the local community will be arrested over the events of last Saturday."
Bedfordshire police unsuccessfully sought a court injunction to ban Britain First leader Paul Golding and his deputy Jayda Fransen from entering Luton and its surrounding area for a year, ahead of a march the party hosted on June 27 last year. However, it was granted an interim injunction that restricted Golding and Fransen's behaviour in the town.
The injunction banned Golding and Fransen, either by themselves, or by instructing or encouraging or giving permission to any other person from:

Entering any mosque or Islamic Cultural Centre or its private grounds within England or Wales without prior written invitation.

Publishing, distributing or displaying, or causing to be published, distributed or displayed any words or images, whether electronic or otherwise which having regard to all the circumstances are likely to stir up religious and/or racial hatred.

Using threatening, abusive or insulting words or behaviour thereby causing harassment, alarm or distress to any person

Carrying or displaying in Luton on Saturday, 27 June, 2015, at or in connection with the march by 'Britain First' any banner or sign with the words 'No More Mosques', or similar words or words to like effect.

The police were also given the power of arrest should either party breach any of the terms of the injunction
At that time Chief Superintendent David Boyle said: "This injunction was sought due to concerns that their presence in Luton could increase the possibility of disorder and anti-social behaviour in the town.
"The terms which have been agreed today give us greater power to ensure that order is kept in the town during the demonstration.
"I would like to be clear that it was never our intention to ban any demonstration and we will always facilitate peaceful protest where possible.
"We have a policing plan in place to ensure we meet the needs of those wishing to demonstrate."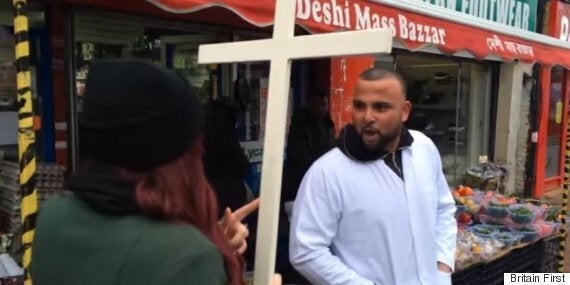 Britain First deputy leader Jayda Fransen confronts a local Luton resident during the 'Christian Patrol'
Bedfordshire police told the Huffington Post UK on Thursday that the force is investigating any "potential breach" of the interim injunction and is "urging anyone with information or evidence in the form of photographs or video footage to contact CID South 101".
During the Christian patrol Britain First members repeatedly told local Muslims that Britain was not their country, and in the words of charity Tell Mama, acted in an "intimidating" way aimed at "inflaming" tensions.
Britain First however, saw it differently saying that they had faced "ferocious hostility from local Muslims". Video of the 'Christian Patrol', Britain First wrote, was a "shocking look into the Islamisation of our beloved country". Its activists, the party said, were pelted with eggs and verbally abused by Muslims who claimed to have "taken over" Luton.
In a subsequent email on Thursday Golding told Britain First members that "we are running out of time to get prepared for the new legal onslaught". The party, he said, needed to raise £5,000 to defend itself. So far Golding said it had raised £1,960.
Golding noted that Bedfordshire's police first attempt to ban the party from Luton had left it with "egg on their faces" and that their recent march had "exposed that Bury Park in Luton is a no-go zone for non-Muslims" (A day after their march local Christian's handed out roses in the town, distancing themselves from Britain First's views, and calling for community cohesion).
Golding wrote that no members of the local community, "even the ones who shouted racist abuse and who actually attacked some of our activists" would be charged. "Can you actually believe what you are reading," Golding's email read.
Golding: "The Muslim bigots of Bury Park have been given free rein to inflict violence and racism on outsiders.
"Even if the law has been broken, the Assistant chief constable of Luton police will not arrest you if you are Muslim!
"We did not expect this and we are totally unprepared for a new legal battle against Bedfordshire Police in the High court.
"These taxpayer-funded parasites are going to try again to scupper our movement but, like last time, we will fight till our dying breath against them no matter what they throw against us.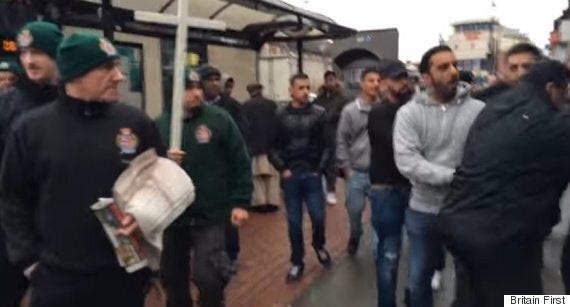 Muslim men confront Britain First members during their 'Christian Patrol' in Luton
"They are hoping that we will be unable to defend ourselves again like last time and then the Muslim bigots of Luton will be able to form a Sharia Law enclave with the help of the police!
"Once again, our very existence is on the line as well as freedom of speech and democracy in our beloved Britain.
"Please, please, please chip in to our urgent legal fighting fund and give us the tools we need to fight off this latest attempt to sabotage our movement."
Golding's email ended by saying: "No wonder the Muslims in Bury Park were happy to shout "We Muslims are taking over!" on the video we put online of our action in Luton - they know the authorities will bend over backside to appease them!"
A response to the petition by the Home Office, published on 28 January, said while the government kept the list of proscribed organisations "under review" it would not confirm if it was considering banning Britain First.
However, according to the International Business Times, The Home Office added: "The government condemns those who seek to spread hate by demonising British Muslims. Those who seek to divide us damage our country by stoking anti-Muslim hatred and deliberately raise community fears and tensions by bringing disorder and violence to our towns and cities."