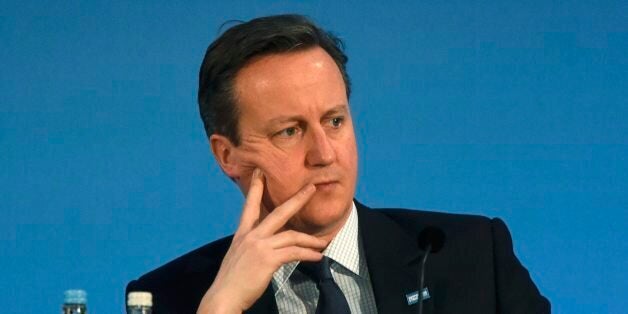 Lewis, the founder of MoneySavingExpert.com and former head of the Independent Taskforce on Student Finance Information, penned a lengthy note to Cameron explaining why the retrospective loan repayment changes were unfair - and potentially illegal.
Cameron has failed to reply to Lewis' letter, which he published on 12 January, although universities minister Jo Johnson has responded to the concerns.
"Higher education will remain free at the point of entry," Johnson wrote. "Students from disadvantaged backgrounds will receive significantly more living costs than students from wealthier backgrounds, while at university.
"This ensures that no eligible student is deterred from attending HE [higher education] in England on the grounds of affordability."
He adds: "Repayments are linked to future earnings and are therefore affordable".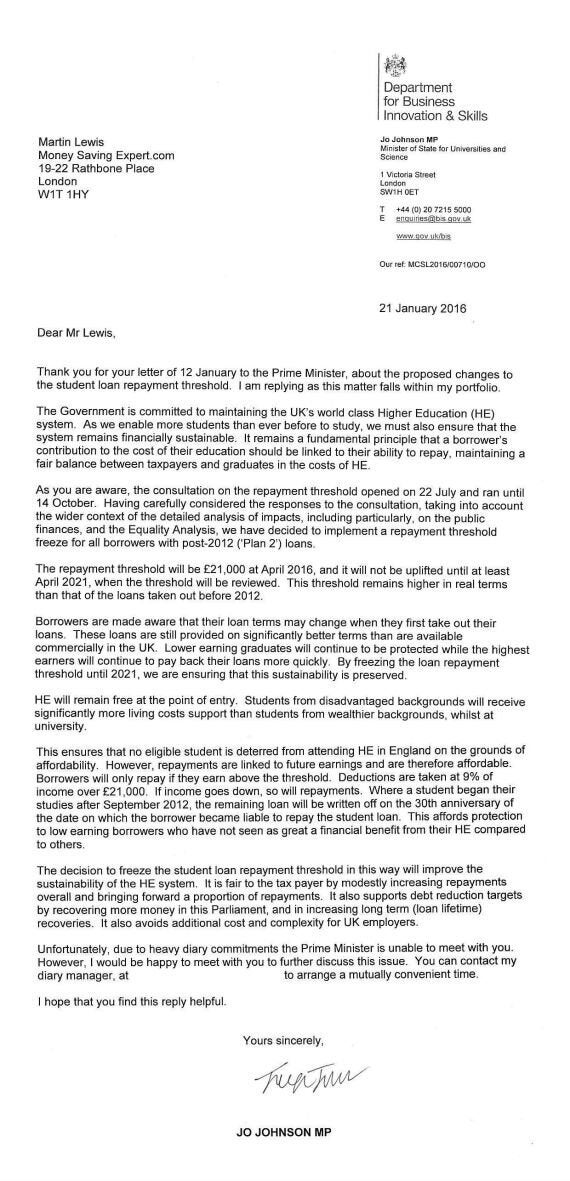 Jo Johnson's letter to Martin Lewis
In November, George Osborne revealed the earnings threshold of £21,000 at which graduates must begin to pay back their loan will be frozen for five years. This means that students who have paid the higher course fees of £9,000 a year, which were introduced in September 2012, will face higher repayments, as the income threshold will not match increases in average earnings.
The government had previously stated that income threshold would increase annually from April 2017.
Following the announcement, Callum Cant, a recent graduate and member of the National Campaign Against Fees and Cuts (NCAFC) group, said: "Millions of graduates are being cheated by the government."
Lewis, however, is far from satisfied with Johnson's response.
"Instead of a reply from the Prime Minister, or even a member of the Cabinet, my letter is from Jo Johnson MP, the Minister of State for Universities," he said in a blog, published on HuffPost UK today [Saturday]. "Not only that, but much of it is a simple cut and paste from the pro-forma response Tory MPs sent during the consultation – and of course its lack of specificity fails to address the vast majority of my concerns."
An irate Lewis continued: "This isn't just a financial and legal issue (though I have hired lawyers to investigate it), far more importantly it's a moral one. This retrospective change is unfair, goes against all terms of good governance and risks damaging the trust young people have, not just in the student finance system, but in the entire political system.
"That's the reason I asked the Prime Minister to look, intervene and meet me to discuss how to mitigate the damage. The letter I sent has received widespread publicity, been massively shared on social media, raised much awareness of the issue and had huge support.
"Yet the Prime Minister has simply snubbed my letter and, by proxy, potentially millions of students."
Lewis has accepted Johnson's offer to meet to discuss his concerns, but added: "I suspect I would have as much joy explaining the problems with this huge cost hike to a brick wall."