Another pay rise for MPs, this time one that is greater than the cap on public sector wage increases, has sparked anger.
The Independent Parliamentary Standards Authority (Ipsa), who took over administrating pay from Parliament after the MPs expenses scandal, is preparing to confirm the £962 rise by March.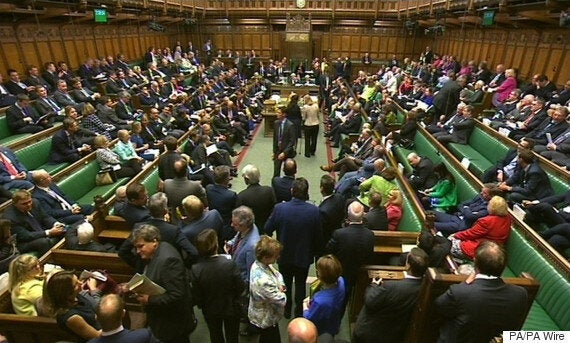 MPs will get yet another pay rise in April
Under the new package that came into force last year, Members of Parliaments' salaries are uprated in line with ONS public sector weekly earnings projections.
That means they will get 1.3% - despite George Osborne insisting annual public sector pay increases must be capped at 1% until the end of the decade.
The ONS' figure is boosted beyond Osborne's 1% cap because its calculations include workers who have been given promotions.
Labour's Gloria de Piero, who was one of only 25 MPs to give away their £6,940 pay rise last year, attacked the rise as unfair on other state workers.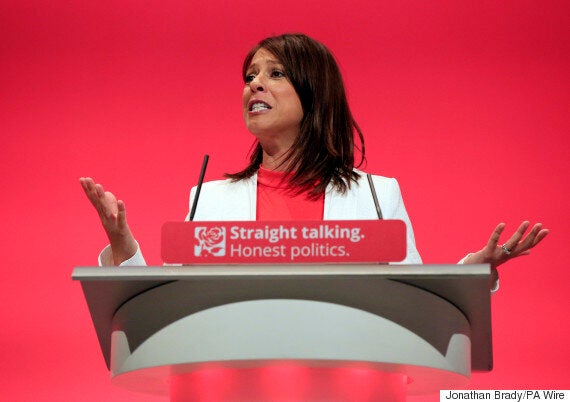 Ashford MP Gloria de Piero
"I'm concerned that yet again this looks like our pay is going up quicker than other public sector workers like police, nurses and teachers," she told The Sun.
"If their pay is capped at 1%, why shouldn't ours be?"
John Mann, Labour MP for Bassetlaw, hit out at the rise too, saying: "We shouldn't be getting a rise that is bigger than anyone else's. This will go down very badly with the general public.
A third MP, Clive Lewis, who donated his pay injection to charities in his Norfolk constituency, also bemoaned the news.
"Whether we deserve it or not, lots of people deserve a decent pay rise for the work they do," he told The Huffington Post UK.
"I understand why Ipsa came to the conclusions they did but this is beginning to erode people's confidence in their MPs and the parliamentary system".
It didn't escape some people's attention that the revelation Parliament's 650 MPs would be getting a pay rise coincided with junior doctors going on strike over proposed changes to pay and working hours.
A Public and Commercial Services Union spokesman said many workers would be baffled by politicians' pay rise and left wondering what "makes MPs a special case".
"We want everyone to have decent pay rises, but low-paid public servants and people in the private sector who feel the knock-on effects of government pay policies will be scratching their heads wondering what makes MPs a special case," they told HuffPost UK.
Ipsa chairman Sir Ian Kennedy defended the move, saying it was "right" parliamentarians' pay was now linked to the public sector.
"In making the decision on MPs' pay we were very aware of the strongly held views of many members of the public and by some MPs themselves," he said.
"We listened to those views and made an important change to the way in which pay will be adjusted annually. Instead of linking MPs' pay to wages in the whole economy, it is now linked to public sector pay.
"Over the last Parliament, MPs' pay increased by 2%, compared to 5% in the public sector and 10% in the whole economy.
"It was right that we made this one-off increase and have now formally linked MPs' pay to public sector pay."
Teachers, nurses and other public sector workers are facing pay rises capped at 1% until 2019.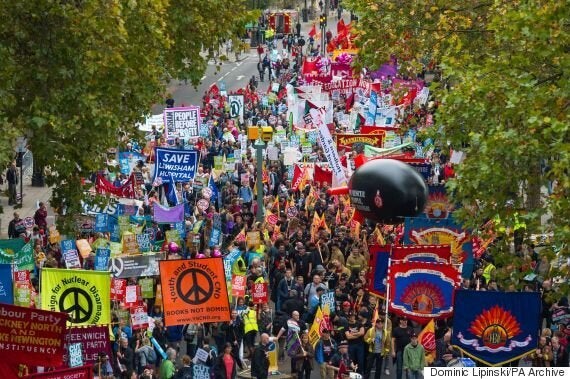 Demonstrators take part in a 'Britain Needs a Pay Rise' march
But the politicians' rise is 0.3% above workers' cap because the ONS use bonuses as well as salary to forecast future public sector earnings.
The Coalition froze previously froze their wage increases for three years in 2010 before capping salary hikes at 1 per cent rise in the following two years.
Prime Minister David Cameron called last year's MPs' pay rise "unacceptable" but has maintained Ipsa is the right body to make decisions on MPs' renumeration and expenses.
Related