Graphic warning: One of the photos below shows an image of a sick dog with a uterine prolapse, which some people may find uncomfortable.
A kind veterinarian has captured the hearts of millions after video footage showed him sitting in a pen with a terrified rescue dog and eating breakfast with her.
The vet, named Andy Mathis, was attempting to help the pup, called Graycie Clair, settle in.
Dr Mathis said Graycie was comfortable eating when there was nobody in the room, but was too scared to eat in any other circumstance. He's been trying to help the pup feel more comfortable around humans.
A video showing Dr Mathis eating his breakfast with Graycie has since been viewed more than four million times on Facebook.
It has prompted many to donate to Graycie's cause and help pay for the poorly pooch's medical bills.
Graycie when she first arrived in Dr Mathis' care
Graycie was found dumped in the middle of nowhere at the end of January.
She was emaciated, anaemic and had a uterine prolapse - where the uterus slips from its normal position and into the vagina.
The pup was in a lot of pain and Dr Mathis was very close to putting her to sleep. But, after asking his Facebook followers for guidance, many people agreed that everything in the vet's power should be done to try and help save her.
Knowing that Graycie would need more help, Dr Mathis took her to a local veterinary teaching hospital where staff were able to get her temperature back up, reduce her prolapse temporarily and rehydrate her.
Graycie after a few weeks of TLC
"Her blood levels were low, but I couldn't afford a transfusion, and she was eating on her own," he explained on Facebook.
"So I brought her back here late Sunday night, the 31st [January], to see if her blood levels would improve with more time and TLC.
"She had a urinary catheter in place as she couldn't urinate on her own with the prolapse."
Over the course of one week, the dog ate and relaxed, gained weight and her blood levels slowly improved. She was also neutered to fix the prolapse problem.
"I found that the lower part of her uterus was full of pus," explained Dr Mathis. "Hopefully, she'll start to really improve and feel better now that is fixed too."
He said that another hurdle was getting her to eat comfortably with someone else in the room.
So, to try and help her adjust to having a human around, he sat in the cage with her and ate breakfast.
The clip above shows Dr Mathis eating cereal out of a dog bowl. Meanwhile he hand feeds Graycie dog biscuits from her own bowl, which she takes and nibbles tentatively.
Dr Mathis says his next task is to help Graycie find a family. But there's a long way to go before this can happen.
"She's got to learn to trust people, walk on a leash, poop outside, figure out if she likes other dogs and cats," he explained.
He also thanked those who had shared her story, saying that it brought awareness not only to Graycie's cause, but to "thousands of other homeless and neglected pets out there".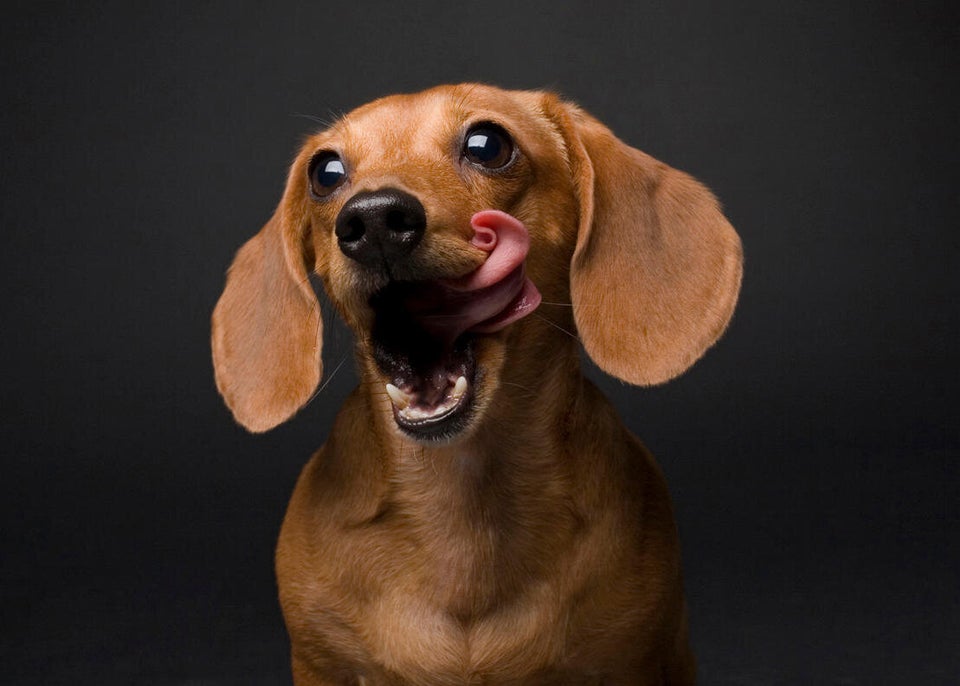 Dog Portraits By Tanya King