A dog who was so terrified of humans that she would sit with her head against the wall to try and avoid them, has made a wonderful transformation that will bring tears to your eyes.
Angel the lurcher was rescued by PAWS Animal Rescue, after a dog warden called saying that he had found her and feared for the pup's mental state if she was to be put in the dog pound.
When she was first introduced to staff at the animal shelter, Angel was so afraid of humans that she would cower in a corner and face the wall.
Months later, after a lot of hard work from shelter staff, Angel has miraculously transformed into an incredibly friendly and trusting pup. So much so, that she's been offered a new and loving home.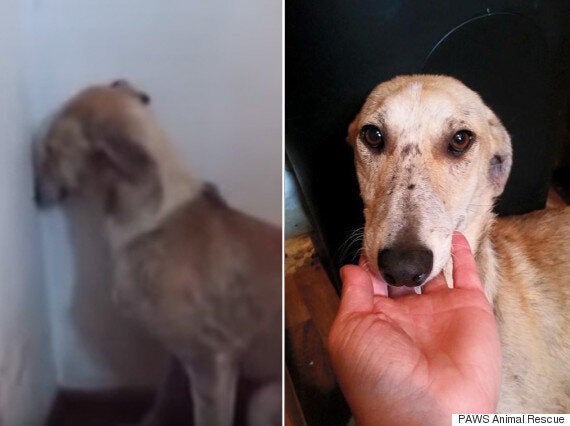 "But it was her behaviour that caused the most concern.
"As soon as arrived, she found the nearest corner and buried her face against the wall and wouldn't move."
Staff at the rescue shelter believe that the young dog had been so badly traumatised, that she couldn't even bear to move or look at her surroundings.
"Some dogs, when they first arrive in Paws, almost get the sense that they are finally in safe hands," reads the site.
"Often, after a meal, they relax and go straight to sleep, cuddle into the Paws staff or offer a few 'face-licks' of thanks to their rescuers. But, for this little lurcher girl, it was evident that all she wanted to do was disappear."
A video taken by rescue staff showed the heartbreaking moment that Angel was introduced to them.
Terrified, she simply faced away from everyone and stared at the wall - trying to go unnoticed.
Just one week after Angel was rescued, a second Lurcher was picked up from a similar location to where the dog warden found her.
"It was immediately clear by the way the two dogs greeted each other that they had both come from the same place and were more than likely brother and sister as their colouring and age were so similar," reads the site.
"Often, it is common for mistreated lurcher females to have been treated worse than their male counterparts as males are seen as more valuable.
"Angel immediately welcomed her brother, now called Cliff, and clung beside him, either staying cuddled up in her bed or only going where he would go."
Seeing Cliff's friendliness and ability to trust humans, Angel began to slowly come out of her shell. It was a month before she trusted anyone to touch her.
Since the animal shelter shared Angel's heartbreaking story on Facebook, donations have flooded in, with some even sending care-packages for Angel and her brother Cliff.
They have also witnessed increased interest in animal adoptions.
Staff at Paws recently shared a video of Angel now, and it's safe to say, the lurcher is unrecognisable.
Gone are the days of her cowering and facing a wall, and instead she is happy to lounge on the sofa and bark at her brother Cliff. She's brimming with confidence and it's a beautiful thing to behold.
Since her story captured the hearts of many, Angel has finally found a home of her own with a couple in Ireland.
"Michael and Theresa McGrath, a very lovely couple and long-term supporters of Paws Animal Rescue, had contacted us saying they had a space on their couch for a companion for their rescue greyhound, Jaego, and wondered if they could meet Angel," reads the site.
"They took a journey to Paws on a sunny Saturday afternoon to meet a little angel in need of a loving home.
"It was love at first sight for Jaego, but Angel was a little unsure and had spent a few seconds resorting to old habits hiding in the corner of the run.
"However, once she realised that she was in the company of good people and after a game of chase with Jaego, she soon relaxed. Angel, now called Cara, has found her forever home."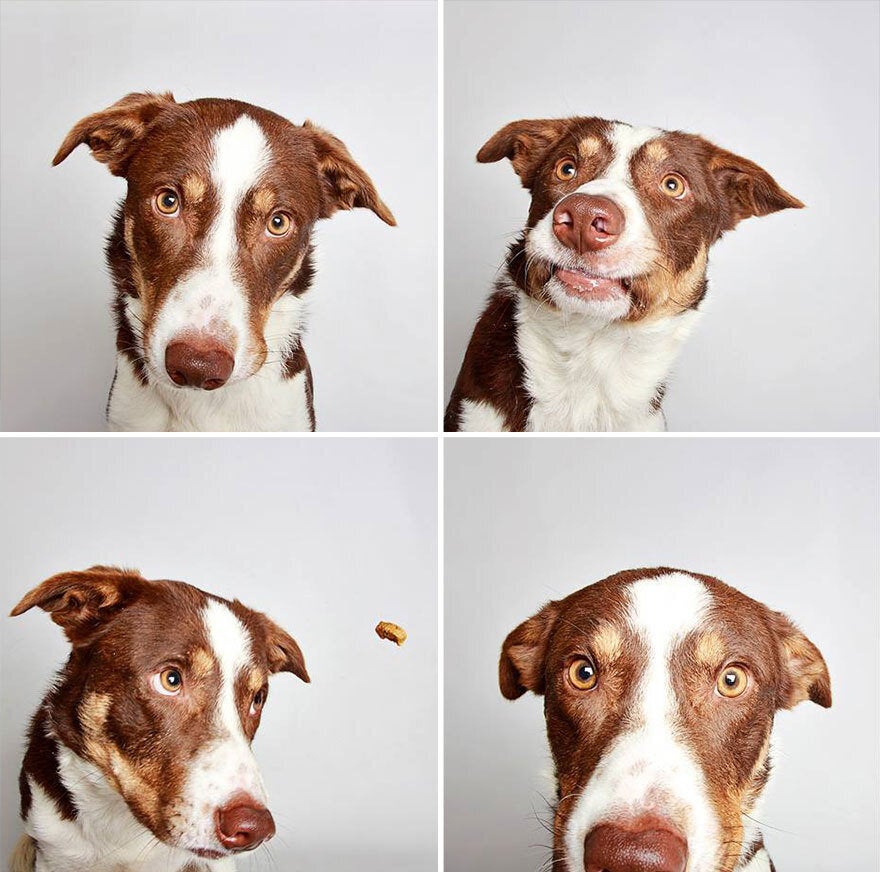 Photo Booth Dogs