"I felt like I was some sort of planet, and this portal had sucked me deep into this internal darkness realm," says ten-year-old Daniel when asked about being bullied at school.
But, where he once felt isolated and miserable, he's now become part of the solution.
He is one of 17,000 anti-bullying ambassadors around the country, using posters, stickers and presentations to classmates to address the fact that a tenth of people aged five to 16 in Britain have a mental health problem.
Through spreading positive messages at school, Daniel has found his own torment has ended. "Now, that planet has pulled itself out and pulled myself out of this misery and become what I am today, getting lots more friends," he says.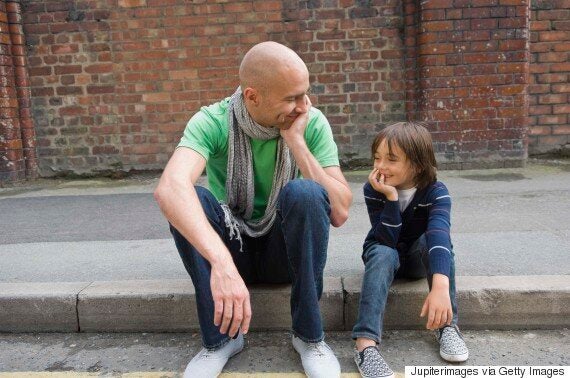 Eight-year-old Solei, Diana Award anti-bullying ambassador, making materials for her classmates
The young ambassadors are taught how to help their peers combat bullying in the hope it will prevent the mental health problems, such as anxiety, depression and self-harm, that it can cause.
Eight-year-old Solei, another ambassador who has also been bullied, explains how it makes people feel: "Kind of angry but also frustrated. Their behaviour might change because they won't want to come to school any more, they'll miss out on their education. They might take it out on others and then the bullying continues and spreads like a virus."
"I felt that the focus was too much on waiting until mental illness manifests in children and then firefighting it," says Devon, who struggled with an eating disorder in secondary school before becoming a successful writer and TV pundit.
Generally, schools tend to begin mental health education when children are at the age when issues such as self-harm, anxiety or eating disorders become apparent, rather than trying to prevent them.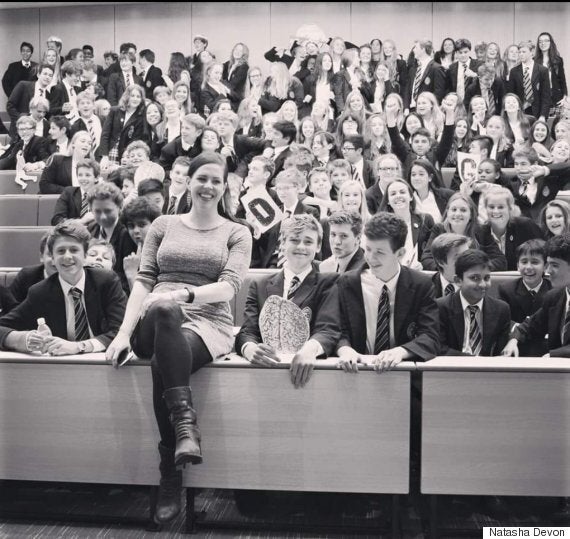 Natasha Devon works with secondary school children but wants to see education extended to younger kids
Devon, 34, has spoken to primary school teachers, paediatric psychologists, the Jamie Oliver Foundation and others to develop a programme of workshops to begin this summer for primary school children.
She has also written a report making recommendations to schools on the best ways to keep pupils' minds healthy.
Activities such as self-esteem-building games and 'primal stretching' – which is similar to yoga and championed by Bear Grylls – have been tested in some schools.
Teachers report seeing boosted energy levels, rising grades and a reduction in behavioural problems.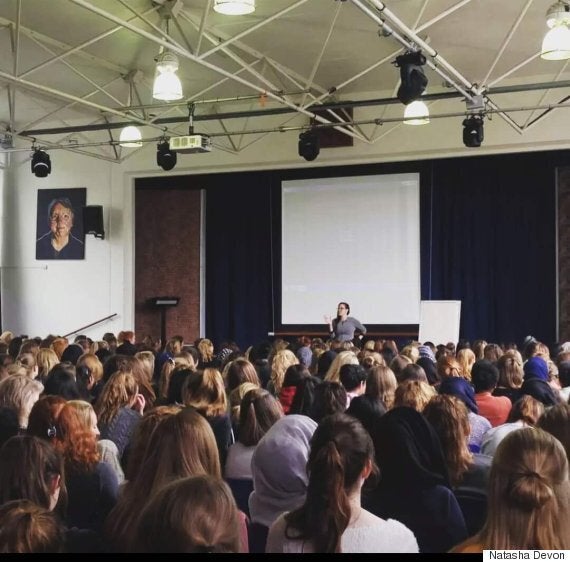 Devon speaking to a group of school children
Devon says: "We want to teach children how their brains work in the same way we teach them how their bodies work.
"That's been shown to be really effective in primary schools that adopt a mindfulness approach. It helps children to understand their behaviour and thought processes.
"We also want to teach an emotional vocabulary, which is particularly important for boys.
"By the time boys get to adolescence, they know something's wrong but they don't know what the feeling is called. If you can't name it, how do you tackle it?"
Boys with behaviour problems are the main focus of Chance UK, a charity which pairs primary school kids with adults for one-one-one mentoring every week.
Hayden, who is 10, has overcome anger issues at school after meeting with his mentor Adam for eight months, through talking and learning techniques like counting to ten. "I was getting angry more. I would just blow up. But now I don't get more angry."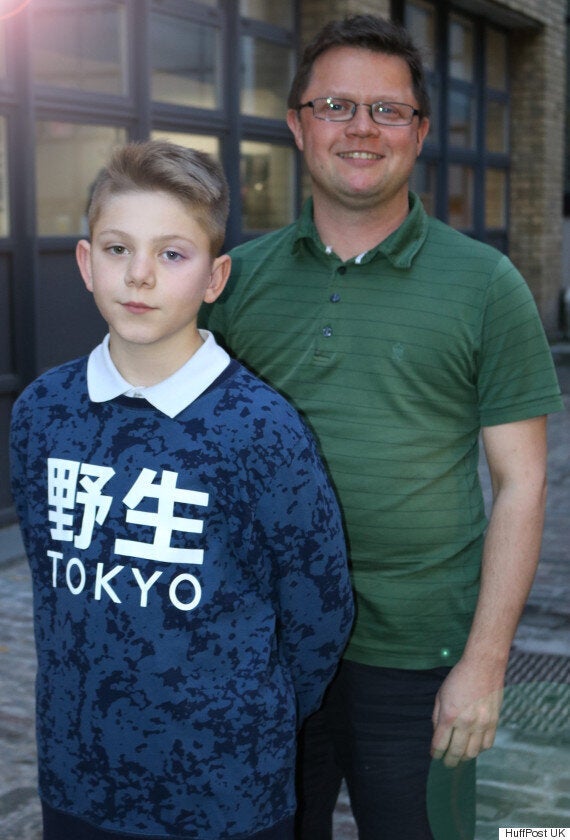 Hayden and Adam have worked on Hayden's anger issues
They try out different activities, to build Hayden's confidence and social skills, like taking a commuter barge on the Thames and making pizza in a class with other mentees.
They also talk a lot about the future and Hayden's ideal job, which would be as a police officer, chef or football player. With Chance UK's help, the 10-year-old has joined the police cadets and interviewed a chef at a 'posh' restaurant. "Sometimes we've conquered my fears like going in a cable car," says Hayden, who has conquered anxieties about heights, dogs and escalators with Adam's support.
"He's changed an awful lot, he's become so much more confident. He knows his mind more," says Adam. He feels their sessions are important given Hayden comes from a busy family which has had difficulties with housing.
"I hope I give him some dedicated time once a week that's purely for him, as an adult that purely wants the best for him. I'm not his teacher or his parent, I just want him to do well."
For children dealing with a more serious trauma such as the death of a parent, books can sometimes help.
Dr Margot Sunderland, a child psychotherapist with more than 30 years' experience and author of more than 20 books, wrote The Day the Sea Went Out and Never Came Back to help young children with loss.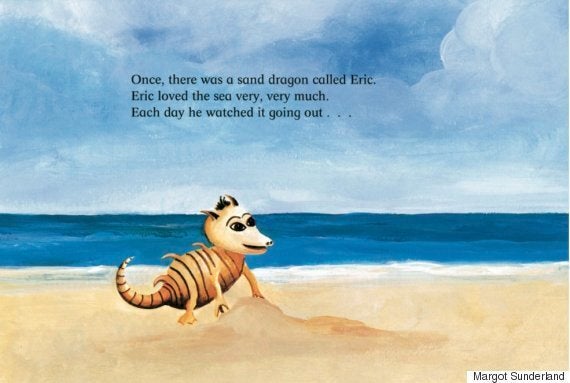 Fantasy characters create 'ready-made conversations' to help children deal with loss
"Eric the sand dragon is in love with the sea, until one day it goes out and never comes back," she explains.
Sunderland believes story books can act as "ready-made conversations" to help children as young as four with anxiety, anger and grief, when parents can't find the language.
Sunderland, herself a "worried child" and severely anxious teenager, has seen fantasy characters help children give voice to emotional worries which might otherwise remain hidden.
Recalling one of her books being read to a school class, she says: "Ninety per cent of them stood up and talked about things they were really sad about. One little boy said: 'I need you know that I'm sad all the time.'"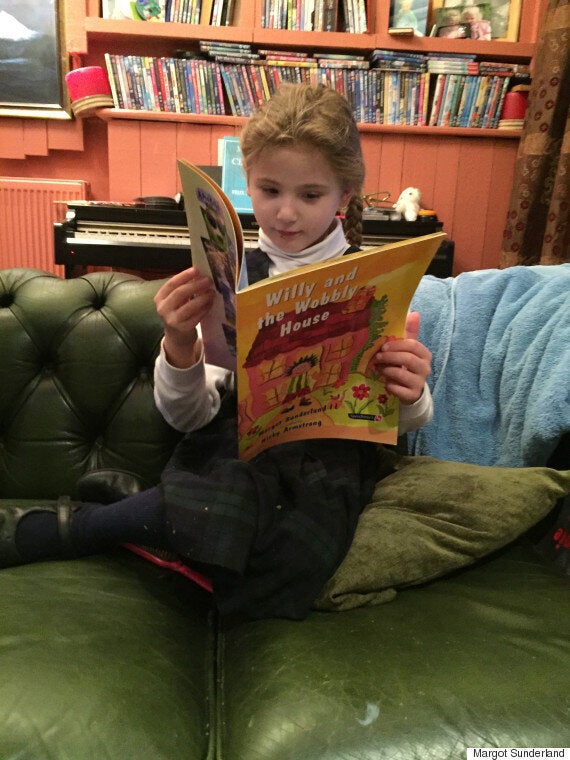 Eloise reads one of Sunderland's books dealing with anxiety
Family breakdown – parents divorcing or arguing – can cause a particularly concealed form of pain for a child, says creative therapist Emma Cohn.
"You can compare it a little bit to bereavement," she says. "When somebody dies everyone is very sympathetic and rallies round them but it feels like with family breakdown, the kid is a bit embarrassed and it's a bit more hush-hush."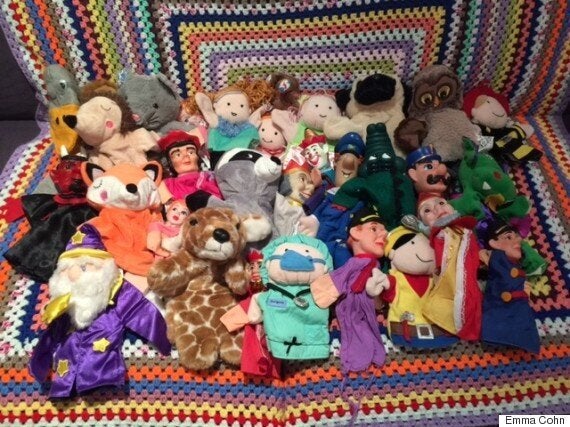 Telling stories with puppets can help children to explain how they feel
Props as simple as puppets, toys and a sand pit used in her therapy sessions help to build trust, she says.
"The sand tray lets them tell their story by picking objects that represent things like their family to let them tell their story," she explains.
"I've had children pick a pig for their father if they're angry with him, or a telephone for their mother because they said she was always on it.
"If they bury things that may also show that they are burying feelings or that they're ashamed of something."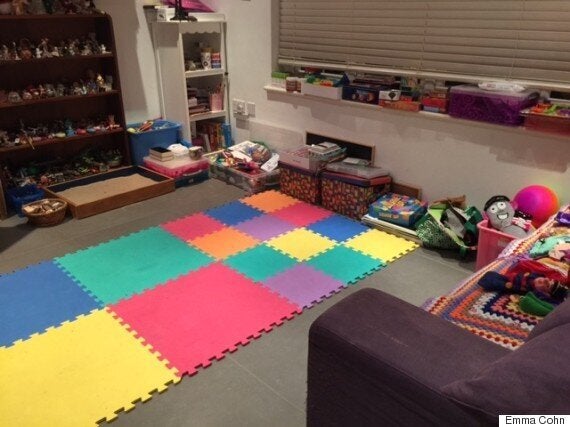 Bright mats in the room where Cohn sees children for therapy sessions
Her sessions creating 'worry boxes' filled with items such as home-made stress balls and lavender can open up conversations.
"It gives them confidence and courage to tell other trusted people how they feel. It's giving them the ability to articulate their emotions," she says.
"There's more pressure on young people than ever," says Jonny Benjamin.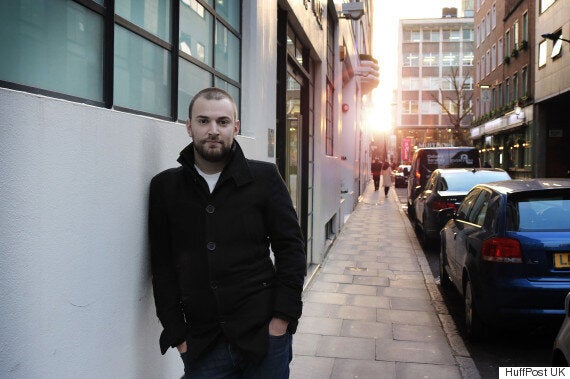 Benjamin now campaigns around mental health
Benjamin, who was not diagnosed with schizophrenia until he was 20 despite hearing voices for a decade, wants to destroy the stigma that may stop children asking for help, something he experienced first-hand.
"I really suffered in silence, particularly in my mid-teens onwards, because I was scared and embarrassed," he says.
Benjamin's workshops, which will be tested in primary schools later this year, use drawings and games – a friendly contrast to the clinical mental health services he experienced.
A trained therapist sits in a space nearby for anyone who feel like talking privately.
Clips from the Channel 4 documentary about his story are shown and the children are asked how they think Benjamin might have felt at different points.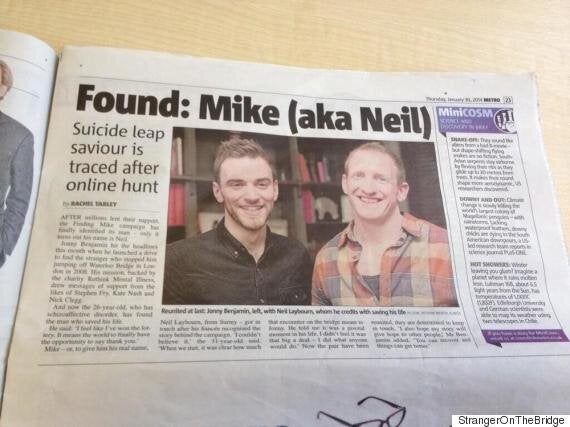 Benjamin was reunited with the man he called 'Mike' - real name Neil - after the campaign
Benjamin plans to use games such as Buckaroo, where children load up a plastic horse until it finally bucks.
"We are trying to show that the more things you put on and the more pressure there is, the more likely you are to kick out and to snap," he says.
He's been told by children as young as 10 that, while they would ask for help with a pain in their stomach, they would not seek help if they felt sad. The first schools that have taken part suggest a great response: 96% of kids said they had developed a 'good' or 'excellent' awareness of mental health issues after the workshop.
Consequently, he hopes ThinkWell can spread the message he's learnt himself: "It's OK to struggle and it's not a weakness."
Young Minds Matter is a new series designed to lead the conversation with children about mental and emotional health, so youngsters feel loved, valued and understood. Launched with Her Royal Highness, The Duchess of Cambridge, as guest editor, we will discuss problems, causes and most importantly solutions to the stigma surrounding the UK's mental health crisis among children. To blog on the site as part of Young Minds Matter email ukblogteam@huffingtonpost.com
Related