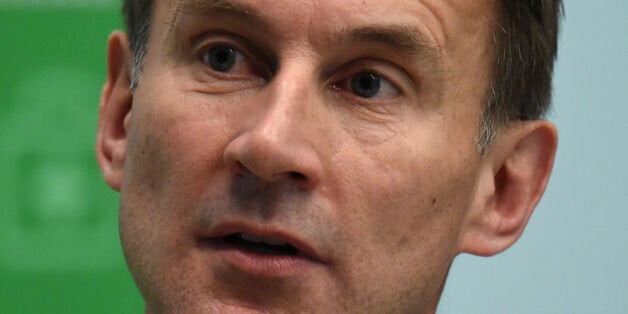 Jeremy Hunt is facing a fresh 'spin' row after it emerged he used unverified and unpublished research to blame junior doctors for weekend deaths in the NHS.
A new trail of emails appears to show Whitehall officials attempted to cover up the fact that the Health Secretary had seen a sensitive study into 'excess' deaths at least two months before it was peer reviewed by clinicians.
With junior doctors set for a fresh round of strikes next month, Labour today told HuffPost UK it wanted a full investigation into the allegations and the role in the affair of NHS medical director Sir Bruce Keogh.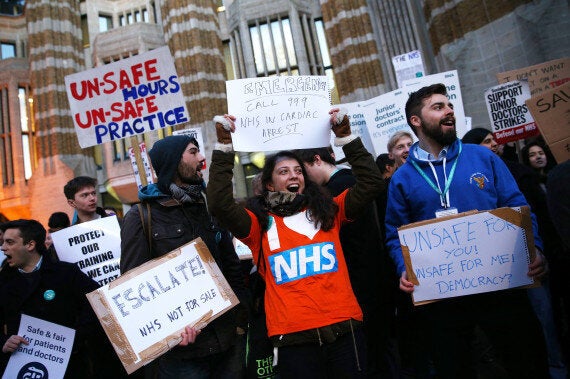 Doctors protesting outside the Department of Health
At the start of his pay row with junior doctors last July, Mr Hunt declared there were about 6,000 deaths a year because of the lack of "a proper seven-day service".
The figure was then used repeatedly by the Government in its battle with the British Medical Association (BMA) over changes to doctors' contracts.
But emails from NHS England - obtained by the BBC - reveal Mr Hunt knew details of a sensitive study into weekend deaths at least two months before it was published in the British Medical Journal (BMJ), and based the 6,000 figure on his understanding of the data.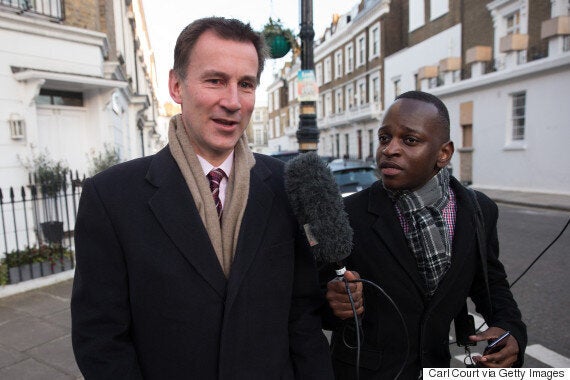 Jeremy Hunt, leaving home today
The UK Statistics Authority wrote to NHS England at the time, reminding the department that "data mentioned publicly by ministers should be available equally to all users".
Now an email released under the Freedom of Information Act, written by NHS England's Seven Day Services Forum project manager Deborah Williams to one of the BMJ study authors, said: "We were challenged to cite the source of the 6,000 figure and attempted to offer up the most bland statement possible, that would neither confirm not contradict [Mr Hunt's] statement."
Domenico Pagano, the study's author, refused to corroborate Mr Hunt's use of the figures, saying: "It will be inaccurate and counterproductive to quote that our analysis is due to be published in the BMJ shortly, as this is not the case and may seem to interfere with the peer review process."
When finally published in September 2015, the research actually suggested there were 11,000 excess deaths per year as a result of the "weekend effect" - although the authors pointed out it could not be proven to be linked to staffing levels.
Junior doctors have also said Mr Hunt has made misleading statements about the study, as well as highly controversial claims about weekend deaths from stroke.
NHS England has now admitted Mr Hunt had had advance sight of "headline figures" of the BMJ study prior to it being accepted for publication.
A spokesman said Sir Bruce Keogh, NHS medical director for England and one of the study's authors alongside Dr Pagano, had shared some findings with "interested parties" including the Department of Health and the Review Body on Doctors' and Dentists' Remuneration (DDRB).
But NHS England's Freedom of Information Officer had claimed in October last year: "Sir Bruce Keogh did not discuss the study's findings with anyone at the Department of Health at any point before or after the publication of this article."
NHS England now says this statement is "clearly a mistake, and absurd" and Sir Bruce is "devastated" the focus has now shifted from "the issues of patient safety".
The BMA's Johann Malawana reacted on Twitter today to the revelations.
And this was another verdict on Hunt's overall approach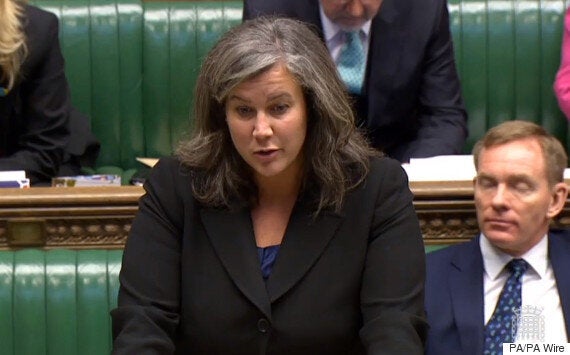 Shadow Health Secretary Heidi Alexander told HuffPost UK: "These emails appear to show officials in Jeremy Hunt's department scrabbling to justify the Health Secretary's dubious use of statistics.
"This is an extremely serious state of affairs given the weight attached to these figures by the Health Secretary in justifying changes to junior doctors' contracts.
"Rather than admitting the source of the figures, it seems that civil servants had to cobble together a post-hoc rationalisation for Jeremy Hunt's sound bites.
"The truth is this is not the first time Jeremy Hunt has got in trouble for his use of statistics. He might be willing to simplify complicated medical research to suit his own political spin but under no circumstances should civil servants be dragged into it.
"There now needs to be a full investigation about whether pressure was put upon officials and whether the Health Secretary was involved."
But a Department of Health spokesman said: "This 6,000 figure was NHS England's analysis. Subsequent independent clinical studies have shown further variation in the quality of care across the week, and more recent analysis makes clear there could actually be as many as 11,000 excess deaths owing to the 'weekend effect'."
NHS England added: "The data on this topic has been consistent and it cannot be dismissed or ignored.
"We make no apology for using data and analysis to inform NHS and government policy in the best interests of patients."