He said: "I'm sitting in a house in Florida with a very bad earpiece that they gave me, and you could hardly hear what he was saying.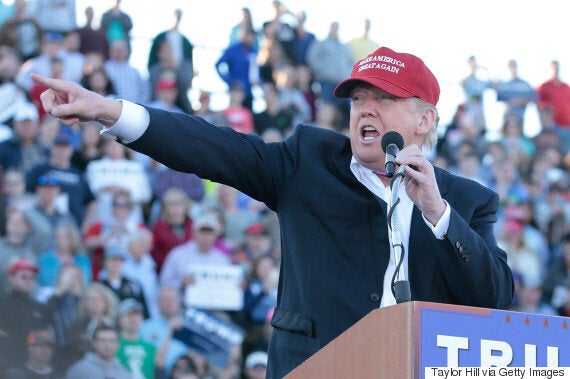 Trump pointing at sanity as it flees his speech in Madison City Stadium
"But what I heard was various groups, and I don't mind disavowing anybody, and I disavowed [former Grand Wizard of the KKK] David Duke and I disavowed him the day before at a major news conference."
He continued to dig a hole by adding: "He also talked about groups. And I have no problem with disavowing groups, but I'd at least like to know who they are. It would be very unfair to disavow a group, Matt, if the group shouldn't be disavowed. I have to know who the groups are."
They're White Supremacist groups Donald. White. Supremacist.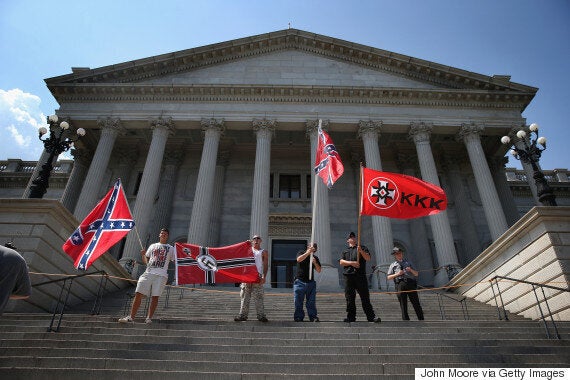 Also, his defence clearly isn't true. Trump mentioned David by name in the original interview.
He said: "I don't know anything about David Duke. I don't know anything about what you're even talking about with white supremacy or white supremacists.
"You're asking me about something I know nothing about."
So basically Trump has tried to get out of a lie with yet another lie.
His words came as KKK member was accused of stabbing a man with a flagpole after a protest turned violent on Saturday.
At least three people have been stabbed after the KKK 'White Lives Matter' rally in Southern California turned into a violent brawl.
Protesters from the white supremacy group dressed in black shirts decorated with the 'Klan cross' took out signs that read "White Lives Matter" after getting out an SUV in a park in Anaheim, near Los Angeles, on Saturday afternoon.
They were quickly surrounded afternoon by the counter-protesters who had heard about the planned anti-immigration protest and were waiting for them, the Associated Press reports.
The counter demonstrators shouted and someone smashed the SUV's window, before one KKK member reportedly stabbed a counter-protester with the decorative end of a flag pole, setting off a vicious brawl videoed by witnesses.