Just in case you were wondering, Oscar-winning costume designer Jenny Beavan could not care less about what you think of her outfit from last night's (28 February) ceremony.
Not. One. Ounce.
MORE OSCARS:
Jenny took home her second Academy Award on Sunday night, for her work in on the costume department of 'Mad Max: Fury Road', 30 years after taking home the same award for 'A Room With A View'.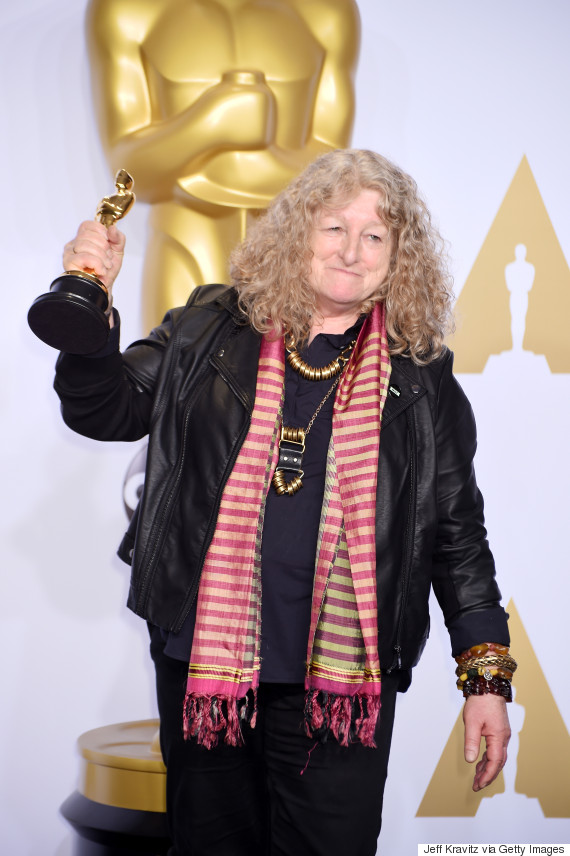 Jenny Beavan with her second Oscar
However, in Jenny's moment of celebration, several members of the audience seemed bemused at her choice of attire at the A-list soirée, which included a faux leather jacket and coloured scarf.
Fortunately, she doesn't seem too bothered about what anyone thinks about her fashion.
Speaking to The Telegraph backstage at the Oscars, she admitted: "This was an homage to 'Mad Max' and I obviously didn't get it quite right at the Baftas, the scarf was meant to be an oil rag.
"This is Marks & Spencer with Swarovski at the back, I had a bit of a shoe malfunction and the glitter fell off. I just like feeling comfortable and as far as I'm concerned I'm really dressed up."
In case you didn't get the Baftas reference, Jenny was inadvertently at the centre of a controversy earlier this month, when she collected a prize at this year's London awards bash.
After delivering her speech, host Stephen Fry faced a backlash on social media for suggesting she'd shown up dressed like a "bag lady".
He later insisted that Jenny was a "dear friend" and that he was only joking, but the ensuing furore pushed him to delete his Twitter account altogether.
SEE ALSO:
LIKE US ON FACEBOOK | FOLLOW US ON TWITTER