Overnight, police tear gas was used to disperse migrants who hurled rocks at demolition squads.
The action prompted more desperate people to try and cross over to Britain by jumping on board lorries under the cover of darkness.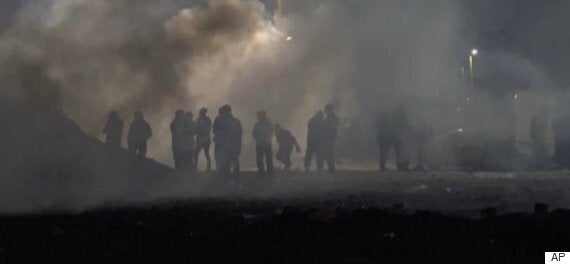 Migrants gather in a stand-off against police last night
A judge ordered the eviction of around 1,000 migrants and refugees, but spared their "communal facilities" such as churches, mosques and schools from being flattened in the raid that began yesterday.
Officers gathered in lines on the perimeter of the camp's southern section as 'Jungle' inhabitants were told their only option was to move.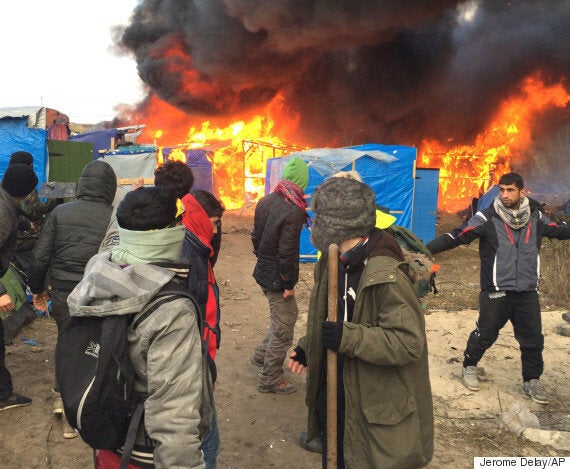 Migrants and activists watch makeshift shelters burn
About 100 shacks were said to have been dismantled on Monday.
Large groups of migrants - around 150, according to reports - temporarily blocked police vans from entering the site by walking in the road. Some wielded sticks and iron bars.
Lliana Bird, co-founder of Help Refugees, warned HuffPost UK the eviction would leave thousands of people with no place else to turn to.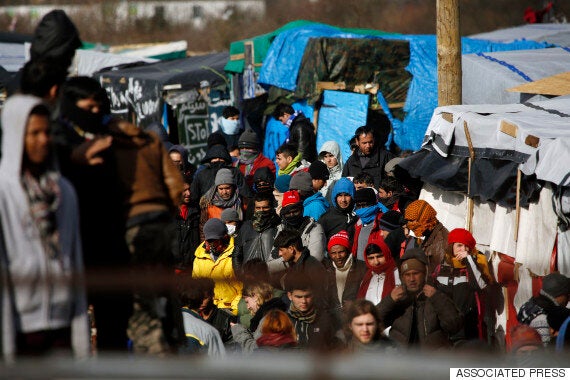 Migrants and activists face-off with French riot police
"It has been publicly accepted in court that there are not enough state run places for all the refugees being evicted to go to, so this move will simply be making thousands of vulnerable people homeless," she said.
"With over 3,500 people in the zone to be bulldozed, and just over 1,000 places available in containers and French run centres there are more than 2,500 men, women and children who will soon be facing winter weather without shelter, and with no where to go once their current homes are destroyed.
"The trauma this is causing already vulnerable and displaced people is immeasurable. We ask the French authorities to work with us to find safe and dignified solutions to rehouse the residents of the Calais camp."