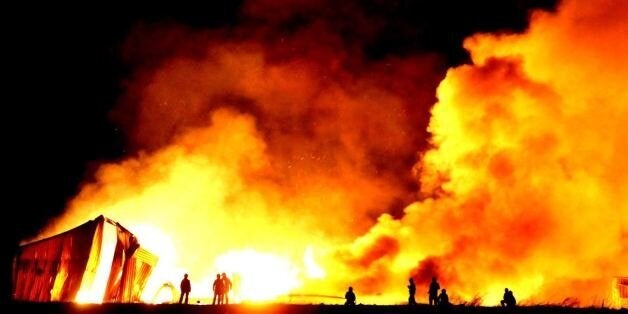 More than 70 firefighters have been tackling a "difficult" fire in an industrial yard near the M25, which has caused ash and sparks to drift over the motorway.
Ten fire engines addressed the fire on Whitewebbs Lane in Enfield, which has destroyed a warehouse and badly damaged cars, forklift trucks, lorries and caravans.
Heavy smoke filled the sky after the fire broke out on Tuesday morning and Highways England warned motorists on the M25 at junction 24 and 25 to take extra care.
Around 35 propane gas cylinders have been removed from the site.
Photographer Paul Wood shared dramatic video and pictures of the fire, which the London Fire Brigade called "incredible".
A spokesperson for the London Fire Brigade told The Huffington Post UK that the team was working "exceptionally hard" to deal with the blaze.
The fire has been "under control" since around 6am but fire crews from Enfield and surrounding fire stations are still dealing with "pockets of fire".
Six engines and around 30 firefighters will remain on the scene for most of the morning.
A caravan on the site was safely evacuated before the firefighters arrived, and the two men inside were not injured.
Deputy Assistant Commissioner Graham Ellis was at the scene, and said: "This is a difficult fire to fight but crews worked exceptionally hard to bring it under control. Firefighters will remain at the scene throughout the morning damping down pockets of fire."
The Brigade was called just after 2am on Tuesday morning. The cause of the fire is not known at this stage.