There are between 300 and 400 unaccompanied children in the makeshift camp known as 'The Jungle' - meaning one out of every 13 people there is a child without a guardian, according to estimates.
There is a "large contingent" of 15 and 16-year-olds, but some are as young as 12, according to Ginny Howells of Save the Children, who is working on the charity's emergency response in Calais and Dunkirk.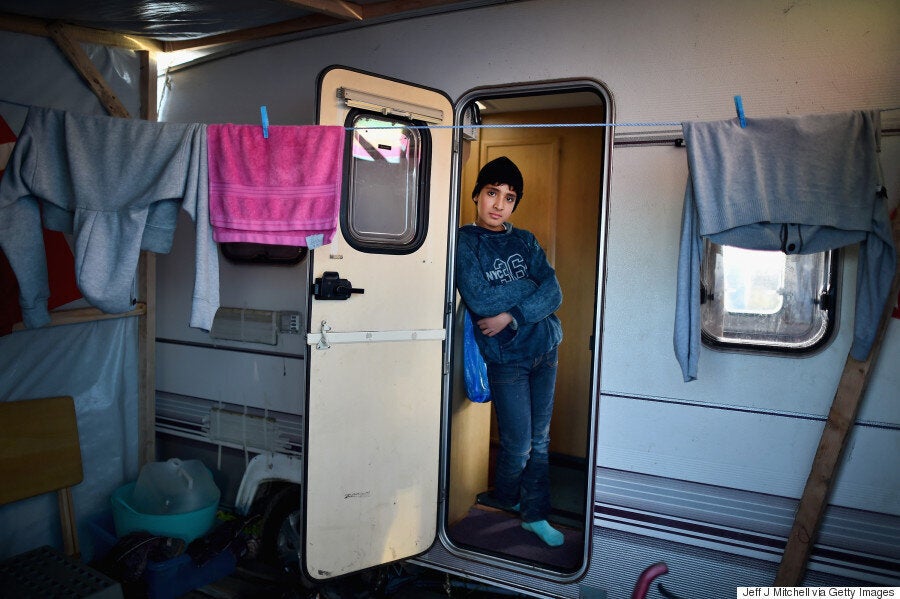 There are thought to be between 300-400 children in 'The Jungle' with no parent or guardian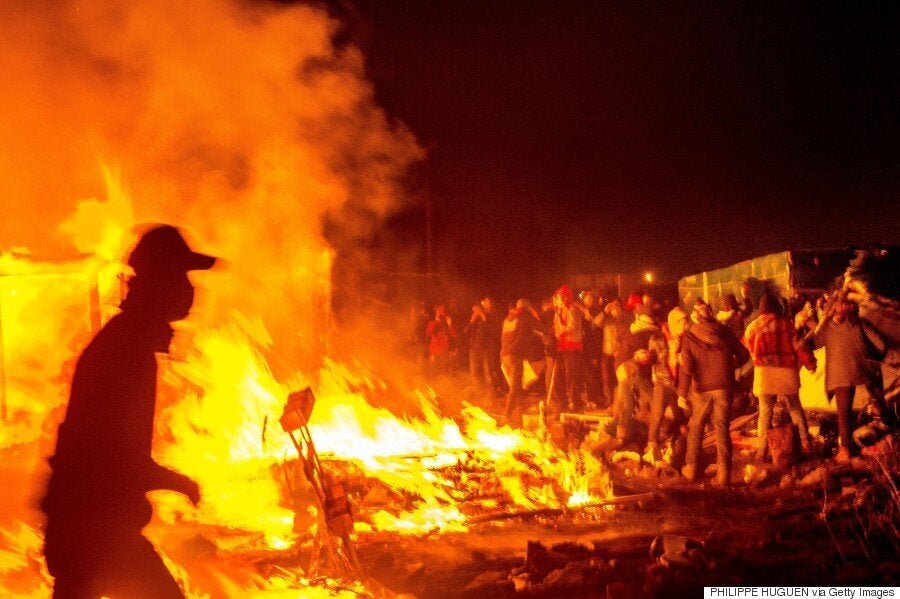 Some residents have set fire to tents in anger as authorities dismantle shelters
"It's really chaotic at the moment," she told The Huffington Post UK. "There's fires breaking out every day and they are really worried. There's the physical stress around the tear-gassing, but also getting caught up in the rocks being thrown. And also they are trying to jump onto trains every night.
"I had an Eritrean boy with bandages on his hands and feet a few days ago, just because he'd got injured with the crossing. Then there's the mental impact of all of this upheaval and confusion, and being surrounded by this stress day-in-day out and we can really see that effect."
Even estimating the number of minors is difficult because of the unstable situation as tents are torn down, but Help Refugees estimates that there are 423 children out of the 5,497 total residents in the Calais camp.
Some of the children left from their home country alone, others have been separated from their families on the way to the French port.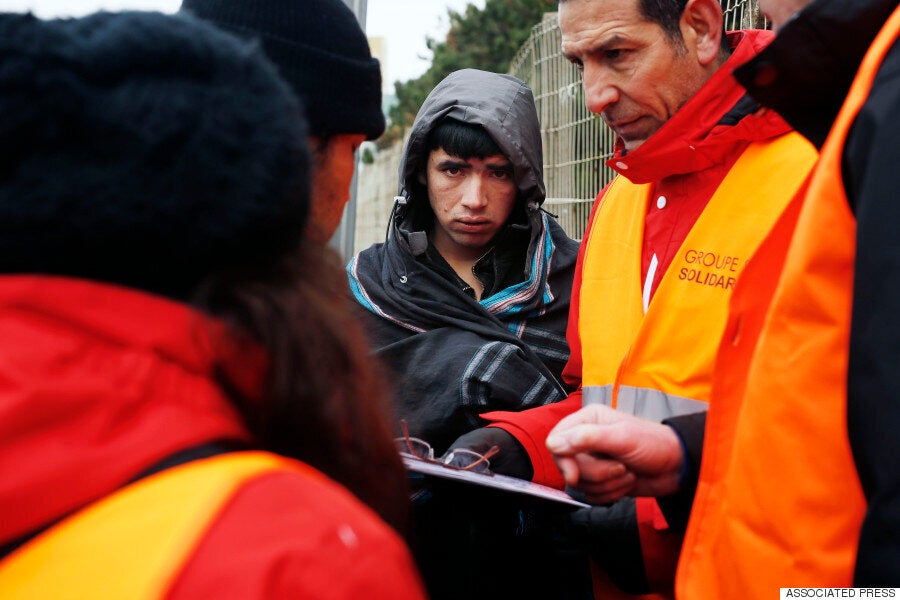 The nearest official centre offering help to children who are alone is 45km from the camp
Most of them aren't completely unaccompanied: some are with an older distant relative, or someone else they know from their village, but they are still seriously vulnerable, Howells said.
"They've kind of formed community groups within the camp but it is still very worrying. They are incredibly at risk because they don't have that parental figure or guardian looking after them. For someone who's 12, that's terrifying."
Many don't want to go into the French care services, and have no confidence in the country's government and police, she said, adding: "I think children need to regain faith in the French system. At the moment they are seeing tear gassing and riot police, which doesn't really make you want to trust the systems that are in place."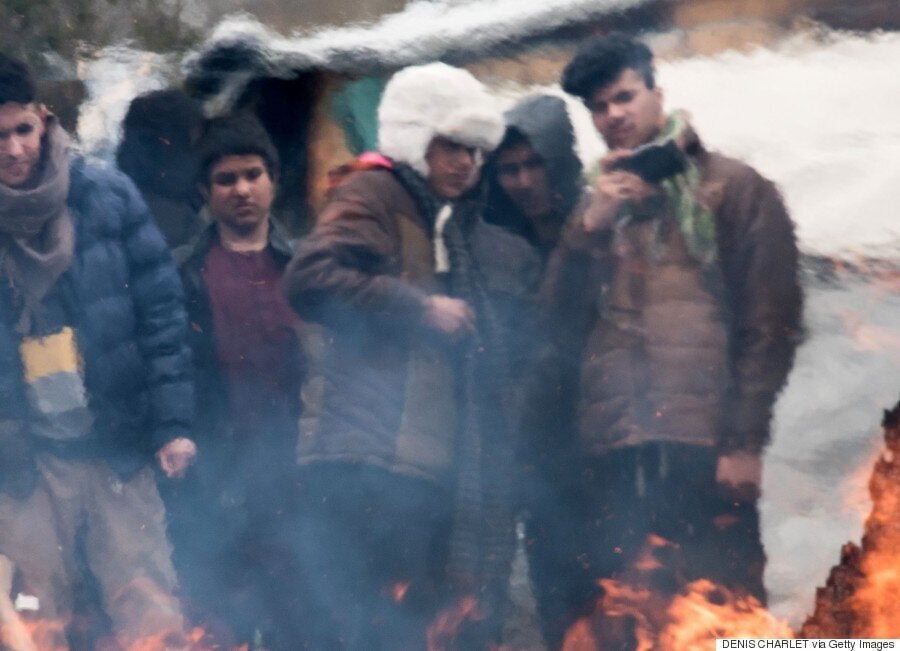 Children are 'anxious and confused' according to aid workers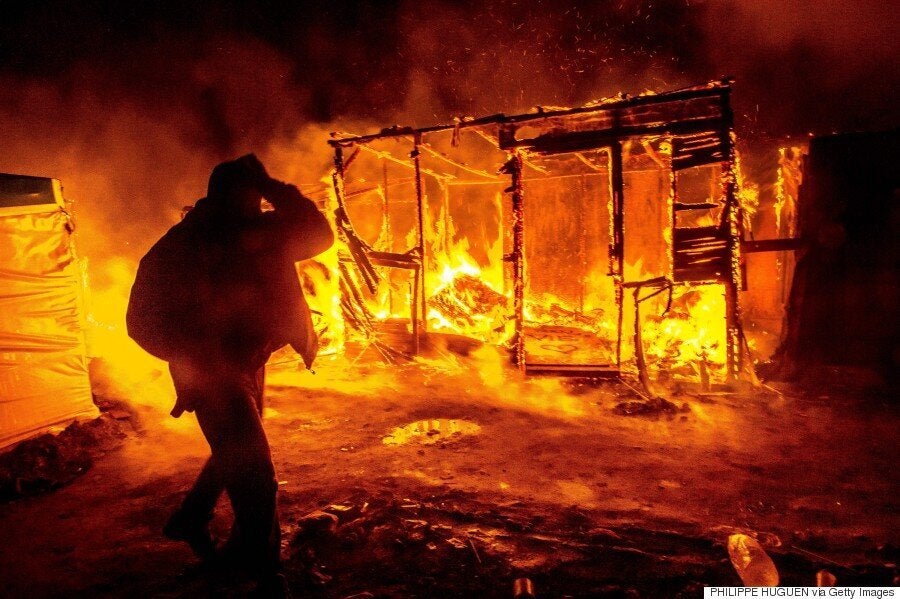 Many could 'disappear' after the camp is destroyed
The bulldozing of the camp means that many children could be pushed out of the reach of volunteers and charities and go "off radar", she says, ending up in an even worse situation.
"They are really confused and anxious. Our biggest fear is that this whole kind of upheaval will push them into different camps along the coast, and effectively they will go off radar, because the options that are being put forward for them as alternative accommodation, they aren't willing or don't have enough information to takes those up."
"Our big fear is that they'll go into camps into Dunkirk, which are in worse condition, or just disappear completely and we'll lose contact with them."
The official provision for unaccompanied children is at a centre run by NGO France Terre-d'Asile, but this is 45km away from the camp.
If children reach it, they can stay for five days and then be taken into the French child protection system, joining 1,600 others who were taken into care in 2015.
They can then be assisted to apply for asylum in the country, many don't want to do this, or don't understand the complex asylum system, Howells claims.
"Children don't understand that process, it's quite convoluted," she told HuffPost UK. "And the majority of them don't want to stay in France, that's why they are in Calais. They want to reach their family in the UK or to reach community groups in the UK. Also sometimes they are travelling with a small community, so this would separate them."
The refugee crisis was today called a "trafficker's paradise" by Thorbjørn Jagland, the Secretary General of the Council of Europe, who says children without parents are in danger of violence, abuse, and exploitation.
Two aid agencies working in the camp even took the local authority to court last year to demand improvements in the conditions for children.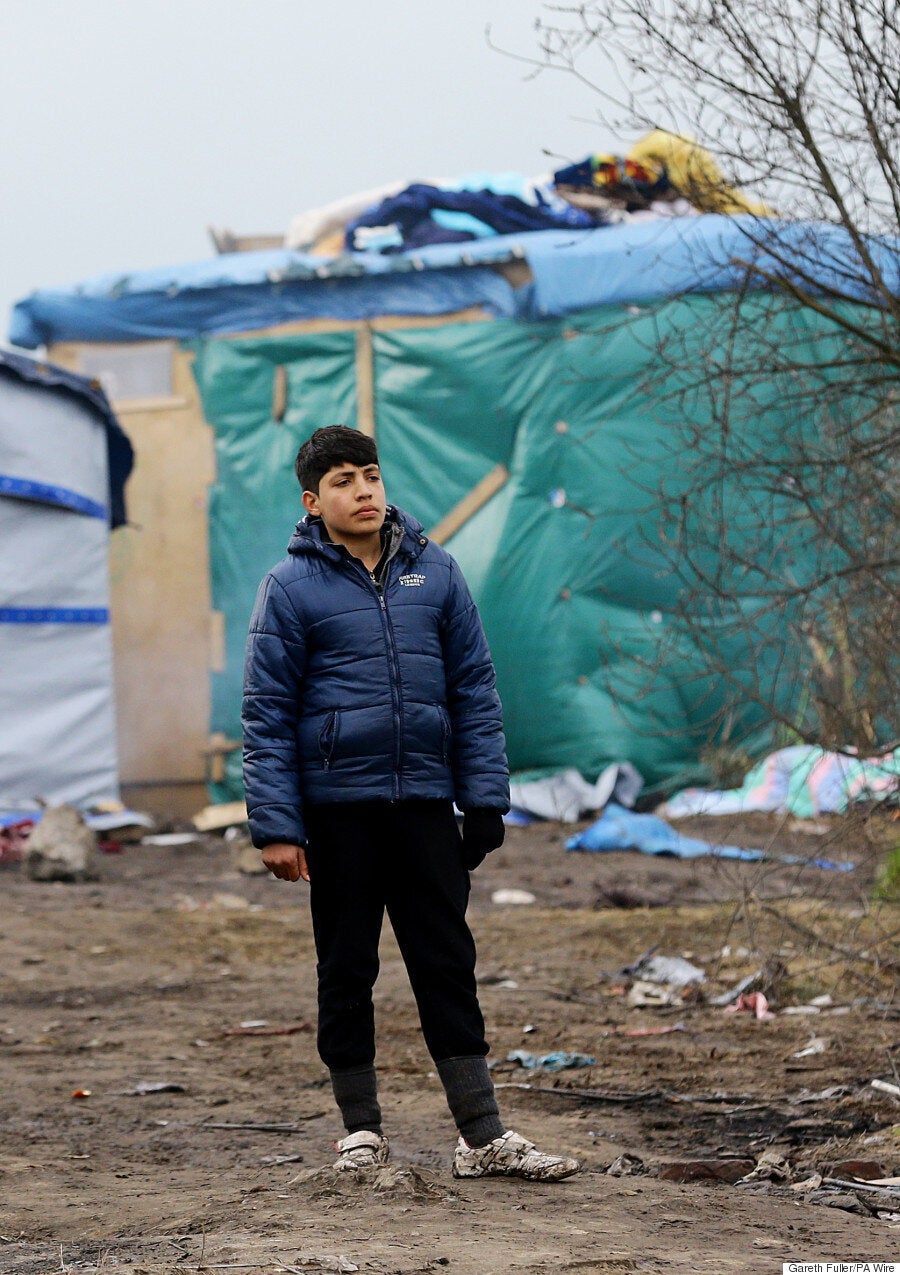 A boy stands in The Jungle
Howells of Save the Children says more information is needed to explain children's options to them, with transparent details on processes like family reunification with relatives in the UK.
She believes that information needs to come from a co-ordinated effort from French authorities, NGOs and British volunteers: "It needs to be in the right languages and also child-friendly. Asylum processes and systems are confusing at the best of times, if you're a 12-year old boy, you need it explained to you properly."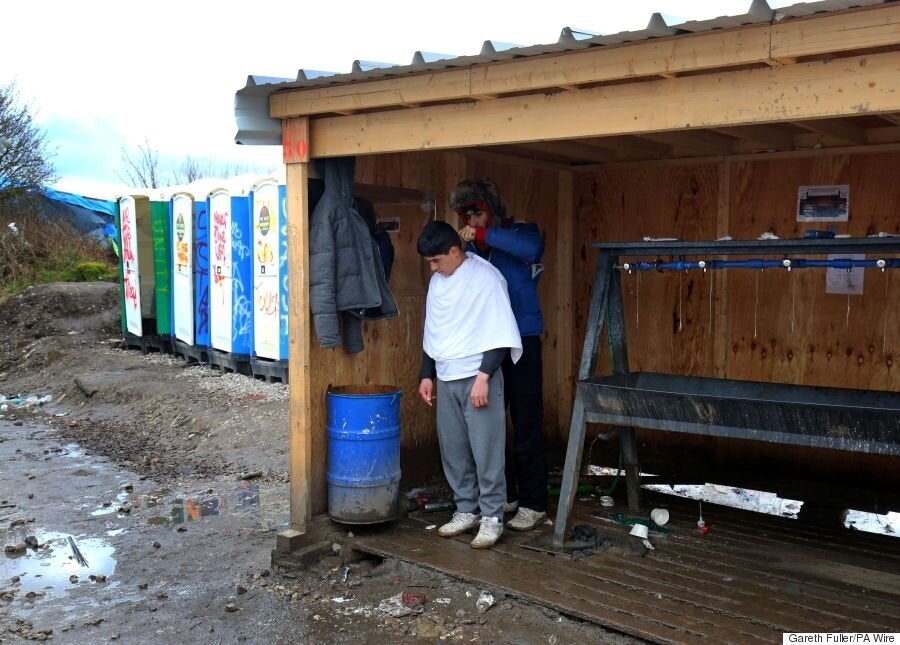 A young camp resident has his hair cut
Calais officials say the camp houses 3,700 people, but the French government's long-term aim is to have no more than 2,000 migrants living in Calais, says its chief, Fabienne Buccio.
At the start of the winter, aid groups reported a surge in the numbers of unaccompanied refugee children living in tents, with no support from the French state.
But other residents do look out for children in the camp, Howells claims, and community networks have formed, while volunteers "make sure they're getting food, make sure they've got shoes, that sort of thing".
While speaking to HuffPost UK, she was arranging emergency phone credit to help children keep in contact with relatives and volunteers, sometimes using an emergency translation phone line set up over the weekend.
Britain's politicians are also concerned. Tory MP David Burrowes said this week that he had spoken to children and parents in Calais: "They do not feel safe here because of particularly the way they are now being treated. The government has a responsibility as well as other European neighbours to treat people safely, particularly children. There are children here who have been gassed today. There are those that have had to receive treatment."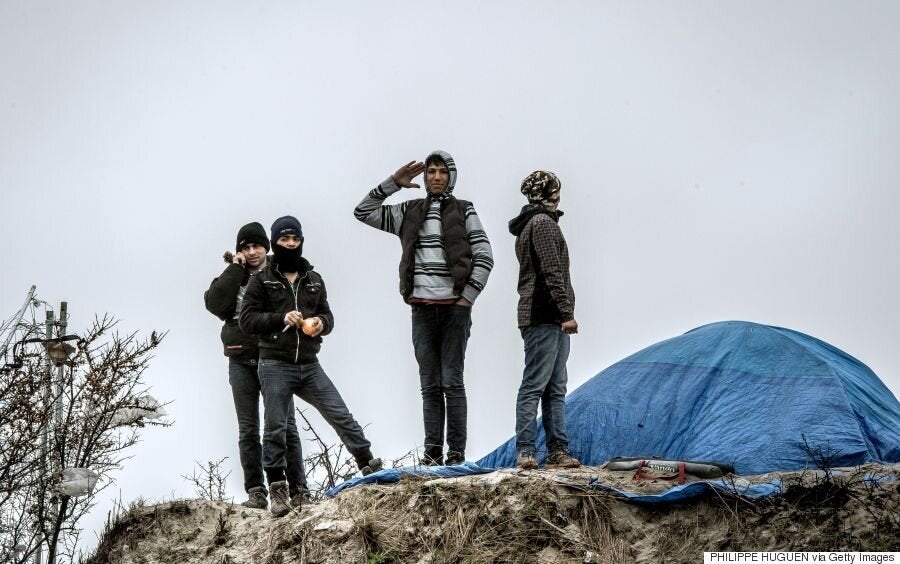 Children may lost contact with those who can help, charities fear
Last year, an estimated 300,000 children arrived in Europe, many of whom were unaccompanied according to the Council of Europe. One in three of the migrants and asylum seekers crossing between Greece and Turkey is a child.
Since last September, an average of two children a day have drowned while trying to cross the Mediterranean.
According to Europol, at least 10,000 children have disappeared since the beginning of the crisis. In many countries, asylum-seeking children disappear within just a few days of being placed in reception centres.
"The refugee crisis is a trafficker's paradise," said Council of Europe secretary Jagland. "Thousands of children are escaping war only to vanish into the underbelly of European societies. It is difficult to imagine a greater moral imperative than keeping these boys and girls safe," he said today.
He said in a statement: "Children should not be placed in immigration detention centres, apart from in exceptional circumstances and for the shortest period of time. State authorities should pay special attention to the safety of girls who face multiple risks."
The Council of Europe is calling for age assessment in the camp to be improved, saying that if the age of a child is uncertain, they should be given the protections of a minor.