The five things you need to know on Tuesday March 8, 2016…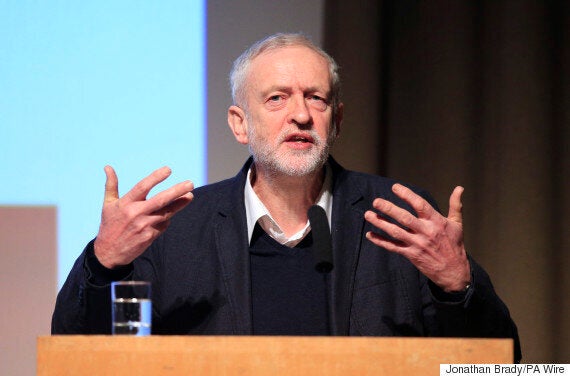 Well, last night's PLP didn't disappoint those of us gathered outside. I've written my usual full account HERE. Jeremy Corbyn, in his quiet way, told Labour MPs to stop the 'sniping' and he rallied round Jon Trickett over the local elections campaign (though note the Trickett line has shifted from being 'confident' about May to saying they will be 'difficult' elections).
Barry Sheerman and Emma Reynolds wanted Jezza to show some passion for the EU In campaign, some talked about the local elections, others about Corbyn's poor poll ratings and failure to connect with working class voters. One real flashpoint came when women MPs tackled him over his call for prostitution to be 'decriminalised', with Fiona Mactaggart and Sharon Hodgson (the latter hardly a 'Blairite usual suspect') barely concealing their fury.
Yet what really sparked anger was the briefing afterwards from Corbyn's spokesman, when he claimed the PLP 'mainstream' had 'asserted itself' and that 'a line in the sand' had been drawn over all the backbiting and MPs agreed to unify. Several MPs told me there had been a clear 'operation' to get loyalists to back the leader to make it look like he had more support than he really had.
One MP told me: "I have never briefed after PLP but that was a fucking disgrace. I feel sorry for Jeremy because he is so clearly struggling and out if his depth. They lined up a load of people to try and pre-emptively brief that if we do badly in May it's because of a divided PLP. But it's so obvious that we are losing because Jeremy is shit, the party is floundering."
The wagons are certainly being circled around Corbyn by his allies. And there's now a race against time between him and his critics on the leadership rules. As I wrote yesterday, Corbynistas want to change the rules at September's conference to ensure he automatically gets on any ballot after a challenge, and 'moderates' say they have 'one last shot' at ousting him before then - probably in July after the EU referendum. It's looking like game on.
As for the anti-semitism/students row, I hear last week's NEC was more fractious than thought. At one point Unite's Jennie Formby questioned whether Jan Royall was the best person to lead the party inquiry - because she had Googled her and found the baroness had once attended a Labour Friends of Israel event, in 2007. Shabana Mahmood intervened to say Formby's remarks had been 'highly inappropriate' and the matter was left there.
The Inners can't conceal their delight today as it emerged that Boris's chief of staff told his City Hall staff that they are not to speak out in favour of staying in the EU. An email seen by the BBC shows Eddie Lister telling colleagues to "either advocate the Mayor's position or otherwise not openly contradict it". The line from Team Bojo is that this only applies to staff acting in their official capacity - and it's nothing like No10 dirty tricks against Brexiters.
The Mail has splashed on No10 refusing to deny Daniel Korski had got in touch with the BCC over John Longworth's Brexit backing (you still with me, reader?). BCC president Nora Senior told the Telegraph the call was about getting "clarity", rather than pressure.
Boris is famously the great-grandson of an outspoken Turkish politician who ended up hanged. The late-night EU-Turkey deal could offer fresh ammo for the Brexiteers here, not least the deal to fast-track Turkish membership and the UK being forced to pay an extra £250m 'blackmail' fund to Ankara. Hungarian PM Viktor Orban is kicking off, telling the Today prog of his concerns, though Merkel's one-in-one-out refugee scheme seems voluntary.
It's a busy old day for Brexit-related matters. Bank Governor Mark Carney appears before the Treasury Select amid accusations among the Outers that he's scaremongering by unveiling contingency plans to pump billions into banks to avoid chaos after Brexit (it's the FT and Telegraph splash). Oh, and Brexittastic Michael Gove has Justice Questions - will he baulk at restrictions now on him when speaking from the frontbench? Nicky Morgan had no problem using Education Qs yesterday to further her pro-EU cause.
3) SISTERS DOING IT FOR THEMSELVES
In case you missed it, it's International Women's Day (the PLP certainly hadn't). There's lots going on, and Priti Patel wins the Crowbar Of The Day Award by using the event to talk about Brexit: yes, women who campaign to quit the EU are like Suffragettes "fighting for our democratic freedom".
Speaker Bercow is holding an event with Action Aid tonight to mark the woman he most admires, and he has chosen Aung Sang Suu Kyi. He has written a blog for HuffPost on just why. "It is not the responsibility of women alone to fix a world that so often acts to their detriment," he writes.
Not everyone is enamoured of the day itself. I note a piece in the Times by the PM's former speechwriter Clare Foges, who reveals: "the one time I downed pen in protest was when I was asked to write the annual IWD message, in which the prime minister would be called upon to praise the achievements of this group called women (as though we were a smallish sub-section of society like, say, the people of Guernsey, or Buddhists, or the ambidextrous, rather than 50 per cent of the population)."
BECAUSE YOU'VE READ THIS FAR…
4) SUNDAY (HORSE) TRADING
That Sunday Trading vote tomorrow looms ever closer and so too does the prospect of it being kicked into the long grass. The SNP meets tonight to decide if it will kill the plan by siding with Labour and Tory rebels and the Telegraph has a scoop: at least 30 of the SNP's 56 MPs are pushing their party to oppose the Government.
SNP MPs have told the paper that it would be "impossible" for them to vote for the changes and that they would be "very surprised" if the party supported the government. One said: "The role of opposition parties is to oppose. If the government's on a sticky wicket I don't think we should let them off it."
Some in the party are worried by the perception that Nicola Sturgeon has done a 'deal' with George Osborne at the expense of Scots retail workers. And there was a significant signal from Stewart Hosie,the SNP deputy Westminster leader, who yesterday appeared to harden the party's stance towards the move by saying it stood "on the side of workers" over the reforms.
Speaking of Osborne, Chuka Umunna today blogs for HuffPost that the Budget looks like it will be aimed at the 150,000 Tory members he needs for a leadership contest rather than the wider public. Osbo will have to find a few hundred million if he's to stop the fuel duty rise that 150 Tory MPs have today come out against.
The Lib Dem spring conference is this weekend in York. In years gone by, junior newspaper hacks would trundle along in the sure hope that sniffing out a rogue motion on drugs policy, buried in the agenda papers, would be their only hope of getting a few column inches.
In a bold new media strategy aimed at getting a better shot of coverage, the party has today decided to do the hacks' job for them - by producing a great big review that recommends legalisation of cannabis. Yes, the independent study calls for over-the-counter sales of the drug, grow-your-own weed for 'personal use' and so on. It says that £1bn could be raised in taxes annually, and points to US states where the world hasn't collapsed after decriminalisation.
Tim Farron is right behind the policy, as is Prof David Nutt. But another key member of the review group is the current Chief Constable of Durham, Mike Barton. It all reminds me of 'Bunny' Colvin, the cop in The Wire who set up his 'Hamsterdam' experiment. Where the US leads, will we follow, one day?
If you're reading this on the web, sign-up HERE to get the WaughZone delivered to your inbox.
Got something you want to share? Please send any stories/tips/quotes/pix/plugs/gossip to Paul Waugh (paul.waugh@huffingtonpost.com), Ned Simons (ned.simons@huffingtonpost.com), Graeme Demianyk (graeme.demianyk@huffingtonpost.com) and Owen Bennett (owen.bennett@huffingtonpost.com)
Related