The five things you need to know on Tuesday May 24, 2016…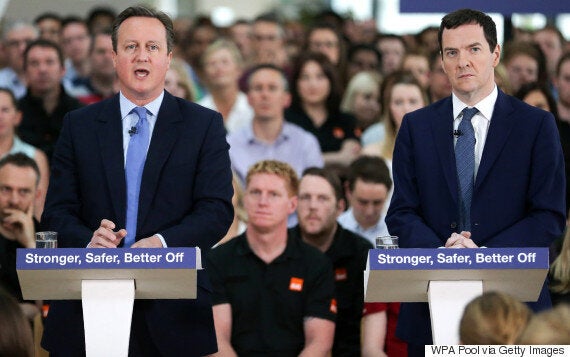 Another day, another relentless bit of heavy pounding of Brexit's economic case as David Cameron (who is now in full general election campaign mode) makes a speech warning that air fares and holiday costs will soar if we vote Leave.
Easyjet's Carolyn McCall was on the Today prog underlining the message. Steve Hilton, ex-Dave guru, was on too and tweeted: "wonder what pathetic, patronising EU scares we will get today? #GuessTheScare". Some in Government reacted to Hilton's outburst yesterday by muttering 'He's gone full Stewart Pearson' (a reference to The Thick Of It's blue-skies thinker, who was based on Hilton, so that's life-imitating-art-imitating-life for you). On Today he lashed out at the 'bankers' and 'Establishment' 'running the world'.
But the real fear among some in No10 is that the PM will face a vote of no confidence should there be a narrow 'In' result on June 23. And the Mail has splashed its front page on the latest updates on numbers, claiming there a dozens of MPs ready to strike. One backbencher wants Cameron to set a leaving date, with 2018 seen by some of them as the best compromise.
We've been here before, of course, when Tony Blair (more on him below) was pressured by Brownites to 'name a date' for his departure. In the end, Blair found it hard to resist (and he had a much bigger majority, even after 2005, don't forget).
There are undoubtedly some Tory MPs who have been so infuriated by No10 and No11's conduct that they want to wield the knife after a close result. Yet there are plenty of others from the 2015 and 2010 intakes who, while finding this all distasteful, feel they owe their seats to Dave and don't want to rock the boat. The aim of the plotters though is to wound, not to kill - just as Thatcher failed to get enough support in 1990.
Yesterday, the anger on the backbenches over Project Fear was palpable in the Queen's Speech debate, and the Government had to once again 'Uncork The Gauke', using the Treasury minister as its human shield (boy does he deserve a promotion after all this). The latest complaint by Eurosceps is about No.10 "bullying" of the BBC and others to ensure neither Gove nor Boris is on the same programme as Cameron.
The bitterness within the Leave camp is almost as bad at time as that between the Tory tribes. BuzzFeed's neat scoop on Leave.EU publishing the mobile numbers of Vote Leave campaigners was just another example of how dirty this has all become.
It took a female party leader yesterday to point out how counterproductive some of the Osborne/Cameron Project Fear was becoming. Nicola Sturgeon attacked the 'fear based campaigning…that insults people's intelligence'.
In a speech, Shirley Williams urged the public to complain to the BBC the next time they saw a "male v male, blue v blue" line up on the EU. debate.
And overnight Harriet Harman is ramming home the same point, writing to Ofcom to complain that since January, 48 male politicians have appeared on the Today programme, compared to only 10 female spokespersons from political parties (so 83 per cent of all politicians appearing on the most popular daily news programme in the country on this key issue). Harman meanwhile has been on ITV's Good Morning Britain praising Kim Kardashian's nude selfies, leaving Piers Morgan confused in the process.
The former interim Labour leader will appear at a press conference alongside Angela Eagle, Seema Malhotra and Kate Green to outline some new research showing that women will suffer more from Brexit, in terms of job losses, cuts and part-time worker rights. Seema Malhotra has blogged for HuffPost, pointing to the gender pay gap being lower inside the EU.
But it's not just a men problem. For many Labour MPs, they fear there is a real problem in the referendum is their party just not being heard at all. A new Loughborough University report found that Tory party sources dominated press and TV reporting, with Labour voices sidelined and the Lib Dems and Scottish National party "virtually invisible". Maybe a Johnson v Johnson showdown in the BBC Wembley programme would go some way to rectifying that?
The Telegraph splashes on an ORB poll that will surprise many old stagers of the political scene: pensioners are now more likely to vote Remain than Leave (52 per cent of over-65s now support staying in the EU, with 44 per cent backing Leave). Just a month to go and the poll gives Remain a huge 13 point lead overall with Tory voters, men and older voters swinging away from Brexit.
Sir Lynton Crosby (for it is he) tells the paper that the Leave campaign is 'dwindling' "having failed to quell ongoing concerns about the financial and economic consequences of a Brexit". Still, immigration is still a trump card for Leave, and there is anecdotal evidence that the Turkey scare is having some cut-through in focus groups, as is the 'migrants using the NHS' line.
But in the generational stakes, there's a new campaign launched today to target younger voters. Called VOTIN' (think 'I'm lovin' it), it's the brainchild of minister Sam Gyimah and he's written for HuffPostUK: "The easyjet generation could quickly become the lost generation, unless it makes it's voice heard," he tells us.
Sam starts his piece by saying: "One 'old-school' politico told me bluntly: show him a politician going after the youth vote, he said, and he would show you a loser. The young don't vote, so why bother chasing shadows?"
There's a new video from the VOTIN' campaign, which says 'learnin', travellin', 'sharin' will all be hit by Brexit. Reminds me a bit of the 1970s 'Lipsmackin', thirst-quenchin' Pepsi ad. But the yoof of today won't have heard of that…
BECAUSE YOU'VE READ THIS FAR…
Her voice cracking with emotion, the former Cabinet minister talked about 'my own beloved Labour Party…turning its back on those who are not 'true believers'" on the Left. It was partly a reference to deselection threats, partly maybe even a shot across the bows ahead of the Chilcot report (a certain T Blair appears at the Prospect conference this morning).
But there is a wider unease about Labour losing touch with a key section of its core vote. Shadow whip Conor McGinn, in a fascinating interview in The House magazine, says: "People don't feel Labour listens to them, never mind speaks for them". Liz Kendall tweeted that McGinn was "right to warn that many of our traditional supporters feel deeply disillusioned".
At the PLP last night, Alan Johnson and Hilary Benn won a warm welcome for their EU In campaign, but even they faced questions about what Labour was going to do on June 24 to start taking on UKIP in its heartlands, over immigration and other issues.
As it happens, here's one vignette that perhaps illustrates the problem. Some former SWP members who are now back in Labour in the party in Pimlico recently decided to help out with door-knocking on a council estate. Apparently they took it upon themselves to lecture tenants on why they shouldn't buy their own homes, either from the council or housing association. Funnily enough, the tenants weren't too impressed.
There were a lot of tears shed by protestors last night as approval for Britain's first fracking drill site was approved in north Yorkshire. Ministers are relieved that at last things are moving on what they see as an energy source of the future. Yet there is real wariness about upsetting natural Tory voters in beauty spots and rural areas.
This is one of those classic examples where it's helpful for a Government to have difficult and potentially unpopular decisions out of the way early in a Parliament. Having fuelled Nimbyism on onshore wind farms and solar, can ministers avoid the backlash? Labour has had its own contortions over fracking, but Shadow Energy Sec Lisa Nandy said last night that there should be 'a moratorium until stronger protections are in place'.
If you're reading this on the web, sign-up HERE to get the WaughZone delivered to your inbox.
Got something you want to share? Please send any stories/tips/quotes/pix/plugs/gossip to Paul Waugh (paul.waugh@huffingtonpost.com), Ned Simons (ned.simons@huffingtonpost.com), Graeme Demianyk (graeme.demianyk@huffingtonpost.com) and Owen Bennett (owen.bennett@huffingtonpost.com)
Related