The five things you need to know on Saturday June 25, 2016…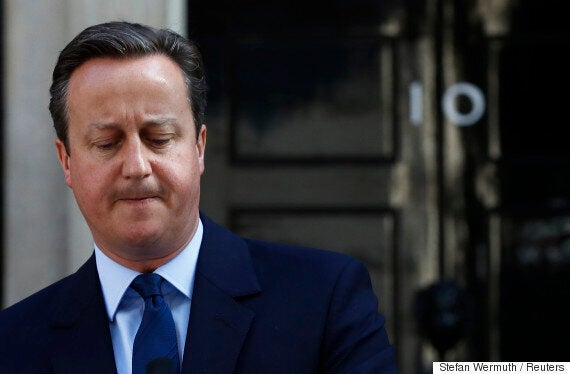 In the gambling game 'craps', you roll two dice and only win if you get seven or 11. It's risky and a crude way of deciding a winner – just like the 'direct democracy' of an EU referendum that has led to David Cameron's political demise and the shock of Brexit.
And this morning we find out just why the PM decided to quit suddenly, having got the 'wrong' result in the referendum. "Why should I do all the hard shit for someone else, just to hand it over to them on a plate?" he told colleagues. He was referring to the lengthy and extremely difficult task of extricating the UK from the EU, and rebuilding every single trade deal from scratch. It's the Sun that splashes on the words and that's fitting as the paper reveals a poll by the Democracy Institute that shows 30% of Leave voters were influenced by its BeLeave campaign.
Cameron is resigned to leaving, but has still not quite resigned as Prime Minister. He will finally walk out of No10 in October and his three-month lame-duck tenure looks like it will be very painful indeed. His main task on Monday is to stabilise the markets after the turmoil of Black Friday and this weekend will be spent trying to prep as professionally as possible for the coming heavy week.
In his tearful departure speech, Cameron didn't quite say "You'll miss me when I'm gone", but that's the undercurrent flowing here. Many, many Tory MPs and even some Leave voters were stunned to see the PM announce he was going. Like him, they hadn't grasped the full reality of what would happen next. In the Mail, Max Hastings (no fan of Boris) says Cameron "has been humbled by his arrogance". He treated government as a "tactical game" and he "now pays the price for years of unfulfilled pledges and for running a rotten Remain campaign".
That's all true, of course, but the most shocking reality of all is that Cameron was democratically elected by the people in a general election just a year ago. An angry Philip Collins put it in the Times thus: "Before you lecture the rest of us on taking back control and getting our country back you might like to regard the democratic settlement of May 2015 as something more than an inconvenience to be swept away." Yet it was Cameron himself who effectively staged the coup against himself.
The people locked out of politics for so long, the 'left behind' working classes who turned out in big numbers on Thursday, ruined the 'great game' approach to politics of Cameron and Osborne. The worry now must be that Boris and Gove are similarly involved in a 'great game'. Brexit is in many ways a gamble played with other people's money, and futures. It is a Johnsonian Telegraph column made flesh, a think tanker's wet dream, an Oxford PPE-ist's game theory turned real.
Yet this is also a thought-experiment whose guinea pigs will be the very folks with most to lose. If Project Fear turns into Project Fact, and the economy takes a downturn, the self-harm Cameron talked of may become more than a soundbite. And if Boris and Gove can't deliver quickly on their promises of curbed migration, the White Van Man vote that drives our election results will feel it's been lied to yet again.
2) EURO 2016, KNOCKOUT ROUND
The famously chillaxed PM will ironically be the busiest he's ever been, not least because on Tuesday he has the ignominious task of attending the special meeting of the EU European Council of fellow leaders in Brussels. Often his least favourite place on the planet, the Justus Lipsius building will be the venue as Cameron talks to colleagues about the UK's momentous decision. But on Wednesday, he will literally be out of the room as the rest of the EU uses the summit to work out its next steps.
Of course, Cameron said he wouldn't quit as PM if he lost the Brexit vote. That turned out to be yet another tactical device rather than a promise, like so many that have led to his undoing. He had also warned he would 'straight away' start the 'Article 50' process that formally extracts the UK from the EU. But the legal process will now be handed to the new PM once they are elected in October at party conference.
Boris and the Leavers, who frankly looked as shocked as everyone else yesterday, want to take their time working out the process. But other European leaders, furious that Cameron's gamble ended in the failure they warned him against, are not so sanguine. Remember that Cameron told them at a summit in December: "I am a winner. I can win this."
Around Europe, there's a mixture of anger and incredulity that Cameron has led his country into the doldrums, the Prime Minister who lost his country's EU membership – and its shared further with Scotland - almost by accident. Jean-Claude Juncker, the man Cameron publicly abused, is serving up a dish called revenge, and doesn't want it to get too cold. He said effect should be given to the referendum result "as soon as possible, however painful that process may be."
German newspaper Handelsblatt has got a leaked internal German finance ministry document that shows how much is at stake. It says Berlin has drawn up secret plans for a new EU relationship with Britain of the kind already in place with Albania, Serbia and Turkey. The UK should be offered an "association agreement" for close co-operation but no concessions that would tempt other states to quit the EU. It "should not offer too much leeway to Great Britain in gaining access to the European Union's internal market". And it named other countries that might want to leave the EU: Austria, Finland, the Netherlands, Hungary and France. Yes, France. If that happens, the EU really is over.
He's out. Of Glasto, that is. Yes the mud-loving music festival announced that Jeremy Corbyn was no longer doing his 'Left Field' (geddit?) event on Sunday because the Labour leader was "focusing on the issues" thrown up by the "momentous" EU referendum result.
But will Corbyn follow Cameron in being toppled by his party? Yesterday saw the most coordinated attempt yet to start the process of ousting him as leader. Shell-shocked Labour MPs have had enough, and many are as furious with Corbyn as with Cameron for not taking the risk of Brexit seriously.
There's a pincer movement. The first is the motion of no confidence tabled by Margaret Hodge and Ann Coffey for Monday's PLP meeting. It needs PLP chair John Cryer to approve it for a ballot that day or more likely the Tuesday. If he wants to stall it, it could take place the following Monday. The key to the ballot is that it is a secret ballot – no constituency association Momentum group or activist will be able to target individual MPs. There could be a no confidence vote of upto 80% of the PLP.
But the real point of the no confidence motion letter was to warn Corbyn that he should ponder his future this weekend and announce on Monday he was quitting. The spectacle of a Labour leader going into a possible snap general election with 80% of his MPs having voted against him was seen as something Corbyn would find difficult. Yet last night on Channel 4, he made clear he would not be resigning.
So, the real business is actually the separate formal process of submitting 51 signed letters to general secretary Iain McNicol, nominating an alternative leadership candidate. I'm told this will start tomorrow and continue through the week. The plotters say they have the numbers.
What's fascinating is how a chunk of the PLP is trying to force their colleagues to finally awake from their slumbers. They want a 'forced choice' that is as forced as the binary In-Out referendum itself, not a third-way 'give him another year' option. More names will go public over the weekend. Today, we have Caroline Flint blogging for us on how 'small town Britain roared' and why Corbyn can't win a general election.
The big issue is just how much of this Corbyn will want to put up with. He may survive the first assassination attempt, but will he want to put up with repeated attempts? There's a perception among some MPs, on the left and the 'moderate' wings alike, that at some point he will say to John McDonnell that he should take up the cause instead.
What is powering this is that anger over Brexit. Don't underestimate just how devastated many Labour MPs are feeling. I have been told that many in the Labour In campaign felt that Team Corbyn not only didn't pull their weight, they actively sabotaged the Remain campaign. There are several documents flying around, some of which have landed into my possession, that lay bare the chaos and in-fighting (see HuffPost later).
The near-death experience many felt with UKIP coming second in so many of their seats in 2015 is also very potent. (One curio in a snap election would be it would be fought on current boundaries – something that will please Tory MPs as much as Labour MPs worried about reselection). And yet the big problem for any plot remains the expanded party membership who feel loyal to Corbyn. It's difficult to see how they can be turned so quickly against him.
And here's the rub. It is 'direct democracy' that has led to Corbyn's leadership, just as it has led to Brexit. Many MPs blame Ed Miliband almost as much as Corbyn for the current state of affairs, saying his overreaction to Falkirk unleashed a Pandora's box of pain. Others think Miliband's 2015 election failure to provide a credible alternative to Cameron was the real reason the EU referendum wasn't strangled before birth.
Corbyn has a speech today setting out his views on the EU. He may give further clues to next steps there. But he won't be announcing his resignation.
BECAUSE YOU'VE READ THIS FAR…
What about George Osborne? His brief statement yesterday hinted that despite his humiliation he wants to stay on longer than Cameron. Some Tory MPs loathe him as a political careerist worse than Cameron but even a chunk of those want him to stay a bit longer purely to settle the markets.
Others are convinced that the man known as The Submarine (for his habit of going quiet for long periods) should be sunk. "This is the guy who called us economically illiterate, who was responsible for the tax credits cock-up, the forced academies blunder, daft devolution. He's toast," one Eurosceptic Tory told me. Even writing that word 'Eurosceptic' seems such an anachronism suddenly. It's not that we are all Eurosceptics now. It's just that the Europe issue has been settled, for good.
Osborne has no hope of the Tory leadership. But will Cameron's revenge against Boris be a last ditch move to turn Theresa May into the anti-Boris candidate? The move is on to ensure Boris doesn't get enough MPs to get him into the top-two of the MPs' ballot. "I would find it all but impossible to have him as my leader," one senior figure tells The Times. "I don't know if he can be prevented from making it to No 10 but many of us are willing to try."
One other tricky issue is Heathrow. A decision had been due within weeks of a Remain vote but now may well be put back until a new leader is elected. With Boris so opposed to a third runway, it seems politically impossible for the PM and Osborne to go ahead. Still, there's one conspiracy theory that Boris could be let off the hook personally if No10 does go ahead, and he can blame them rather than have to approve it himself in the autumn.
Graham Brady, the 1922 Committee chairman, has a difficult task when it meets on Monday. It's upto the '22, not the PM, to decide when Tory leadership elections are held. Liam Fox wants a Michael Howard-style six months, not three months, to elect a new leader –with the party conference used to allow members to see up close the candidates. But that was when the party was in Opposition. And Cameron ultimately has the right to decide when to quit, not the '22. He is unlikely to want to face even further humiliation by amending his tearful statement of Friday.
Meanwhile, The Beard Liberation Front, the informal network of beard wearers which marks Beard Week next week, has said that it would back Stephen Crabb for the leadership. It points out that Crabb could be the first hirsute Prime Minister since another Tory Lord Salisbury stepped down in 1902.
Donald Trump yesterday made a classic blunder in tweeting: "Just arrived in Scotland. Place is going wild over the vote. They took their country back, just like we will take America back. No games!"
Of course, Scots had voted Remain, not Leave. And they weren't going wild at the result. But the SNP do want to take their country back in another sense, and Nicola Sturgeon wasn't slow yesterday in announcing a second independence referendum was now "highly likely".
If the Queen was purring at Scotland voting to stay in the UK, she may not be purring now. Imagine being the courtier who explains to Her Maj that voting for Brexit, something she's alleged to have supported, now means the break up of her kingdom?
It's far from clear that Scots will automatically back independence. Sturgeon has admitted they would have to join the euro, and ditch the pound, not exactly a vote winner. But the sight of Boris and Gove running England may be enough to force previously dubious Scots into the Yes camp.
If Scotland does break away, one irony would be that Project Fear can be used in reverse. As Alex Salmond told me recently, the SNP can argue that jobs will shift north from England under a Brexit UK and independent Scotland. Big British firms who want access to the single market may shift their HQs to Edinburgh not France or Germany. Let's see.
Our sleep-deprived Commons People podcast is out HERE. Graeme Demianyk and I chew the fat about what the shock of Brexit and what's next.
If you're reading this on the web, sign-up HERE to get the WaughZone delivered to your inbox.
Got something you want to share? Please send any stories/tips/quotes/pix/plugs/gossip to Paul Waugh (paul.waugh@huffingtonpost.com), Ned Simons (ned.simons@huffingtonpost.com), Graeme Demianyk (graeme.demianyk@huffingtonpost.com) and Owen Bennett (owen.bennett@huffingtonpost.com)