The five things you need to know on Wednesday, November 16…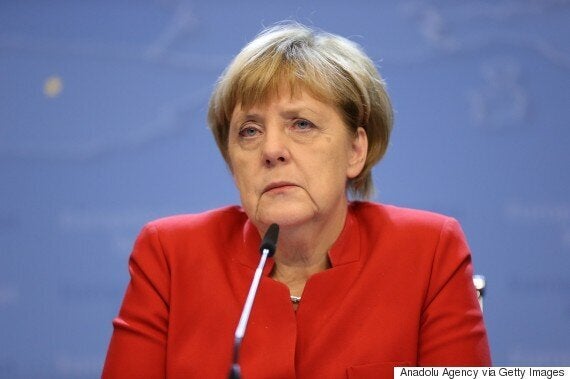 It's Wednesday and the first post-Trump victory PMQs looms. Will 'post-truth' (the OED's new word of the year) get a mention? Will Corbyn raise Mark Carney's jibe at Theresa May's "massive blame-deflection exercise" on the issue of inequality? The Labour leader could mention the latest chaos of the Child Abuse Inquiry (set up by May), with more lawyers leaving. He could even chuck in dilapidated hospitals or the spectre of charges for NHS care that a minister failed to kill off yesterday.
But it is Brexit that is really the only story in town, in many ways. And May has some invaluable support from Angela Merkel (the Telegraph splashes its front page with this) overnight. The German Chancellor said: "I personally am of the view that we will have to discuss further with the [European] Commission when this freedom of movement applies from." Merkel stressed she didn't want an 'exception' made for the UK and it's only a glimmer of hope on the issue. But Labour MP and Open Britain spokesman Pat McFadden saw her words as progress on the vexed question of squaring the circle of migration curbs and single market access.
The FT has upped the ante on its own story from yesterday, stating that Brussels is now looking at a 'divorce' bill of up to 50bn quid. But just as Google brought the good news that it was investing in the UK long term, No10 had to cope with Boris Johnson's latest freelancing, telling a Czech paper that the UK would 'probably' quit the EU customs union, while, erm, 'maintaining free trade'. On Newsnight, Jeroen Dijsselbloem, the Dutch finance minister and eurozone leader, said Boris was "saying things that are intellectually impossible, politically unavailable".
Dijsselbloem sounded very much like a divorce lawyer when he added: "There is no win-win situation. It's going to be a lose-lose situation..and in the best case if we set aside all emotions and try to reach an agreement that is least damaging to both of us we can minimise the damages". Bojo also riffed on freedom of movement, saying it was not a founding principle of the EU nor a 'God-given' right. MEP Guy Verhofstadt tweeted: "Can't wait to negotiate with @BorisJohnson, so that I can read him Article 3 of the Treaty of Rome.."
Of course, May will be lining up her own ammo this morning against Corbyn. She could point to Corbyn's talk of 'demilitarised' borders with Russia, not least as Labour MPs at the PLP pushed him on Nato's duties. PoliticsHome revealed that Corbyn simply read out Nato's Article 5, but the kicker came from a Corbyn spokesman afterwards: "Article 5 of the treaty obliges Nato states to respond. The nature of that response is not defined by the treaty, and can be a diplomatic one." Trump that.
And on Brexit, May could also simply cite Michael Deacon's sketch in the Telegraph, which followed John McDonnell's call on his party to be more 'positive' about Brexit. Deacon says they've achieved the impossible: "They've convinced people who are pro-Brexit that Labour are anti-Brexit – and convinced people who are anti-Brexit that Labour are pro-Brexit. Or, to put it another way: they're alienating both the 52 per cent and the 48 per cent. And becoming the party of the 0 per cent." Ouch.
Brenda Hale is one of the sharpest legal brains in the country, long noted for the expertise of her judgements. But as one of the Supreme Court judges due to rule on the Article 50 appeal next month, it's not surprising that every word she says is being pored over.
Yesterday, former BBC legal eagle Joshua Rosenberg (and Sky's Faisal Islam) spotted that in a speech last week in Kuala Lumpur, Lady Hale said "another question" for the court was "whether it would be enough for a simple act of Parliament to authorise the Government to give notice, or whether it would have to be a comprehensive replacement for the 1972 [EEC Accession] Act".
Such a 'comprehensive' bill could mean Article 50 would have to wait for the Great Repeal Bill, which is not due until after May - hence fresh speculation the Supreme Court could delay the whole process by six months or even two years. Government sources have been saying for some days that they want a short, 'three-line' bill to trigger Brexit.
And the Euroscep backlash has started. IDS told Sky last night that Hale as an "individual herself" has "always been opposed to Britain leaving EU", and warned of a 'constitutional crisis'. Douglas Carswell told Mailonline: "'It's hard to see how ordinary voters can have confidence in our democracy if Lady Hale and co are going to start obstructing the process of our lawful disengagement from the EU."
Clearly fearing another media onslaught on the independent judiciary, The Supreme Court has put out a statement making clear that Hale was "simply presenting the arguments from both sides ... in an impartial way".
The prison officers walk-out yesterday saw 10,000 take part in wildcat protests at growing violence in our jails. The Sun has a scoop that Liz Truss was "minutes away" from calling in the Army, before the Government got an injunction ordering the officers to go back to work after their 'unlawful' industrial action.
But it's far from easy for Truss, who has been forced to take part in more urgent talks with the POA union, and Tory backbenchers have joined Labour MPs in demanding action on prison violence. The Telegraph claims the POA's more radical protests are driven by "left-wing supporters of Jeremy Corbyn" and says the union's chief Steve Gillan "supported Mr Corbyn at momentum meetings".
Meanwhile, David Lammy's review of into race and the criminal justice system has some sobering findings. For example, for every 100 white women handed custodial sentences at Crown Courts for drug offences, 227 black women were sentenced to custody. BAME defendants are more likely than their white counterparts to be tried at Crown Court – with young black men around 56% more likely than their white counterparts. Lammy has today announced that his review will now be widened to look at the lack of diversity in the judicary too.
It was David Cameron who commissioned the Lammy review back in January. Yes, remember him? The Sun hasn't. It has a long-lens pic of the ex-PM wearing a rain-sodden hooded anorak, out shopping for furniture with wife Sam. The 'Hug a Hoodie' captions were inevitable.
BECAUSE YOU'VE READ THIS FAR…
Next week's Autumn Statement will deliver specific measures to help 'JAMS' (the 'just about managing' classes, an acronym we may have to get used to). Nothing too surprising about that, you may say, given the PM has made these people her Government's raison d'etre. But the FT reports that No10 has won a battle with the Treasury to stretch our stretched finances further to ensure the help on offer is bigger than Philip Hammond had felt he could afford.
Amid fears that living standards could be further eroded next year by rising inflation (despite yesterday's respite) and the fall in sterling, Team May have pushed through a continued freeze in fuel duty, cuts to air passenger duty and further childcare subsidies for inclusion in next Wednesday's package.
Hammond is also expected to commit to honouring Tory manifesto commitments to raise the income tax threshold to £12,500 and to raise to £50,000 the threshold for the 40p higher rate of tax. Talks between No10 and No11 have been 'heavy going', one Treasury source says. The Cabinet yesterday spent a long time discussing industrial strategy, and we were told that Greg Clark will publish a paper soon. It could be the PM muscles in and co-launches it early next week.
Now here's a thing. Plummeting home ownership rates have been driven not by a lack of new homes, but by an earnings squeeze on first-time buyers and on the lack of mortgage finance available to them.
That's one of the conclusions of the Redfern Review of Britain's housing policy, a study commissioned by Labour's John Healey and conducted by Peter Redfern, the CEO of house builder Taylor Wimpey. Redfern is not a Labour supporter but his willingness to carry out the independent review suggests some parts of the party are managing not to deter the business community.
Healey (who first came up with the phrase 'squeezed middle') has been pointing out the sharp drop in home-ownership in recent years, the rate of which has doubled since the financial crisis. He believes the study shows that the UK needs new 'sub-market' homes to buy, homes he says the Tories have cut back on since 2010.
If you're reading this on the web, sign-up HERE to get the WaughZone delivered to your inbox.
Got something you want to share? Please send any stories/tips/quotes/pix/plugs/gossip to Paul Waugh (paul.waugh@huffingtonpost.com), Ned Simons (ned.simons@huffingtonpost.com), Martha Gill (martha.gill@huffingtonpost.com) and Owen Bennett (owen.bennett@huffingtonpost.com)