Claire worked as a Pediatrician in London before specialising in Clinical Genetics. She has degrees in Pathology and Medicine as well as a PhD in Neuroscience from the University of Cambridge. At Ada she is responsible for overseeing medical affairs and for working with clinicians and patients to ensure products are tailored to their needs.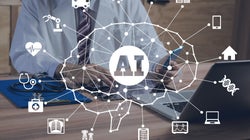 chombosan via Getty Images
Throughout history, the introduction of innovative technologies has always been accompanied by scepticism and scaremongering
This points to a clear role for AI technology within healthcare: AI should be used to help both patients and doctors by facilitating more comprehensive health assessments, earlier diagnosis and better, more informed decision making.