Dr Trevor Dines, a farmer's son from Hampshire, co-authored the New Atlas of the British and Irish Flora, organising fieldwork and the collection of over nine million botanical records to map every native and naturalised plant in these islands. He is Plantlife's Botanical Specialist, appearing on BBC R4 Today Programme, BBC Breakfast, BBC Springwatch, BBC Countryfile and The One Show as well as campaigning for better management of road verges and helping to deliver HRH The Prince of Wales' vision for a meadow in every county through the Coronation Meadows project. Trevor has also presented Channel 4's Wild Things and wrote a book A Guide to the Changing Plant Life of the British Isles to accompany the series.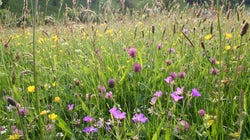 Dr Trevor Dines
In the UK, our most intensively farmed land is a wasteland for biodiversity
Vibrant verges are an oasis of colour in an increasingly grey landscape and they can contribute to our health and wellbeing. For many of the 23 million people who commute to work by road the verge is their only daily contact with nature. The procession of colour from bluebells to betony through the year brightens our days, keep us in touch with the changing seasons and provide us with a real sense of place.
Walking in the mountains of Snowdonia, the problems of the city can feel a long way away. The negative impact of poor air quality on human health is, thankfully, increasingly well-documented. Not only does air pollution contribute to thousands of early deaths, it also compromises the health of people suffering from ailments like asthma.