Ian Larive is Investment Director at Low Carbon, a privately-owned renewable investment company.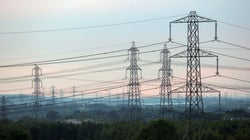 Bloomberg via Getty Images
It may be months or even years before we fully understand how Brexit will affect the UK electricity market
As if evidence was needed as to the imperative of dramatically cutting carbon emissions and promoting energy efficiency, the day after the Government published its much-anticipated Clean Growth Strategy, the European Environment Agency (EEA) published new figures on the impact of air pollution.
Most recently, the UK signed up to a pledge to keep global temperature increases well below 2°C above pre-industrial levels as part of the Paris Agreement. To deliver on this promise, a diverse energy mix that includes renewables, and in particular solar and wind, will be needed.