The actor, who became a household name for his portrayal of the hapless waiter Manuel in Fawlty Towers, died at the age of 86 in a care home last week.
The Mail placed the exclusive story in a box on their front page with the headline: "Farewell Manuel, king of crackpot comedy".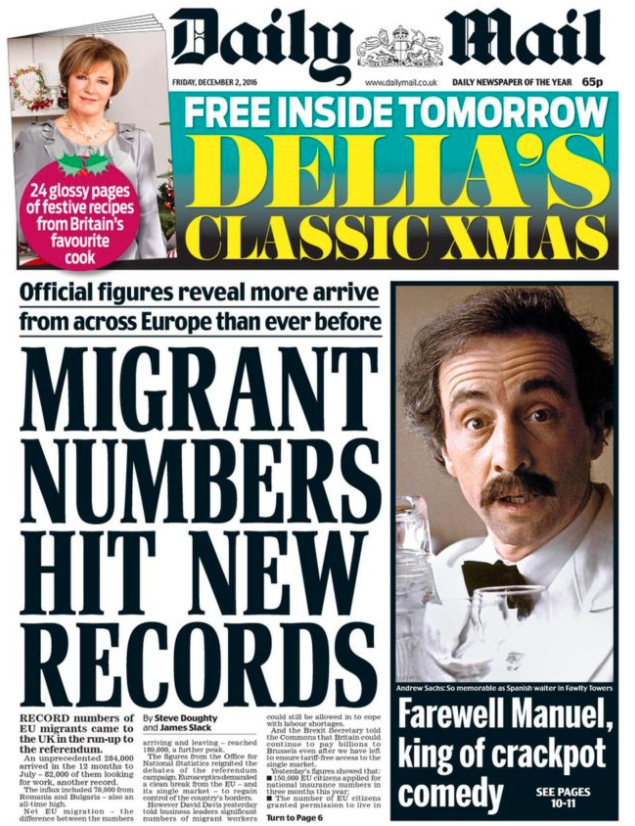 But some suggested there was some irony in the placement of the story next to the front page splash, with a headline proclaiming "Migrant numbers hit new records" and a sub-headline which read: "Official figures reveal more arrive from across Europe than ever before".
This is because Sachs himself was a refugee.
Born in Berlin in 1930, Andreas Siegfried Sachs and his parents Hans and Katharina fled to the UK in 1938 to escape the Nazis.
Many on social media, including MP Peter Grant, pointed out that there could be some irony in the juxtaposition of a story celebrating the life of a refugee, famous for playing a Spanish waiter, with a piece about people coming to Britain, given the tabloid's hardline stance on immigration.
Sachs had been battling dementia for the past four years, his wife Melody said.
She told the Daily Mail that her husband had been diagnosed with vascular dementia in 2012, which is the second most common form of the disease after Alzheimer's. He died on November 23 and his family and close friends gathered for his funeral and burial in north London.
His death has prompted many from the acting world to pay tribute to him, including John Cleese, Tony Robinson and Samuel West.