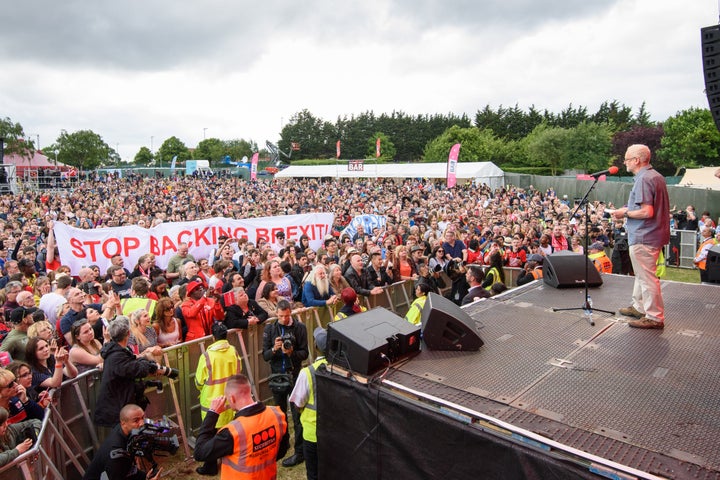 Anti-Brexit protesters attempted to disrupt Jeremy Corbyn's speech to the Labour Party's music and politics festival in north London on Saturday.
A group of 15 demonstrators unfurled a banner demanding that the Labour leader "stop backing Brexit".
Labour is split down the middle on Brexit and Corbyn has rejected demands from his more pro-EU MPs that he attempt to keep the UK in the Single Market.
The protest was organised by campaign groups For our Future's Sake and Our Future, Our Choice who want a referendum on the final Brexit deal.
One of the protesters, Calum Millbank, said: "I support Jeremy Corbyn, but I oppose Labour's damaging position on Brexit.
"I am sickened when I see our leadership sitting on their hands in parliament when they could have stopped a hard Brexit this week."
The reaction to the protest in the crowd was mixed. Some congratulated the demonstrators for opposing Brexit. However one of the men holding the banner was called a "Tory c*nt".
In his speech, which was greeted by chants of "oh, Jeremy Corbyn", the Labour leader demanded Theresa May "give up, move on and move over".
"We went through a election campaign a year ago when we were written off at the beginning. And at the end we had the biggest swing to Labour since 1945," he said. "My only sadness is that we didn't quite win that election."
"But I look in the House of Commons, across the aisle at a party of the rich, by the rich, and for the rich, funded by the rich, and I see a party over there that is divided and that is incapable of negotiating [with the EU] and incapable of governing."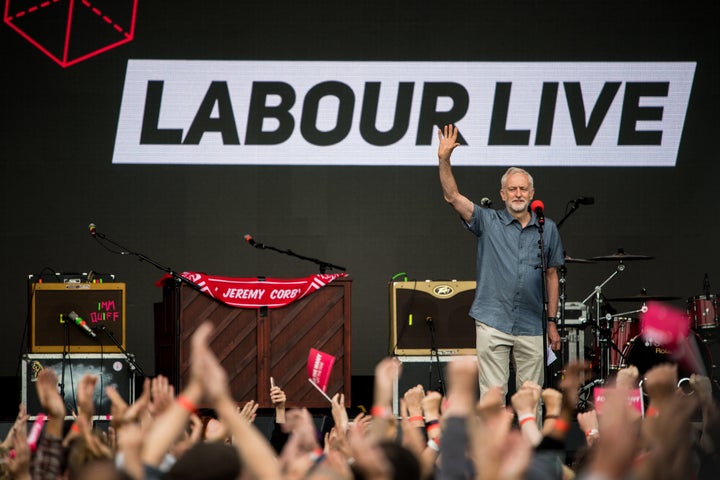 The 'Labour Live' festival at the White Hart Lane recreation ground had been dogged by poor ticket sales in the run-up to the event.
But Labour claimed in the end 13,000 tickets for the event, which had bands the Magic Numbers and Clean Bandit on the bill, were sold.
Tickets were initially put on sale for £35, but this was reduced to £10 as the day approached. Many were also given away for free.
Despite deep misgivings within the party about the event, which is reported to have cost £1m, its organisers are already planning next year's festival.
Ian Lavery, the chairman of the Labour Party, said today "there will be a 'Labour Live' next year and it will be twice as big".