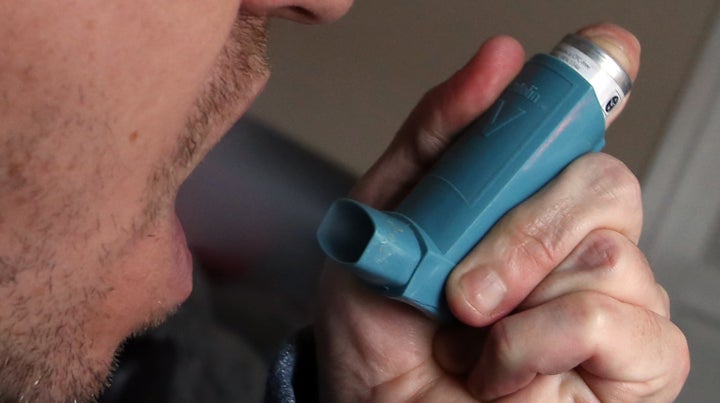 A new "life-changing" treatment for severe asthma could be offered more widely on the NHS.
Bronchial thermoplasty aims to reduce the severity and frequency of asthma attacks by reducing smooth muscle tissue in the airways, minimising their ability to constrict.
The procedure – which sees short pulses of radio-frequency energy applied to the airway wall – takes place while the patient is under sedation or general anaesthetic.
There had previously been strict restrictions about who was eligible for the treatment, but in new guidance published on Friday, the National Institute for Health and Care Excellence (NICE) said the procedure was safe and effective enough that it no longer needs to be carried out under special arrangements and can be offered more widely.
NICE programme director Professor Kevin Harris branded bronchial thermoplasty "innovative".
"If you are frequently admitted to hospital with severe asthma which cannot be controlled with drugs, this is a procedure which people may wish to consider after discussions with their clinician," he said.
"Asthma is a common disease and the vast majority of patients won't require this treatment. But for people with severe asthma this procedure could be life changing."
According to Asthma UK, 5.4 million people in the UK suffer from the life-long condition.
While it can usually be kept under control with treatment, asthma is potentially fatal and 1,410 people died from the condition in 2016, the most recent data available.
Joe Farrington-Douglas, head of policy and external affairs at the charity Asthma UK, said: "Making this treatment available to more people could offer much-needed hope to thousands of people in the UK who have severe asthma.
"This debilitating form of asthma is resistant to regular treatments, meaning many have to cope with terrifying asthma symptoms, such as gasping for breath, as well repeated trips to A&E. Every asthma attack is life-threatening.
"Until now, this treatment has only been available for specific patients at some specialist centres, but these new guidelines could mean more people with the condition could reap the benefits."