Britain's cities have shouldered almost three-quarters of government spending cuts, a new report has found.
A decade of austerity showed large metropolitan areas, which are home to 55% of the population, faced 74% of cuts to day-to-day spending, the Centre for Cities study said.
Slashed budgets declined by £386 per person in city zones, compared with £172 for the rest of the UK.
The report also revealed a stark divide between regions, with the largest cuts felt in the north of England, where cities saw an on average 20% reduction in budgets.
London, meanwhile, suffered a 25% decrease in spending, despite being home to 16% of the UK population.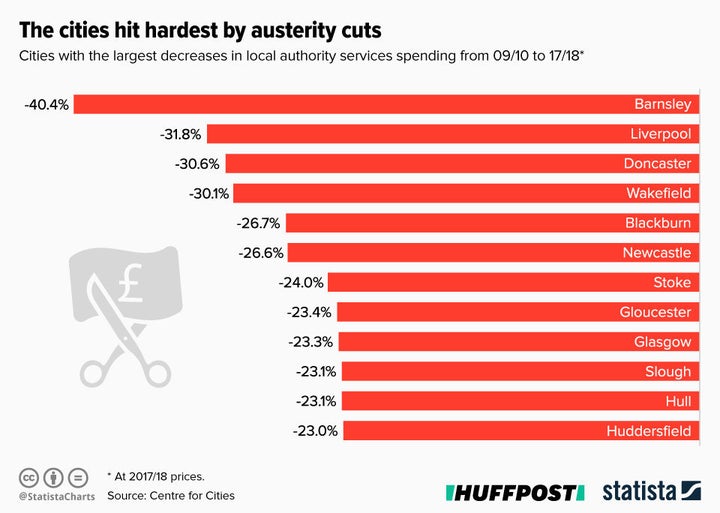 The capital has had a total of £3.9bn removed from services spending since 2010.
Yet cities in the south of England – outside of London – were relatively less badly hit, and were more successful at raising alternative funds to offset the reduction in central government grants, the study found.
Meanwhile Oxford and Luton, Beds, have seen double-digit percentage increases in overall spending.
The report said that the effect of spending cuts on cities effectively evened out budgets with the rest of the country, despite need for local authority services being higher on average.
Austerity was pursued by the coalition government between 2010 and 2015.
A central government spending review due this autumn will allocate public expenditure for the coming half decade.
Chancellor Philip Hammond hinted at last year's budget that improved economic indicators could allow for greater public spending in future.
Austerity: Worst-hit cities

Barnsley, South Yorks: -40.4%
Liverpool: -31.8%
Doncaster, South Yorks: -30.6%
Wakefield, South Yorks: -30.1%
Blackburn, Lancs: -26.7%
Newcastle: -26.6%
London: -25%
Stoke, Staffs: -24%
Gloucester: -23.4%

Change in total spending 2009-10 to 2017-18. Source: Centre for Cities Cities Outlook 2019 report.
Council leaders said cities had been forced to make tough choices and become "resilient" in the face of austerity.
Cllr Ian Gillies, leader of York City Council, said: "Cities across the country have faced difficult decisions since 2010 with regards to cuts to some local funding.
"But they have also been able to increase service efficiency, and develop sustainable funding streams of their own."
Cllr Nick Forbes, leader of Newcastle City Council, said: "The story of cities in recent years is one of resilience and reinvention.
"We have faced a level of austerity that has hit badly our ability to thrive, but have seen cities such as Newcastle find new ways of securing growth."
The communities secretary, James Brokenshire, said in response to the Centre for Cities report: "We are investing in Britain's future by providing local authorities with £91.5bn over the next two years to meet the needs of their residents. This coming year, local government is getting £1bn extra in funding – a real-terms increase – to strengthen services and support local communities.
"On top of this, we are delivering on our vision for a strong Northern Powerhouse economy with wide-ranging support including a historic £13bn investment to improve journeys for commuters and motorists and over £5bn for devolution and growth deals."

In a new series, HuffPost UK is examining how shrinking local budgets are affecting people's daily lives. These are stories of what it's like to lose, in a society that is quietly changing. If you have a story you'd like to tell, email basia.cummings@huffpost.com