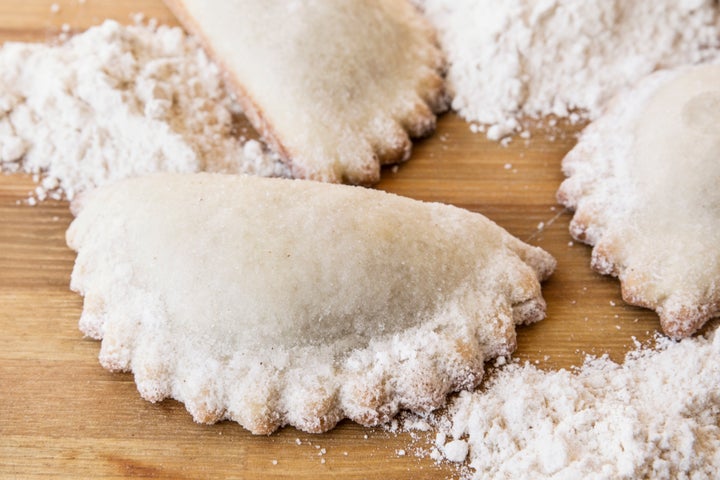 This week, the Great British Bake Off contestants were challenged with making celebration treats for Festival Week. While the signature bake featured plenty of hot cross buns (delicious, but not so suitable in October) it was the technical challenge that got our mouths watering.
Paul asked the final six to make Sicilian cassatelle – small pastry crescents filled with smooth ricotta, then flavoured with chocolate and fried until crispy and golden.
If you fancy making your own at home, Rosemary Molloy, who blogs at An Italian in my Kitchen, has shared her recipe with HuffPost UK below.
Ingredients:
For the pastry dough:
250 grams all-purpose flour
40 grams granulated sugar
1 pinch salt
Zest 1/2 lemon
1 tablespoon white wine / brandy or Marsala*
2 tablespoons olive oil
1 teaspoon lemon juice
120 grams water
*If you don't want to use alcohol then substitute with white grape juice or water.
For the ricotta filling:
250 grams ricotta cheese
31 grams powdered / icing sugar
44 grams mini chocolate chips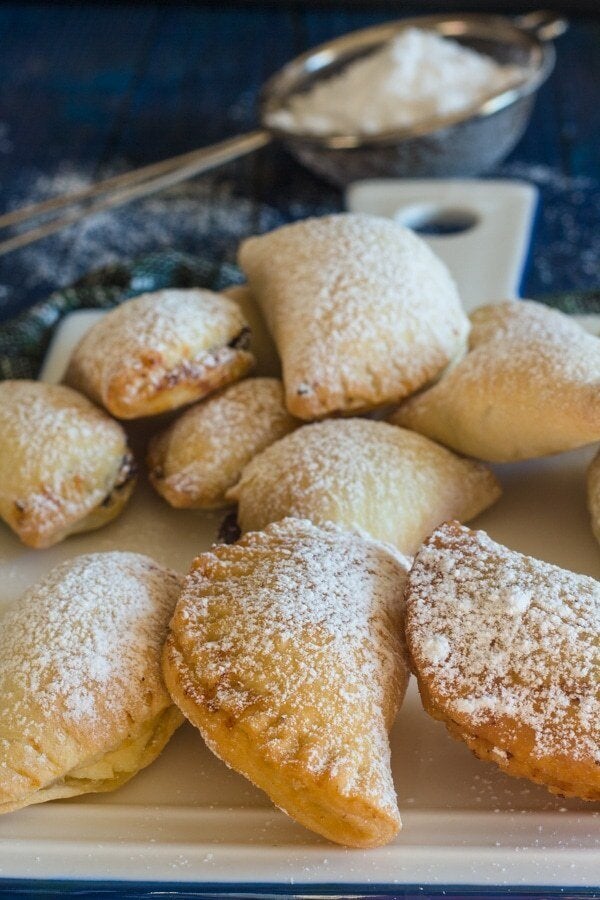 Method:
Tip: Before making cassatelle, it is best to place the ricotta cheese in a sieve or cheese cloth over a bowl in the refrigerator and let it sit overnight before using. If you want to bake (rather than fry) these, preheat the oven to 180C.
Once the ricotta has drained, place it in a medium bowl and mix with the sifted icing sugar until creamy.

Fold in the chocolate chips, cover with plastic and place in the fridge until needed.
In a large bowl, whisk together the flour, sugar, salt and lemon zest. Make a well in the middle and add the wine, olive oil and lemon juice. Mix with a fork, then gradually add the water (you may not need it all) – continue to mix together until you have a smooth and compact dough. Form the dough into a ball, wrap in plastic and chill for one hour.

Remove the dough from the fridge and roll it very thin (you could also use a pasta machine for this).

Using small or medium round cookie cutters, cut out rounds. On half the round, place one teaspoon of filling (a little less if using small rounds), fold over the empty half and seal the edges with water. Then, using the tongs of a fork, seal around the edges to hold it together. When folding over the dough you may need to gently pull the dough. This is a very rustic pastry, so no need to make them look perfect.

Heat 2 inches of oil in a medium pot to 340F (170C), add 3 or 4 cassatelle at a time and fry until golden (turn them a couple of times frying for about 2 minutes on each side until golden brown). Alternatively bake in a pre-heated oven 180C for 20-25 minutes or until golden.

Remove the cassatelle from the oil with a slotted spoon and drain on paper towels. When cool, dust with powdered sugar and serve. Enjoy!